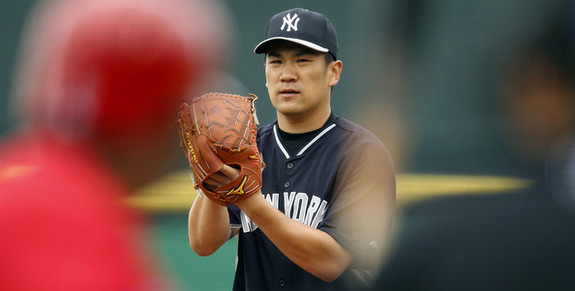 In more ways than one, the Masahiro Tanaka signing was the Yankees' biggest move of the offseason. They ventured back into the big name international market for the first time since the Kei Igawa disaster and they landed a premium, 25-year-old starting pitcher. Someone who has been a workhorse and played on winning teams throughout his career. The kind of player who rarely becomes available for nothing but money, basically.
The Yankees committed a total of $175M to Tanaka back in January, giving him a seven-year contract worth $155M on top of the $20M release fee they will pay his former team, the Rakuten Golden Eagles. That contract includes an opt-out after the fourth year, but that isn't worth worrying about or discussing right now. We're hear to discuss what Tanaka can do right now, for the 2014 Yankees.
So far this spring we've had two chances to see Tanaka in action, and he was impressive both times. He threw two scoreless innings against the Phillies the weekend before last, and then last week he held that same Phillies squad to one solo homer in three innings. Tanaka has allowed just the one run on four hits and no walks in his five innings so far, striking out four and getting seven ground ball outs compared to four in the air. His third outing of the spring was a simulated game against some minor leaguers yesterday.
By all accounts, Tanaka has handled the transition well so far. He threw the first simulated game of his life yesterday, just to give you an idea of how new this all is to him. Tanaka has handled the baseball part of it well and seemingly the cultural change just fine too, though we can't know that for sure from where we sit. I think the best thing I can say about him right now is that he's looked very much like a veteran pitcher going about his business and getting ready for the season. He's not trying to light up the radar gun or impress onlooker with nasty breaking balls. Tanaka has been doing what he needs to do to prepare, nothing else.
Before the Yankees landed Tanaka, I compiled this post with everything I could find on the guy. Scouting reports, statistical evaluations, video, workload questions, the whole nine. If I thought it was reliable, I put it in there. It's everything we knew about the guy coming into Spring Training and right now we don't know much more. The whole "number two starter pretty much right away" expectation still exists. For a jumping off point about his possible performance, here are the various projections from FanGraphs:

Right away you see how little value the projections provide thanks to Oliver, which has Tanaka starting 39 games in 2014. I'll bet the under on that. If he had been playing in the big leagues for a few years now, projections would have a bit more value. Because he's coming over from Japan and changing leagues, these numbers don't help us much. It's pretty great to see that all of them expect him to a +3.5 WAR pitcher right away, I'd rather see than +1.0 WAR or something, but ultimately it means nothing.
There are three reasons why I think Tanaka can pretty damn successful right away for the Yankees. One, he pounds the zone. The scouting reports indicated as much and we've seen it so far in his two outings. Tanaka's shown a very no nonsense approach, getting ahead in the count and not nibbling. He controls the at-bats when he's on the mound. Two, Tanaka has two above-average offspeed pitches. We all know about the splitter …
… but he also throws a very good slider. It's not as good as the splitter, but it's not a show-me pitch either. Tanaka isn't some two-pitch pitcher. Far from it.
And the third reason why I think he can be successful right away is his makeup and competitiveness, which people smarter than I have rated as through the roof. The grind of a baseball season is tough enough, but going through that grind for the first time in a new country with a new team in a new league against new batters in a new ballpark and yadda yadda yadda can be overwhelming. Does his makeup and competitive guarantee he will be successful? Of course not. But they do make me feel better about his chances.
On the other hand, there are some reasons to think Tanaka might not be so successful this season. First and foremost is the the five-day schedule rather than a seven-day setup. Tanaka had some big individual game workloads with Rakuten over the years but he also had two extra days of rest between each start. The Yankees won't ask him to throw 130+ pitches each time out, but how will he adjust to pitching every fifth day instead of every seventh? Seems like everything is going well so far, but what happens in a few months when it's 90 degrees with 90% humidity every start? It's something to watch, no doubt about it.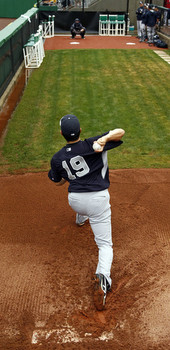 Secondly, Tanaka likes to pitch up in the zone. That was the report coming over from Japan and he's done it in his two spring starts so far. He had one high pitch smashed into the right-center field gap for a double and another hit out to deep right for a fly out in his last start, a ball that might have been gone in Yankee Stadium. Pitching up in the zone is not necessarily a bad thing in and of itself — it's a great way to get swings and misses — but in the Bronx more fly balls mean more homers. I don't think Tanaka will be Phil Hughes when it comes to fly balls and dingers or anything, but the potential for the ill-timed gopher ball is there.
I don't think there is any way we can reasonably estimate what Tanaka will do this season. Can he give the team 180 innings of 3.50 ERA ball? I'd love that in his first year in the show. The first year has typically been a transition year for recent Japanese imports with the second year being the big breakout, so I'd take that 180/3.50 performance no questions asked. Based on everything we've heard and the little bit we've seen, Tanaka has the tools to be an excellent starting pitcher in MLB. Not just good, but one of the top 20-25 pitchers in the game. There are more factors at play here than stuff and command though. The new culture and routine will affect his performance.
Given his age — Tanaka turned 25 in November, so he'll spend the entire season at that age — the amount of money the team sunk into him, and the rest of the roster (both MLB and MiLB), I think Tanaka is the single most important player in the organization. Not necessarily for 2014, but going forward. He's not the only one trying to make a transition, you know. The Yankees themselves are transitioning out of the dynasty years with Mariano Rivera retired and Derek Jeter following him after the season. Tanaka is the key player going forward, the young cornerstone player they can build around in the future. That's a lot of responsibility and his first step towards becoming the next great Yankees begins this year.