As Joe explained last week, the Yankees have several important players coming back from injury this season. They also have several players who, due to their age and/or recent history, are at risk of getting hurt in 2014. Injuries are part of the game and many times they're completely unpredictable or unavoidable, but there are certainly players who are more likely to get hurt than others. The Yankees haven't exactly been good at keeping their guys healthy these last few years either. Here are New York's biggest injury risks for the coming season and their respective backup plans.
Injury Risk: Derek Jeter
Backup Plan: Brendan Ryan
Aside from the dislocated shoulder back in 2003, last season was the only time Derek Jeter spent an extended period of time on the DL in his career. A twice-fractured left ankle and various leg muscle problems limited him to only 17 games, and even though he's been healthy this spring and working out for weeks, his age (39) and the series of leg problems will make him an injury risk pretty much all year. The Cap'n is very much day-to-day at this point of his career.
The Yankees acquired Ryan last September when Jeter went to the DL for the fourth and final time, then they re-signed him to a two-year contract (with a player option!) over the winter to serve as shortstop insurance. If Jeter does go down with injury this summer, regardless of whether it's two days or two weeks or two months, Ryan will step right in and play shortstop everyday. He can't hit a lick but his defense is among the best in the game.
Injury Risk: Brian Roberts
Backup Plan: Ryan, Dean Anna, Eduardo Nunez, etc.
There is no greater injury risk on the roster than Roberts. He has appeared in only 192 of 648 possible regular season games since 2011 due to a variety of injuries, including back spasms (2010), concussions (2010-11), hip labrum surgery (2012), and hamstring surgery (2013). Second base is a dangerous position because of the blind double play pivot and it feels like it's only a matter of time before Roberts hits the DL, kinda like it did with Travis Hafner last summer.
Infield depth is something the Yankees spent most of the offseason accumulating, though none of it really stands out. They don't have a 2005 Robinson Cano waiting in the wings, for example. Ryan, Anna, Nunez, Yangervis Solarte, and Corban Joseph are the various backup plans at second base, though only Ryan and Nunez have any kind of substantial MLB time. The player who gets the job when Roberts goes down with injury may simply be the guy who's playing the best at that time.
Injury Risk: Frankie Cervelli
Backup Plan: Austin Romine, John Ryan Murphy
Cervelli seems to have a knack for the fluke injury. His wrist was broken by a home plate collision in Spring Training 2008 and he's also had foul balls break his foot (2011, again in Spring Training) and hand (2013) in recent years. The broken hand last year turned into a stress reaction in his elbow. More seriously, Cervelli has had four concussions in his pro career, including three from December 2009 through September 2011. Romine and Murphy will both be stashed in Triple-A as insurance, and I suspect Romine would get the call as a short-term replacement while Murphy would be the guy if Cervelli misses most of the season again.
Injury Risk: Michael Pineda
Backup Plan: Vidal Nuno, David Phelps, Adam Warren
When a player misses two full years due to a major surgery, it's really hard to count on him staying healthy going forward. Pineda is an unknown and unreliable until he proves otherwise, which might never happen. His surgery was serious stuff and that's why he hasn't been handed a rotation spot as of yet. Pineda has to earn it by showing he can be effective post-surgery in camp. Phelps, Warren, and Nuno are all competing for the same fifth starter spot and will be ready to jump into the rotation at a moment's notice if Pineda makes the team and goes down for any reason.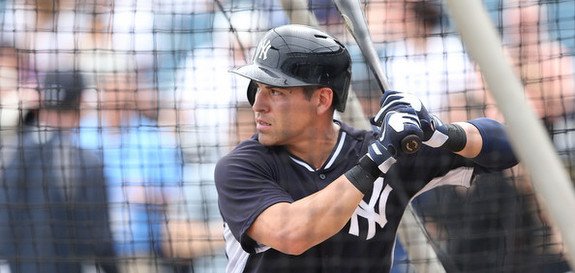 Injury Risk: Jacoby Ellsbury & Brett Gardner
Backup Plan: Ichiro Suzuki, Zoilo Almonte
Over the last three seasons, Ellsbury and Gardner have combined to play in 686 of 972 possible regular season games, or 71%. Go back four seasons and it's only 66%. Both guys have had injury problems over the years but the major ones can mostly be classified as flukes. Here are Ellsbury's notable injuries …
Fractured Ribs, 2010: Crashed into a teammate chasing a pop-up then suffered a setback after returning too soon.
Shoulder Subluxation, 2012: Fielder fell on top of him following a break up slide at second base.
Foot Fracture, 2013: Fouled a ball off his foot.
… and here are Gardner's:
Fractured Thumb, 2009: Slid into second base on a stolen base attempt.
Wrist Debridement, 2010: Hit by a pitch, needed offseason surgery after playing hurt in second half.
Inflamed Elbow, 2012: Made a sliding catch and suffered three setbacks (!) before having season-ending surgery.
Oblique Strain, 2013: Swung a bat. Nothing more.
There has been other day-to-day stuff over the years but those are the big injuries. Gardner's oblique strain last September is the only one that isn't a fluke to me, though I think it's also important to understand both guys have a playing style that puts them at greater risk of injury. When you steal a ton of bases, you risk hurting your fingers and having an infielder fall on top of you. When you run around the outfield making sliding and diving catches, you can jam something pretty easily.
Is it fair to consider Ellsbury and Gardner injury risks for 2014? Maybe not, but they have been hurt a bunch in recent years and I felt they were worth discussing. If Ellsbury were to get hurt, Gardner would slide right into center field. If Gardner got hurt, Alfonso Soriano would probably take over as the everyday left fielder, as he would if Gardner moved to center. Ichiro would see more playing time — I think Soriano and Carlos Beltran would still get regular turns at DH even if Ellsbury or Gardner gets hurt — and Zoilo is the early favorite to be the first guy called up from Triple-A. If both Gardner and Ellsbury got hurt at the same time … well that's a mess I don't want to think about. A trade for a center fielder would seem likely.
Injury Risk: Mark Teixeira
Backup Plan: ???
A tendon sheath problem in Teixeira's right wrist that eventually required surgery limited him to only 15 games last year and still has him on the mend in camp. He's been brought back slowly — he faced live pitching in batting practice for the first time just today — and is slated to get into a game later this week, but wrists are very tricky. Even if the doctors say they're healed, they tend to sap power for another few weeks and months. David Ortiz (2008-09) and Jose Bautista (2012-13) have had similar tendon sheath problems and they didn't regain their previous form until well after returning to the lineup.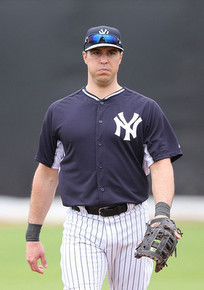 Given the nature of the injury, it might be more accurate to say Teixeira is a risk for reduced production than he is a risk for injury. He hasn't exactly been Mr. Durable the last few years though, most notably missing more than a month with a calf strain in late 2012 and blowing out his hamstring during the 2010 postseason (forgot about that, huh?). That doesn't include the infamous cough/vocal cord damage that hampered him two years ago. The Yankees don't have an obvious backup first baseman — Kelly Johnson and his 18 career innings at the position is currently the backup at first — so a trade would be in order if Teixeira goes down. It's either digging up another Lyle Overbay or playing Russ Canzler everyday.
* * *
I think it goes without saying that pitchers are inherently risky. CC Sabathia, Hiroki Kuroda, and Masahiro Tanaka have been very durable throughout their career (Kuroda less so, but he's been healthy with the Yankees) but it would surprise no one if they got hurt this year. Same with all the relievers. Pitchers get hurt. It's what they do.
Carlos Beltran's knees were a big problem from 2009-10, but he has played at least 140 games in each of the last three seasons. Brian McCann had shoulder problems in 2012 that required offseason surgery, which kept him out for the first month of 2013, but he has been healthy and productive since. Scott Sizemore has played a total of two games the last two seasons because of back-to-back torn left ACLs, but he is far from a lock to make the roster, nevermind play regularly. Same goes for Nunez, who missed a bunch of time with a ribcage problem last year. Just about every player has been hurt somewhere along the line.
The Yankees are well-equipped to deal with an injured outfielder, catcher, or back-of-the-rotation starter. The infield is were it gets dicey and unfortunately that is where we find the most at risk players (Jeter, Roberts, Teixeira). The backup plans on the infield are interesting of nothing else, but they're all wildcards. I don't think we can reasonably estimate what any of them would do if pressed into regular duty. The Yankees have a lot of important players at risk of injury this year and their ability to stay on the field will play a huge role in whether they return to the postseason.