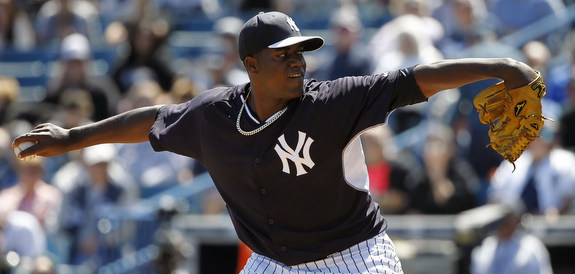 I can't think of another high-profile trade that went as bad as quickly as the Jesus Montero-Michael Pineda blockbuster two years ago. Both teams have gotten nothing from the deal — an especially painful nothing considering the opportunity cost of trading a top prospect or then-23-year-old starter — as all four players involved have either disappointed or gotten hurt. Some have done both. The trade has gone so wrong for both sides that it's actually kinda fascinating.
That is all about to change, knock on wood. Michael Pineda, who showed up to his first camp with the Yankees overweight and was arrested to DUI soon thereafter, is finally healthy following a May 2012 procedure to repair a torn labrum, the kind of injury that can derail a promising career. The now-25-year-old made his first Spring Training start of 2014 yesterday and looked very much like an effective pitcher, striking out five of eleven batters faced in 2.2 scoreless innings. He also looked pretty rusty, but that is to be expected after such a long layoff.
"The best thing is, my shoulder is feeling great. When my shoulder is feeling good, I can pitch, I can compete. I'm happy with that," said Pineda to Mark Didtler following yesterday's start. His fastball velocity is more upper-80s/low-90s right now, a far cry from the mid-to-high-90s he showed with the Mariners three years ago, but it is only March and he should add a few ticks as the season progresses. That he is already touching 93 is promising. As a fastball-slider pitcher, velocity is pretty important to Pineda.
Now for the kicker: we have no idea what to expect out of Pineda this summer. He looks good now, but how will he look facing actual big leaguers every fifth day? What happens once he get 50 or 100 or 150 innings under his belt? Can he hold his stuff for 100+ pitches per start? These are all questions we can't answer. Remember, the Yankees said they expected Pineda back last June. That didn't work out. They can't count on him for anything. Whatever he provides has to be treated as gravy.
And yet, if the season started today, I'm pretty sure Pineda would be the fifth starter. He'd have to be, right? He's healthy and throwing well enough, plus he has the highest ceiling of the fifth starter candidates by frickin' far. Actually, forget about ceiling. Pineda might be the best pitcher for the 2014 season out of the lot, nevermind 2015 and beyond. I also think there's a "let's finally get something out of this trade" line of thinking as well. That's not necessarily a good thing, but I do think that mentality exists.
Even though he's on a staff with an unknown in Masahiro Tanaka and the enigmatic Ivan Nova, Pineda is the biggest wildcard in the rotation heading into 2014. Probably on the entire roster, really. He could be a non-factor like the last two seasons or he could be their best pitcher. Well, maybe not. That's probably a stretch. Pineda could wind up being their second best starter though, legitimately too. Not in a "everyone else fell apart so he's number two by default" way. That ability is there. It's just unclear if we will actually see it this summer.
The Yankees sunk a ton of money into Tanaka this winter to be the future of their rotation, but that does not lessen Pineda's importance to the franchise going forward. It would be a big blow to the organization if he is unable to re-establish himself this season. The farm system doesn't have much impact pitching on the immediate horizon and free agency is becoming a less effective to build a roster with each passing year. Pineda can still be rotation solution in both the short and long-term, but until he shows he's up to the task, the Yankees can't count on him.