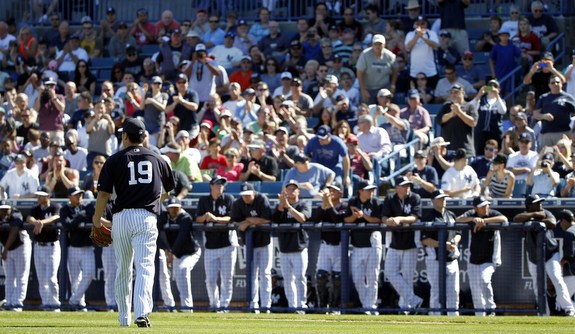 I know it's only Spring Training, but man oh man has Michael Pineda looked good. He looks healthy, his delivery is free and easy, his slider is still vicious, and his fastball gone from topping out at 92 mph in his first outing to topping out at 94 mph in his third. It has only been three games and a total of nine innings, but it's hard not to be encouraged and excited by what Pineda's done these last few weeks. He looks as good as we could have possibly hoped.
And yet, despite Pineda's strong showing, he isn't the big pitching story of the spring. Masahiro Tanaka has come over from the Rakuten Golden Eagles and after only a few weeks of camp, it feels like he's been here for years. The transition has appeared to be seamless — I'm sure it's been difficult for him, how could it not? — and his outings have matched the scouting reports. He throws strikes, has a wipeout splitter, and an underrated slider. When he's gotten in jams, he's cranked it up a notch, something we heard he'll do long before he signed on the dotted line. As with Pineda, Tanaka has looked as good as we could have possibly hoped.
Flying under the radar this spring has been Ivan Nova, at least to some extent. Following yesterday's outing he now has 21 strikeouts and two walks in 19.2 Grapefruit League innings, and I think the most impressive thing was the way he made adjustments mid-start and rebounded from a terrible first inning against the Astros a week or two ago. It was the kind of bad inning that used to spiral out of control, but instead Nova righted the ship and put together a good start. He's been healthy and he's been throwing the ball well. It's been a strong spring for Ivan.
"I've seen a guy that's come into spring training that, it seems like he realizes how good he can be," Girardi said. "And I think that's important. I think for all young players, there's that doubt always a little bit, can I do this on a consistent basis? Can I do it start after start, or game after game if you're a position player? Do I need to look over my starter? Is there someone always doubting what I can do? I think he's realized that, you know what, I can be pretty good."
Joe Girardi said that to Chad Jennings yesterday and was referring to Nova, but he could have easily been talking about Pineda or Tanaka. All three came to camp with something to prove and they've answered every question along the way. Just about everything has gone according to plan with these three and that's pretty great. Usually when you're talking about three pitchers — I guess this applies to any type of player, really — one will slip up somewhere along the lines. Two out of three is a pretty good success rate in baseball.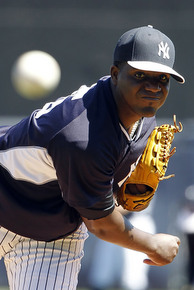 But all three guys have done everything they've needed to do in Spring Training and it's really exciting. It's really exciting for 2014 and for the Yankees going forward, because all three of these guys are young. Nova is the oldest and he just turned 27 in January. Pineda turned 25 that same month and Tanaka turned 25 back in November. The Yankees have an older roster in general and the other two members of the rotation are up there in age — Hiroki Kuroda just turned 39 and CC Sabathia is about 75 in pitching years given all the mileage on his arm — but these three fellas are all right smack in their prime or about the enter the prime of their careers. I'm going to use the word again: exciting.
This is Spring Training and the time of the year for overwhelming and occasionally irrational optimism. I don't know how any Yankees fan could look at Pineda, Tanaka, and Nova these last few weeks and not start dreaming about a rotation built around their young power arms for the next few years. We know there are going to be bumps in the road, they're inevitable, but right now everything is going right and that's something the club needed in Spring Training. The pieces of the next great Yankees rotation are in place. We've know that because seen 'em with our own eyes these last few weeks.