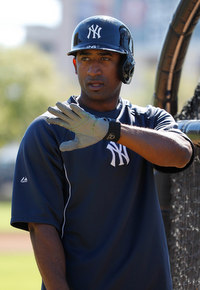 The Yankees finalized their Opening Day roster over the weekend and made somewhat surprising choices to round out the bullpen and bench. Vidal Nuno won the final bullpen spot while Yangervis Solarte beat out Eduardo Nunez for the final bench spot. I say somewhat surprising because neither of those moves felt impossible, just unlikely. At least they did to me.
The rationale behind the moves is simple. Joe Girardi insisted they would take the best pitchers for the bullpen and that's what they did by choosing Nuno over guys like Matt Daley and Cesar Cabral. Having three stretched out relievers (Nuno, David Phelps, Adam Warren) allows them to take it easy on Masahiro Tanaka and Michael Pineda early in the season. Solarte flat out outplayed Nunez in camp, plus he's a switch-hitter, more versatile (can play left field), and more reliable defensively. See? Simple.
So now rather than opening the season on the big league bench, Nunez will start with Triple-A Scranton, presumably playing shortstop everyday. Maybe he'll move around the infield a bit. With Nuno in the show, the Yankees brought back Al Aceves to fill out the Triple-A pitching staff. He'll join prospect Shane Greene and veterans Brian Gordon, Chris Leroux, and Bruce Billings in the rotation, though it's been reported Chase Whitley will also get a rotation spot. We'll see.
With the rosters set at both the big league and Triple-A level, we finally have a clear picture of the team's depth. It takes a lot more than 25 players to get through a 162-game season, so the extra 15 guys on the 40-man roster are really important. You know that. Nunez may be gone now, but there's a pretty good chance he will resurface at some point in 2014. Here is the position player depth chart:
| | MLB Starter | MLB Backup | AAA Depth |
| --- | --- | --- | --- |
| Catcher | McCann | Cervelli | Murphy/Romine |
| First Base | Teixeira | Johnson | Canzler |
| Second Base | Roberts | Johnson/Solarte/Anna | Nunez/Sizemore |
| Shortstop | Jeter | Anna/Solarte | Nunez |
| Third Base | Johnson | Solarte/Anna | Nunez/Sizemore/Wheeler |
| Left Field | Gardner | Soriano/Solarte | Almonte |
| Center Field | Ellsbury | Gardner/Ichiro | Richardson |
| Right Field | Beltran | Soriano/Ichiro | Almonte |
Eventually Brendan Ryan will join the infield mix. He'll start the season on the DL with a back problem, and Brian Cashman recently said he will miss more than the minimum 15 days. How much longer? Who knows. Backs have a way of staying hurt. Whenever he does get healthy, Ryan figures to replace either Dean Anna or Solarte on the bench. Those two won jobs in spring, but they have to continue playing well to keep them.
Anyway, compared to last season, the Yankees have much more position player depth. Obviously that has to do with all the injuries they dealt with in 2013. Guys like Nunez and Ichiro Suzuki were playing everyday last year. This season they are, at best, the third option at their positions. Austin Romine went from MLB backup to Triple-A backup. Scott Sizemore is an almost identical player to Jayson Nix, who played damn near everyday last season. Those types of players are Plan C now, not Plan A.
The pitching staff is a little more straight forward, especially the bullpen. Daley and Leroux pitched well enough in camp to put themselves near the front of the call-up line while Aceves has a track record with the organization. Given his, um, unpredictable personality, that is not necessarily a good thing for him. Greene and when healthy Jose Ramirez are younger options. Cabral is the obvious choice whenever a left-hander is needed. The Yankees didn't have many bullpen problems last year, though with Mariano Rivera, Boone Logan, and Joba Chamberlain gone, they'll need their depth a bit more this season.
The rotation depth is a little more unclear. Nuno seemed likely to go to Triple-A to be the sixth starter, but instead he'll be with the big league squad. In a perfect world, the Yankees would keep him, Phelps, and Warren all stretched out, but that's not practical. If all of those guys manage to stay stretched out to 80+ pitches, that means the rotation has been a mess and the bullpen is being called on often. Keeping one stretched out is doable, they did it with Warren last year. But two or three guys? That's not going to happen.
Aceves might be the sixth starter now, but I think the Yankees are taking a simple "we'll cross that bridge when we come to it" approach to their rotation depth. They'll worry about it when the time comes and see what the available options are. Maybe they can pull Nuno or Phelps out of the bullpen, maybe Greene forces the issue, maybe they grab someone off the scrap heap like they did with Gordon three years ago. They might not need a sixth starter until May or June. No sense in worrying about it now.
Don't get me wrong, we all wish the starting infield was better, but the combination of good health and offseason additions have given the Yankees much more depth for the start of 2014, especially on the positive player side. They're going to need it too, it's inevitable. The rotation picture is a little unclear beyond the top five but that's okay. It's not like the team doesn't have options, it's just that those options are being used in bullpen roles right now so the best possible combination of 25 players are on the Opening Day roster.