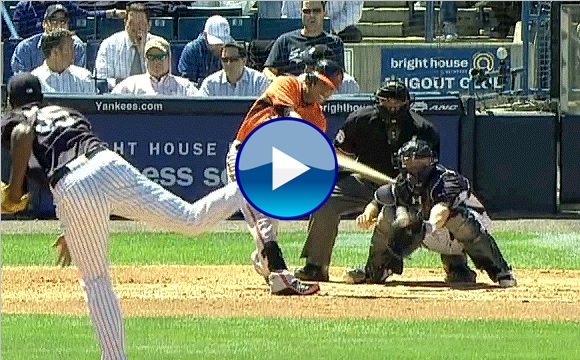 Right-hander Michael Pineda made his first start and second appearance of Spring Training this afternoon, throwing 2.2 scoreless innings against the Orioles before hitting his pitch count. He struck out five, walked one, and allowed three hits (one bloop, one grounder with eyes, one infield single) while throwing 27 of 48 pitches for strikes. His fastball was anywhere from 88-92 on the YES Network gun and he was almost decapitated by a Delmon Young line drive (GIF). That was kinda close.
Pineda was good but I thought he was obviously rusty. David Cone noted during the broadcast that Pineda's fastball would cut every so often, meaning his mechanics were a little off. When he missed, he missed down in the dirt rather than up in the zone or over the plate, so that was good. Most importantly, it looked everything was coming free and easy. Pineda wasn't laboring or overthrowing or anything like that. He was just letting it fly. The rust was obvious and hopefully he shakes that off as camp progresses. Considered he missed nearly two full years following shoulder surgery, Pineda looked strong today.
There are more GIFs after the jump. If the mouse-over feature isn't working for whatever reason, you can see each GIF here: one, two, three, four, five, six, seven, eight, nine.