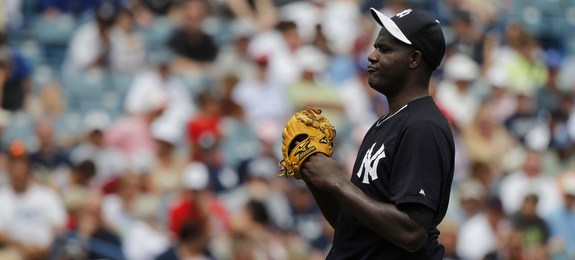 It took a little longer than we all would have liked, but Michael Pineda has finally earned a spot in the Yankees' rotation. He was officially named the fifth starter yesterday, sending David Phelps to the bullpen for the time being. Pineda didn't win the job by default, he won it fair and square by pitching well in camp and, most importantly, showing he was healthy. His delivery was free and easy, unlike two springs ago.
"He threw extremely well. It was what we wanted to see from him. He improved with each outing, and at times was dominant. We really liked what we saw," said Joe Girardi to Chad Jennings. "We weren't sure what we were going to get from Michael. You look at a lot of other years, maybe one of those guys makes it as your fifth, because they all threw extremely well. But Michael, we thought, probably had the best spring."
Pineda is still so young, turning only 25 back in January, but he also missed most of the last two seasons following shoulder surgery. That's a lot of missed development time and lost experience. Losing your age 23 and 24 seasons hurts, no doubt about it. Pineda hasn't had a chance to improve his changeup and he hasn't had the opportunity to gradually build up his innings total like most young pitchers. The Yankees, however, do not seem all that concerned about him physically.
"He does not have an innings limit on him," added Girardi. "We will watch how he's doing and we'll make judgments on what we have to do. This is a guy that has been to 175 innings before, so we know that he's capable of handling that. It's just, we've got to see how he's responding."
Pineda threw only 40.2 innings last season (plus an unknown amount in Extended Spring Training) but he did throw 171 innings for the Mariners back in 2011. I'm not sure how relevant that number is now after the shoulder surgery and completely lost 2012 season. It seems like the Yankees would want to ease him back into things given the nature of his injury, and despite Girardi's comment, I think they will. It would really surprise me if they ran him out there with no regard for his workload.
While Pineda's surgically repaired shoulder is the real concern here, fatigue can be just as problematic. His shoulder might be totally healthy, but he may still simply run out of gas in August or September following the long layoff. I don't think you can throw 171 innings one year, 40.2 innings over the next two years, then jump right back up to 180+ after that. Maybe Pineda can, who knows. Late-season fatigue is a concern and that's why guys like Phelps and Adam Warren will be important.
The Yankees went through an innings management nightmare with Joba Chamberlain a few years ago and more recently we've seen Stephen Strasburg's workload become a daily topic. The Nationals were up front with everything and they had to answer questions about it every time he pitched. Maybe the Yankees are trying to avoid that distraction. If there's no limit, there are no questions to answer. Pineda's workload obviously has to be monitored given his injury and layoff, the Yankees just seem to be playing it cool.