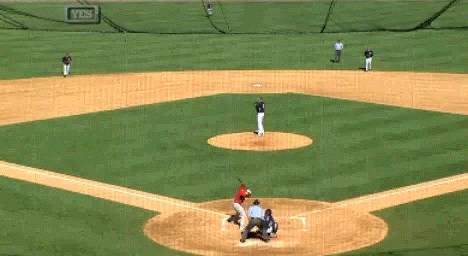 The Yankees won their second straight Grapefruit League game on Saturday afternoon, shutting out the Phillies 4-0. Here's the box score. The story of the day was Masahiro Tanaka's spring debut, and he did not disappoint. Two scoreless innings, two bloop singles, three strikeouts, and about a million cameras clicking with each pitch. Here are select GIFs and here is MLB.com's brief highlight video. Joe Girardi confirmed Tanaka's next appearance will be a start, date TBA.
Both CC Sabathia and Hiroki Kuroda fired two scoreless innings and Kuroda appeared to be in midseason form, getting the six outs on only 17 total pitches. He had to go down to the bullpen to get the rest of his throwing in. Brett Gardner and Ichiro Suzuki both singled, Derek Jeter and Kelly Johnson both walked, Brian McCann doubled, and Frankie Cervelli singled and walked. Jeter was actually tested in the field (unlike his first game) and he looked fine, even ranging to the other side of second base to field a slow chopper. Here's the rest of the day's news.
Tyler Austin received some kind of injection in his troublesome right wrist (it wasn't cortisone, he says), and he hopes to resuming throwing and swinging a bat on Monday. Apparently tests showed no structural damage. [Chad Jennings]
Alfonso Soriano still isn't 100% following his bout with the flu and he will not make his spring debut tomorrow as scheduled. "We don't feel he's quite at full strength, and we don't want to run him out there," said Joe Girardi. [George King, Jennings]
Here is your nightly open thread. The Nets are playing and MLB Network will have a Spring Training game on tape delay later tonight. I don't know who but it won't be the Yankees. You folks know how these work, so have at it.