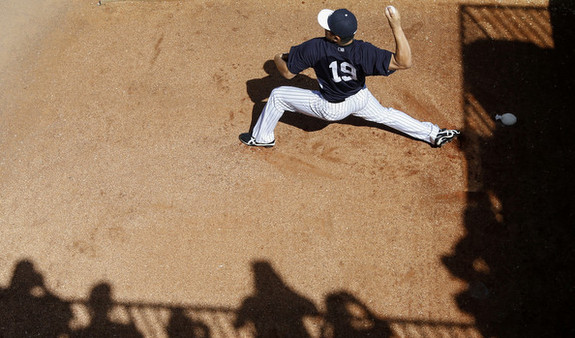 One thing I've come to understand over the years is the order of the starting rotation at the beginning of the season means very little. It's all symbolism. The Opening Day start usually goes to a veteran who has been with the team a while, not necessarily the best pitcher. Being designated as the staff ace and actually pitching like an ace are two different things. Scheduled off-days and rain-outs throw a wrench into the rotation after a few weeks and the order gets all mixed up anyway. It's fun to talk about, but the importance is small.
Spring Training ends in less than two weeks — the final Grapefruit League game is next Saturday — and the Yankees have started to line up their rotation for Opening Day and the start of the regular season. I'm sure it has actually been plotted out and planned for a few weeks now, but now that we can see the light at the end of the Spring Training tunnel, the plan is a little more concrete. Courtesy of Chad Jennings, here is the rotation through the weekend according to Joe Girardi:
Wednesday: Ivan Nova
Thursday: David Phelps
Friday: CC Sabathia
Saturday: Masahiro Tanaka
– Hiroki Kuroda in a minor league game
Sunday: Michael Pineda
With Vidal Nuno and Adam Warren nowhere to be found, it's likely both have already made their final starts of the spring. That makes sense, they always seemed to be the distant third and fourth contenders for the final rotation spot. Girardi confirmed Warren will make the team in some capacity a few weeks ago, so he's headed to the bullpen. Nuno could very well wind up in Triple-A as the sixth starter.
Michael Pineda has been fantastic this spring with the obvious caveats: he's coming off major shoulder surgery, it's mid-March, he isn't stretched out all the way, he hasn't faced the greatest lineups, etc. Everything we've seen so far is encouraging and even though Girardi stopped short of anointing him the fifth starter — "The other guys are throwing pretty well too. We've got to figure out what's best for our team as a whole," he said to Bryan Hoch yesterday — it sure seems like Pineda is the favorite to start the season in the rotation, relegating David Phelps to the bullpen. So, with that in mind, here's how next week's rotation lines up:
Monday, March 24th: OFF DAY (Nova throws a simulated or minor league game)
Tuesday, March 25th vs. Phillies: Phelps on regular rest
Wednesday, March 26th @ Blue Jays: Sabathia on regular rest
Thursday, March 27th @ Pirates: Kuroda on regular rest
Friday, March 28th vs. Marlins: Tanaka with one extra day of rest
Saturday, March 29th vs. Marlins: Nova on regular rest, Pineda???
Sunday, March 30th: OFF DAY
According to Jennings, Girardi "hinted that someone will pitch at the complex" during the Monday's scheduled off-day. Nova lines up perfectly for that day, so he seems to be the guy. Phelps, Sabathia, and Kuroda follow with their final Grapefruit League starts on regular rest, then Tanaka goes with one extra day. The team has said they are planning to give him the extra day here and there. It's also worth noting that regardless of whether he starts Thursday or Friday (or Saturday or Sunday for that matter), Tanaka will have faced only one AL club this winter (the Twins this coming Saturday). I doubt this was a coincidence. The Yankees kept him hidden from the direct competition while still getting him innings against MLB caliber hitters. Clever.
Anyway, following Tanaka's start, Nova closes out the Grapefruit League schedule on regular rest next Saturday. What happens with Pineda at that point is anyone's guess. He could come out of the bullpen to replace Nova, he could throw a simulated game, or he could start a minor league game. The Yankees have options. Pineda will be working on one extra day of rest Saturday and it's good to give him that little break following his surgery and long rehab. They have to take it easy on him and not work him too hard, too soon.
With that all laid out, here's how the rotation lines up the following week:
Monday, March 31st: OFF DAY
Tuesday, April 1st @ Astros: Sabathia with one extra day of rest
Wednesday, April 2nd @ Astros: Kuroda with one extra day of rest
Thursday, April 3rd @ Astros: Nova on regular rest
Friday, April 4th @ Blue Jays: Tanaka with two extra days of rest
Saturday, April 5th @ Blue Jays: Pineda with two extra days of rest
Nova's the only guy who wouldn't make his first start of the season with extra rest and since he's young and healthy (and not coming over from Japan), he probably needs the extra rest the least. Pineda could throw a simulated game or pitch in a minor league game on Sunday the 30th instead of Saturday the 29th, allowing him to make that first regular season start on one extra day of rest rather than two. There is such a thing as too much rest, remember. He can get out of rhythm or something like that. Tanaka is used to starting with six days of rest, so the two extra days should be no big deal to him.
The Yankees have indicated Tanaka will start the fourth game of the season rather than the third for two specific reasons. One, they want to split him and Kuroda up since they have very similar styles as fastball/splitter/slider pitchers. (It's not just a racial thing, you know.) Two, they want to give Tanaka extra rest when they can, and by starting him in the fourth game, he'll be able to make his third start of the season with an extra day of rest. If he starts the third game of the season, he'd have to make both his second and third starts with normal rest. Anything to help the transition.
Sabathia was pretty terrible last season but he's getting the nod on Opening Day for past performance. The guy was pretty awesome from 2009-12. Like I said before, the Opening Day start is a novelty more than anything. It doesn't have any kind of real value to the team. The Game One starter for a postseason series, now that actually matters. Opening Day? Nah, not worth getting upset over. The rotation is all lined up for the start of the season and everyone who needs an extra day or two of rest will get it, and that's it the most important thing.