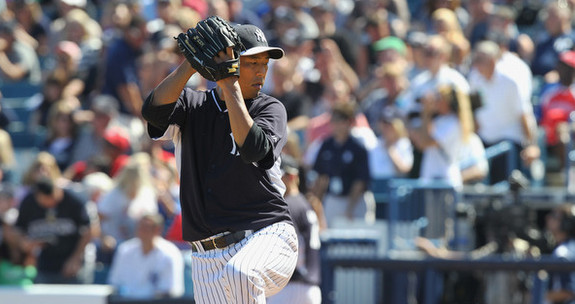 Once again, Hiroki Kuroda is flying under the radar. It feels like he's done it his entire Yankees career. Everyone is talking about Masahiro Tanaka or the healthy Michael Pineda or CC Sabathia's missing fastball this spring, but no one is talking about Kuroda, the team's best pitcher over the last two years. He's allowed two hits and one walk in his 4.2 Grapefruit League innings so far, striking out seven. Business as usual, I guess.
Right-hander Jose Campos, the other guy in the Pineda-Jesus Montero trade, is scheduled to make his spring debut this afternoon. The Yankees have been taking it slow with him in camp and really in general since he missed most of 2012 with a small fracture in his elbow. Campos, 21, had a 3.41 ERA and 2.83 FIP in 87 innings for Low-A Charleston last summer while working short, very controlled outings. I ranked him as the team's 15th best prospect last month.
The Tigers made the short trip over from Lakeland for this afternoon's game. They didn't bring too many of their regulars, only Ian Kinsler, Victor Martinez, and Alex Avila among the position players. Top prospect and new third baseman Nick Castellanos will be in the lineup as well. Anibal Sanchez is on the mound. Here is Joe Girardi's starting lineup:
LF Ichiro Suzuki
SS Derek Jeter
RF Carlos Beltran
DH Alfonso Soriano
3B Kelly Johnson
2B Brian Roberts
C Frankie Cervelli
1B Russ Canzler
CF Mason Williams
And on the mound is Kuroda for the third time this spring. He's probably scheduled for something like four innings or 60-65 pitches.
Available Pitchers: RHP Shawn Kelley, RHP Jose Campos, RHP Robert Coello, RHP Danny Burawa, RHP Yoshinori Tateyama, and LHP Fred Lewis are all scheduled to pitch. As I said, Campos will be making his spring debut. RHP Chase Whitley, RHP Shane Greene, RHP Chris Leroux, and RHP Bryan Mitchell are the extra arms.
Available Position Players: C Austin Romine, 1B Jose Gil, 2B Zelous Wheeler, SS Dean Anna, 3B Jose Pirela, LF Yangervis Solarte, CF Antoan Richardson, RF Adonis Garcia, and DH John Ryan Murphy will be the second string off the bench. C Francisco Arcia, C Peter O'Brien, C Gary Sanchez, IF Corban Joseph, OF Zoilo Almonte, and OF Ramon Flores are also available.
Now, the bad news: It has been raining all morning in Tampa and the forecast isn't great for the rest of the afternoon. I don't know what that means for the game, but they did wait out a torrential downpour a weekend ago against the Phillies, when Tanaka was making his second start. There might be a delay at some point or the game might be postponed all together. We'll see. The game is scheduled to start a little after 1pm ET and can be seen live on YES, MLB Network, and MLB.tv. Enjoy.
Update (12:44pm): First pitch has been pushed back to 1:30pm ET. Not too bad.