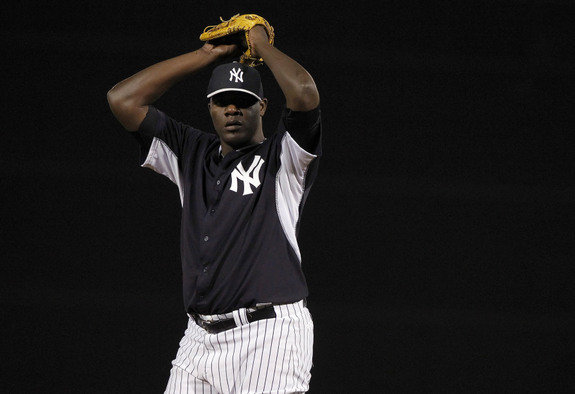 For the first time this spring, the Yankees will play a pair of split squad this afternoon. It won't be the last time though. Not even close. Half the team, including most of the regulars, are leaving camp this evening to travel to Panama for this weekend's exhibition games. The other half will stay in Tampa to play regularly scheduled Grapefruit League games. Seven games in the next four days and at least five will be on television, if not all seven. Fun.
This afternoon is all about Michael Pineda, who will be making his second appearance of the spring. His first outing was not broadcast anywhere, so this game will be the first time many of us get to see him since Spring Training 2012, before he blew out his shoulder. Pineda's first outing went well (four strikeouts in two scoreless innings) but I don't really care about results. I just want to see a healthy pitcher this afternoon. A pitcher with some life on his fastball, a nasty slider, and the ability to locate. If I see that, I'll be happy.
Half the team is at home in Tampa to play the Orioles while the other half is just over the causeway in Clearwater to play the Phillies. Pineda and just about everyone going to Panama will play in the home game. Here are the Orioles and Phillies lineups, if you're interested. Here are the Yankees' lineups:
Home vs. Orioles (Joe Girardi managing)
CF Brett Gardner
SS Derek Jeter
DH Carlos Beltran
C Brian McCann
LF Alfonso Soriano
3B Eduardo Nunez
2B Dean Anna
RF Zoilo Almonte
1B Russ Canzler
Available Pitchers: RHP Michael Pineda (starter), RHP David Robertson, LHP Matt Thornton, RHP Bruce Billings, LHP Cesar Cabral, and RHP Chris Leroux are all scheduled to pitch. RHP Matt Daley, RHP Jim Miller, and RHP Brian Gordon are also available if needed.
Available Position Players: C John Ryan Murphy, 1B Jose Gil, 2B Corban Joseph, SS Jose Pirela, 3B Zelous Wheeler, LF Jake Cave, CF Antoan Richardson, RF Adonis Garcia, and DH Gary Sanchez will come off the bench as the second string. C/1B Tyson Blaser and UTIL Casey Stevenson are also available.
Road vs. Phillies (Tony Pena managing)
CF Jacoby Ellsbury
RF Ichiro Suzuki
1B Mark Teixeira
3B Kelly Johnson
C Frankie Cervelli
SS Yangervis Solarte
2B Scott Sizemore
LF Ramon Flores
DH Austin Romine
Available Pitchers: RHP Ivan Nova (starter), RHP Shane Greene, RHP Bryan Mitchell, RHP Mark Montgomery, and RHP Preston Claiborne are all scheduled to pitch. RHP Danny Burawa, LHP Fred Lewis, LHP Tyler Webb, and SwP Pat Venditte are the extra arms.
Available Position Players: C Peter O'Brien, 1B Francisco Arcia, 2B Rob Refsnyder, SS Carmen Angelini, 3B Rob Segedin, LF Ben Gamel, CF Mason Williams, and RF Taylor Dugas are all due to come off the bench. C Wes Wilson and UTIL Ali Castillo are also available.
Both games are scheduled to begin a little after 1pm ET and both will be broadcast live, which is neat. The home game will be available on YES and MLB.tv while the road game will be on MLB.tv only. Thank goodness for the split screen feature. The weather in both Tampa and Clearwater will be a non-issue, it's nice and sunny on Florida's west coast. Talk about both games right here. Enjoy.