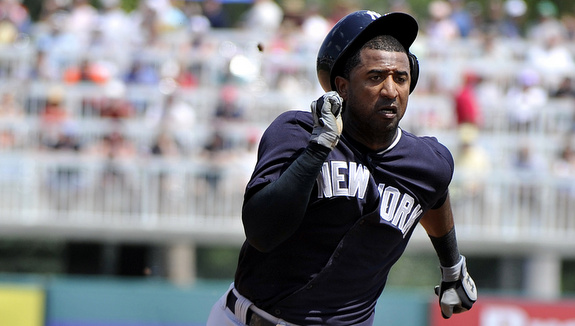 The Yankees announced their season-opening rotation earlier today, with Michael Pineda not so surprisingly winning the fifth starter's job. Adam Warren will move back into the bullpen when the season begins next week but he is making the spot start tonight as guys get lined up during the final week of Spring Training.
The Phillies made the short trip across the causeway from Clearwater for tonight's game. They brought their A-lineup since this is the final week of camp, so Chase Utley and Ryan Howard and Carlos Ruiz and all those guys are playing. So is former Yankee Bobby Abreu. Right-hander Jeff Manship will be on the mound as Philadelphia gets a spot start of their own. Here is the lineup Joe Girardi is sending out there. I have to think that's the Opening Day lineup, only with Jacoby Ellsbury batting leadoff and playing center field and Brett Gardner hitting ninth.
LF Brett Gardner
SS Derek Jeter
DH Carlos Beltran
1B Mark Teixeira
C Brian McCann
RF Alfonso Soriano
3B Kelly Johnson
2B Brian Roberts
CF Ichiro Suzuki
RHP AdamWarren
Available Position Players: C Austin Romine, 1B Russ Canzler, 2B Eduardo Nunez, SS Dean Anna, 3B Scott Sizemore, LF Yangervis Solarte, CF Adonis Garcia, RF Zoilo Almonte, and DH Zelous Wheeler will be the second string off the bench. C/1B Jose Gil, 1B/C Tyson Blaser, and OF Antoan Richardson are also available.
Available Pitchers: RHP David Phelps, LHP Vidal Nuno, LHP Matt Thornton, RHP Shawn Kelley, RHP David Robertson, RHP Matt Daley, LHP Fred Lewis, RHP David Herndon, RHP Shane Greene, RHP Jim Miller, RHP Danny Burawa, and RHP Yoshinori Tateyama. So everyone, basically. Everyone's available.
It's cool and cloudy in Tampa but there's no threat of rain. They'll have no trouble getting tonight's game in. First pitch is scheduled for 7:05pm ET and can be seen on YES, MLB Network, and MLB.tv. Enjoy, meaningful baseball is right around the corner.