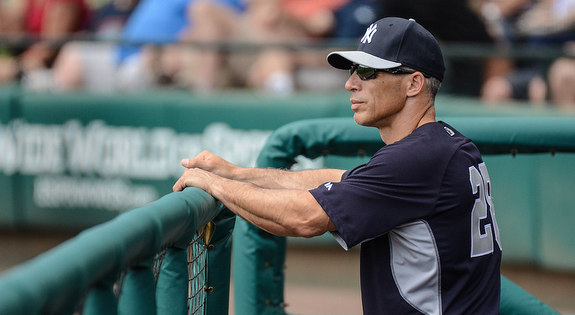 For the second time in three days, the Yankees are playing the Red Sox in a Spring Training game that more than a few people will try to pass off as meaningful. Gotta shove the rivalry down everyone's throat. David Phelps is making his fifth start of the spring as he looks to edge out Michael Pineda for the final rotation spot, though that might be a lost cause at this point. Boston is playing most of their regulars, so it'll be a good tune-up for Phelps, who is probably scheduled for something like six innings or 90 pitches.
Because it's a night game and the Yankees had to travel two hours south to Fort Myers, they sent a skeleton crew roster. Whoever drew the short straw, basically. The biggest name to make the trip is Mark Teixeira, who still needs a lot of at-bats after missing all but 15 games last season due to his wrist injury. Otherwise it's a bunch of bench players and non-roster invitees. Star and scrubs as the title says, only the star really isn't a star anymore. Here's the starting nine:
CF Ichiro Suzuki
SS Brendan Ryan SS Dean Anna — Ryan was a late scratch with upper back spasms unrelated to his previous oblique problem
3B Eduardo Nunez
1B Mark Teixeira
C Frankie Cervelli
2B Scott Sizemore
LF Yangervis Solarte
RF Zoilo Almonte
DH Zelous Wheeler
SP David Phelps
Available Pitchers: RHP Matt Daley, RHP Chris Leroux, RHP Yoshinori Tateyama, and LHP Fred Lewis are all scheduled to pitch. RHP Branden Pinder, LHP James Pazos, RHP Manny Barreda, and RHP Caleb Cotham are the extra arms.
Available Position Players: C Austin Romine, 1B Jose Gil, 2B Jose Pirela, SS Carmen Angelini, 3B Dean Anna, LF Ben Gamel, CF Antoan Richardson, RF Adonis Garcia, and DH John Ryan Murphy will be the second string off the bench. C/1B Tyson Blaser and UTIL Ali Castillo are also available.
The weather in Fort Myers is quite lovely this evening, with no clouds and temperatures in the upper-60s/low-70s. Not bad. Not bad at all. You can watch the game live on YES locally and both ESPN and MLB.tv nationally. Enjoy.