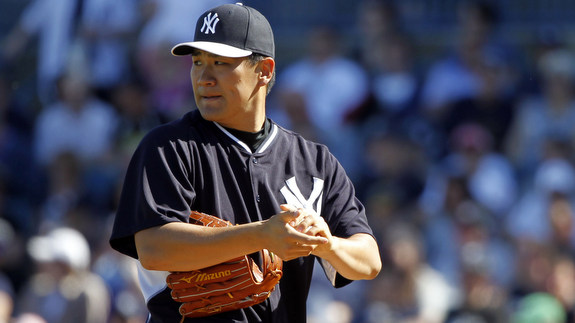 This afternoon's Grapefruit League game against the Phillies is no ordinary Spring Training game. Not even close. There is be a lot going on for the Yankees this afternoon, with Masahiro Tanaka's first start (second appearance) being the headliner. He is starting on a normal five-day schedule, his first time doing so, and because he's starting, he'll see mostly big leaguers. That's kind of a big deal.
That's not it, though. Mark Teixeira will also be playing in his first spring game after missing nearly all of last year due to a tendon sheath problem in his right wrist. He had surgery in early-July and has been slowly working his way back. With no obvious first base alternative in camp, Teixeira's health and production is very important to the Yankees this season. Alfonso Soriano, who has been battling the flu, will also play his first spring game today.
But wait, there's more. For the first time this spring, the Yankees will get a chance to try out the new expanded replay system. Each team will play a handful of "test" games with the new system — not every park has the proper equipment, so they can't do it every game — and Joe Girardi said he plans to use the system as much as possible to get familiar with it. They're going to have people checking replays and relaying information like they will during the season.
No, the bad news: it's pouring in Florida. Pretty much the entire state, but especially the Tampa area. The Yankees are on the road to play the Phillies, but their complex in Clearwater is like, 15 minutes away. The weather will be a problem and there's a good chance this afternoon's game will not be played. I suppose they could wait it out, but it is Spring Training. They tend to pull the plug on these games quickly. The Yankees have bused over the stadium though, so here's the starting lineup:
LF Brett Gardner
SS Derek Jeter
1B Mark Teixeira
RF Carlos Beltran
C Brian McCann
DH Alfonso Soriano
3B Kelly Johnson
2B Brian Roberts
CF Mason Williams
And on the mound is Tanaka for the second time this spring. His first outing was rather impressive and I think we all want to see some more.
Available Pitchers: RHP Bruce Billings, RHP Chris Leroux, RHP Mark Montgomery, RHP Danny Burawa, and LHP Fred Lewis are all scheduled to pitch. RHP Preston Claiborne, LHP Cesar Cabral, RHP Brian Gordon, and RHP Chase Whitley also made the trip and are available if needed.
Available Position Players: C John Ryan Murphy, 1B Corban Joseph, 2B Yangervis Solarte, SS Brendan Ryan, 3B Scott Sizemore, LF Ramon Flores, CF Antoan Richardson, and RF Adonis Garcia will come off the bench. C Francisco Arcia, 1B/C Jose Gil, C Gary Sanchez, C Peter O'Brien, and UTIL Jose Pirela are also available.
There is no YES broadcast of this afternoon's game. The network usually doesn't travel. The game can be seen live on both MLB Network and MLB.tv though, so if they do play, make sure you tune in. First pitch is scheduled for a little after 1pm ET. Enjoy.
Update (1:05pm): I haven't seen an official announcement yet, but the game is very obviously in a delay right now. A cancellation is sure to follow at some point.
Update (1:27pm): First pitch is currently scheduled for 2:30pm ET. How about that?
Update (1:58pm): Carlos Beltran has been scratched from the game. Ramon Flores will take his place in right field. I assume the Yankees don't want him playing on the wet outfield.
Update (2:30pm): Game on! They have started played, which seemed impossible not too long ago.