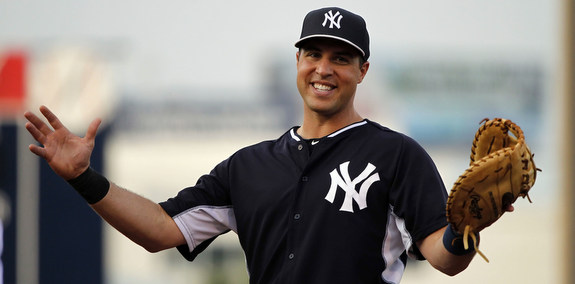 The Yankees will play their final two Spring Training games tonight and tomorrow afternoon before opening their regular season in Houston against the Astros on Tuesday. They made it through a full six weeks of camp relatively healthy — assuming Jacoby Ellsbury's tight calf is as minor as the team is letting on — so in that sense, this spring has been a big success. Masahiro Tanaka and Michael Pineda look very good, which is icing on the cake.
One of the biggest concerns coming into the spring was Mark Teixeira, particularly the status of his surgically repaired right wrist. He missed essentially all of last year and was on a prolonged rehab program that had him swinging a bat in December and facing live pitching in early-March. A few weeks ago Teixeira acknowledged there was still some stiffness in the wrist, which isn't uncommon after surgery. On Thursday though, he told Kevin Kernan he still does not trust that the wrist is healthy:
"I'm not trusting that the wrist is healthy,'' Teixeira told The Post Thursday at Steinbrenner Field.

"I'm just trying to protect it,'' he said. "Taking your 'A' swing, taking that swing that is 100 percent and I need to trust that I can do that and not feel pain. I need to finish my swing instead of protecting my wrist. Last year, to protect my wrist, I didn't finish my swing.''
Teixeira, who will turn 34 in exactly two weeks, did say "the wrist is feeling good" overall, so he's not in pain or discomfort or anything. He's just hasn't fully cut it loose yet, like a pitcher who is tentative to throw the ball will full effort after Tommy John surgery.
One scout said Teixeira "still has some rust to knock off that swing," which is obvious given his Grapefruit League performance: two singles and one double in 33 at-bats (.091 AVG, .121 SLG) against mostly MLB caliber competition according to Baseball Reference's opponent quality stat. He's seeing the ball fine (nine walks and nine strikeouts), it's just that his swing isn't all the way there. When will it be back?
"Hopefully, really soon,'' said Teixeira, who averaged 34 home runs and 106 RBIs his first four seasons as a Yankee but was limited to three home runs and 12 RBIs last year, when he got only 53 at-bats.

"Obviously, we're kind of running out of time in spring training, but I know that my wrist is going to get stronger as the year goes on and I think I'm going to progressively get better,'' he said.
Given the nature of the injury and the fact he missed just about all of last season, it's not exactly a surprise Teixeira's swing isn't all the way back. Swings, really, he is a switch-hitter. Forty-something Grapefruit League plate appearances and countless hacks in batting practice isn't necessarily enough to get back in a groove.
Teixeira has traditionally been a slow starter and with the acknowledgement that he still doesn't trust his wrist this close to the start of the season, the Yankees can't start the year with him in the middle of the lineup. There are too many other quality hitters on the team for Tex to bat third or fourth without fully trusting the wrist. He is an important player, but the Yankees can't expect him to be an impact player in an important lineup spot if he's admitting he's not where he needs to be. Common sense.
In a perfect world, maybe Teixeira would start the season on the DL so he can stay behind in Extended Spring Training and get eight or ten at-bats a day. But because the Yankees don't have a true backup first baseman who can man the position everyday for a week or two, they're stuck taking him north and letting him gain trust in that wrist on the fly. It's not ideal, but it's the only option the team has right now.