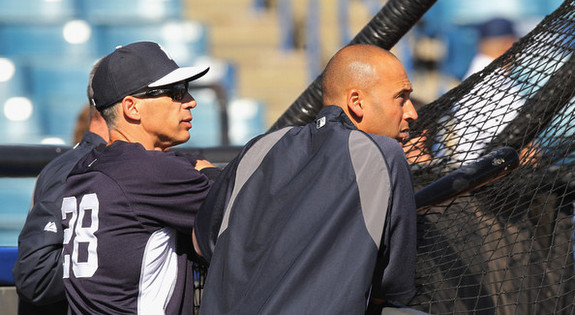 The Grapefruit League season is one week old and we've learned … well, pretty much nothing so far. Masahiro Tanaka still has a nasty splitter with the MLB ball. I guess that's something. Otherwise it's still too early to draw any meaningful conclusions from the handful of games that have been played. Everyone's healthy and that's the most important thing. Here are some scattered thoughts.
1. So far, so good for Derek Jeter. He appears to be moving well both in the field and down the line, looking far more mobile than he did at any point last year. It's very encouraging. The Cap'n has looked awful at the plate — one strikeout, one walk, eight ground balls (three double plays) in ten plate appearances — though that is to be expected after missing just about all of last season. His timing is not even close to being there yet and he's got a little under four weeks to find it. As far as his ability to move laterally in the field and run down the line are concerned, everything looks good. That's most important right now following all the leg injuries.
2. It sure seems like Frankie Cervelli is being groomed as Tanaka's personal catcher. He's caught most of his bullpen and live batting practice sessions, plus he was behind the plate when he made his Spring Training debut over the weekend. Brian McCann has to learn an entire new staff this spring, so it makes sense to have Cervelli spend so much time with the new guy since he already knows the rest of the staff. Joe Girardi has proven himself to be a fan of personal catchers — I can't help but think this stems from who he was as a player — and it looks like Tanaka/Cervelli will be a thing this year. They just have to make sure McCann spends enough time with Tanaka this spring so they aren't total strangers should Cervelli get hurt or something.
3. One little thing that usually means more than nothing in Spring Training: reliever usage. Over the last few springs, the Yankees have shown that the guys who are being more seriously considered for the roster are scheduled to pitch on specific days and get to start an inning clean, at least early in camp. The guys who are further behind in the bullpen race are usually held back in case someone hits their pitch count in the middle of an inning. Based on how they've been used over this last week, that's good news for Dellin Betances and Preston Claiborne, and bad news for Mark Montgomery, Cesar Cabral, and others. Don't get me wrong, this isn't definitive proof of anything, but the Yankees may be tipping their hand based on what they've done in the past and how they've used guys so far.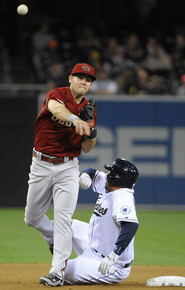 4. Is it just me, or does a March trade feel inevitable this year? The Yankees have actually made a Spring Training trade that directly impacted their Opening Day roster in each of the last three years (Vernon Wells in 2013, Chris Stewart in 2012, Sergio Mitre for Chris Dickerson in 2011), so a deal in the next few weeks would hardly be unprecedented. The needs on the infield and in the bullpen still exist and both Austin Romine and John Ryan Murphy are so obviously being showcased given all their playing time (particularly at DH) so far. Murphy for one of the Diamondbacks' extra shortstops make so much sense, at least from this end of the deal. Arizona simply might not like New York's catchers all that much. Either way, I can't shake this feeling that a trade will go down before Opening Day.
5. You've probably seen it by now, but the other day Robinson Cano made some comments to Jon Heyman about the Mariners' need for another bat and another pitcher. Not exactly groundbreaking stuff, everyone knows Seattle needs more help. It sounded very much like a player who is just starting to realize he is no longer on a big payroll team that will go out and spend money to address its needs. I'm not sure how else to take the "if it was up to me, we'd have (Ervin) Santana, (Nelson) Cruz and Ubaldo (Jimenez)" comment. We all know Cano left for the biggest payday, pure and simple, but man this whole thing is so weird. It seems playing for the Not Yankees has been a shock to his system. I really wish he was still wearing pinstripes, but I can't begrudge the team for refusing to meet those demands.