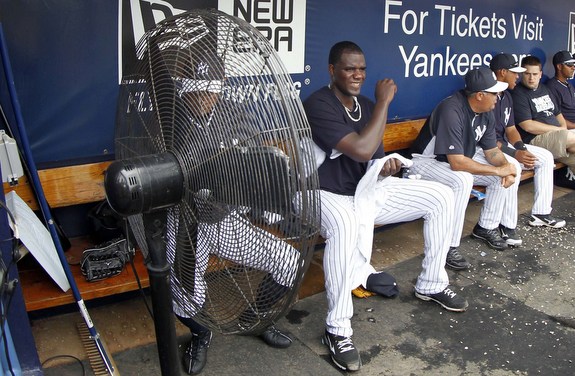 Exactly one week from today, the Yankees will open the 2014 regular season against the Astros in Houston. Between that series and the second series against the Blue Jays in Toronto, the scheduling gods did the Yankees a favor. They'll have the opportunity to beat up on the Astros and the back of Toronto's rotation before coming home for some games against division rivals. A fast start to the season sure would be nice. Here are some thoughts as Spring Training winds down.
1. Jacoby Ellsbury (calf) is scheduled to play in a minor league game today and if that goes well, he could return to regular Grapefruit League action as soon as tomorrow. Hopefully everything goes well, but if he does have to start the season on the DL, what happens to the lineup? Brett Gardner plays center and bats leadoff while Alfonso Soriano moves to left field. That part is obvious. What about DH though? I think the Yankees would just rotate Ichiro Suzuki and Eduardo Nunez into the lineup for the time being, but with Ellsbury out, the best lineup probably has both Brian McCann and Frankie Cervelli in it. They could carry a third catcher like Austin Romine and get Cervelli's bat in the lineup everyday. I can't believe I just said that, but hey, he's tearing the cover off the ball this spring. I doubt this will happen because carrying a third catcher makes the roster even more inflexible, but if Ellsbury is sidelined, the best solution may be getting both McCann and Cervelli into the lineup at the same time.
2. Joe Girardi is expected to announced the fifth starter today and I would be surprised if it isn't Michael Pineda. Both he and David Phelps have pitched well in camp, but this decision should be about more than that. Even after the shoulder surgery, I think Pineda's potential to have a real impact has been obvious this spring, especially as his fastball velocity has crept up. His slider is just vicious and he has better control too. I don't intend for this to come off as a knock, but Phelps has developed a largely undeserved reputation for being a strike-thrower in his short big league career. His walk rate (3.53 BB/9 and 9.2 BB%) these last two years has been worse than the AL average (3.04 BB/9 and 7.9 BB%), so his stellar minor league walk rates have not carried over to MLB just yet. Pineda has better pure stuff and better control at this point, and I also think there's a sense of "okay, it's time to get something out of this trade" at play. If the Yankees feel they haven't seen enough out of Pineda to stick him in the rotation right now, I'm not sure what more they want to see.
3. My current "gut feel" bullpen projection is the same as the last one: David Robertson, Shawn Kelley, Matt Thornton, Phelps, Adam Warren, Dellin Betances, and Matt Daley. I think the only other serious candidates for that last spot right now are Vidal Nuno, Chris Leroux, and Fred Lewis. I think they'd open a 40-man roster spot for Daley — they obviously like him after rehabbing him from a shoulder injury he suffered with another team for nearly two years, re-signing him twice along the way — but not Leroux or Lewis just yet. They probably want to see both carry their spring success over into the regular season first. Nuno seems more likely to open the year as the sixth starter in Triple-A than as the second lefty/third swingman in the bullpen. Daley fits best for the time being. As for you gets the 40-man roster axe … Ramon Flores? I have no idea unless there's an Ichiro Suzuki trade. No obvious candidate.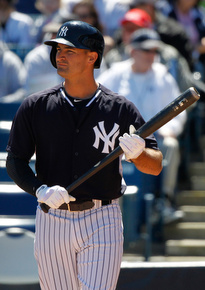 4. My current "gut feel" bench projection: Cervelli, Nunez, Ichiro, and Dean Anna. The first three are obvious, but I think Anna gets the nod over Yangervis Solarte simply because he's already on the 40-man. There's no sense in cutting a player to carry a utility guy who is going to wind up in the Triple-A when Brendan Ryan returns, which could be within the first week or two of the season. Backs are tricky and Ryan could miss much longer, but right now all signs point to it being a short-term thing. Whoever gets that last bench spot will be a temporary solution, not a long-term fixture on the roster. No need to juggle the 40-man for that. Anna was acquired for this exact role, to be the up-and-down 25th man. Let Solarte show his hot spring is something more than just a hot spring in Triple-A before carrying him on the big league roster.
5. In case you missed it last night, Chad Jennings reported that right-hander and 2012 first rounder Ty Hensley will not start the season on time due to a hernia. VP of Baseball Ops Mark Newman said he is expected to resume throwing in 3-4 weeks but, given Newman's track record with the stuff, I wouldn't be surprised if it's longer. Between the time off and going through what amounts to Spring Training, there's a chance Hensley will not get into a regular season minor league game until June. He barely pitched after signing in 2012 (12 innings) and then missed all of 2013 due to hip(s) surgery, so add in this new hernia issue and Hensley is going to end up going close to two full years between regularly pitching in competitive games as part of a rotation. That's an awful lot of lost development time. Hensley once said he wanted to be in the big leagues by his 21st birthday, but instead he might not even have 100 career innings under his belt when he turns the big 2-1 in late-July. Yuck. At least they aren't arm injuries, I guess.