Starting this afternoon, the Yankees will play seven games in the next four days. They play a set of split squad games this afternoon, then this weekend half the team (including most of the regulars) will travel to Panama for a pair of exhibition games. The other half will remain in Tampa and play regularly scheduled Grapefruit League games. I still have no idea if the Panama games will be on television. They have to be, right? I think so. Here are some scattered thoughts on random Thursday.
1. Derek Jeter continues to run well following all the ankle and leg injuries, which is very encouraging. He seems to be on the Mariano Rivera plan right now, meaning he is only playing at home and not traveling, but that will have to change at some point. I guess it will this weekend in Panama. Jeter has played only one set of back-to-back games so far but I have to think he'll play three straight or four games in five days before the start of the season. Something like that. The Cap'n hasn't hit all that much in camp (4-for-20) but I'm not too worried about that. Opening Day is still more than two weeks away. Running and moving well is still the most important thing right now and so far everything is going a-okay.
2. Brett Wallace is pretty bad — that's a prerequisite for being released by the Astros, as Wallace did yesterday — but it wouldn't be a bad idea for the Yankees to scoop him on a minor league contract as Mark Teixeira insurance. Russ Canzler is the only other natural first baseman in big league camp right now and he would get the call should Teixeira go down with injury. The 27-year-old Wallace hit .221/.284/.431 (97 wRC+) with 13 homers and an unsightly 104/18 K/BB in 285 plate appearances last season (93 wRC+ in 1,077 career plate appearances), but he's a left-handed batter with some pop and there's the short porch in right field, yadda yadda yadda. Canzler is worth keeping around because he can play the outfield as well, though I consider Wallace a better backup plan at first base. If they can grab him until someone better comes along, I think that's the way to go.
3. Left-hander Fred Lewis has had himself a nice Spring Training so far. The 27-year-old was the team's 47th round pick in the 2010 draft and he's allowed two hits and one walk in 4.1 scoreless innings in Grapefruit League action, striking out four. He also chucked eleven scoreless innings in Arizona Fall League last year. Lewis is something of a soft tosser and he didn't handle lefties well last year (.308/.375/.415) or over the last three years (.297/.389/.378), so this is likely a small sample mirage more than anything. It's also worth noting he went unselected in the Rule 5 Draft in December, so other teams don't think he can help at the MLB level this year. Still, Lewis has handled himself well in front of the decision makers in camp, and all a guy like this is trying to do is put himself on the map. Preston Claiborne had a strong spring last year and it led to him getting called up during the regular season. Lewis is currently pitching his way into a similar situation.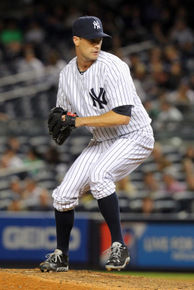 4. This is nothing more than a guess, but if the season started right now, I think Michael Pineda would be the fifth starter with Dellin Betances and Matt Daley joining David Phelps and Adam Warren in the bullpen. Again, that's just a guess. Betances seems to have a bullpen spot locked up right now, and I'm saying Daley over guys like Claiborne and Cesar Cabral for a few reasons. One, the Yankees obviously like him. They didn't spend the last two years rehabbing him from a shoulder injury he suffered pitching for another team out of the kindness of their hearts. Two, he's pitched well in camp (3.2 scoreless inning with six strikeouts) and he went from relatively meaningless eighth and ninth inning appearances to being the first guy out of the bullpen and facing projected big leaguers. Three, I think the Yankees realize there might only be so many bullets in the 31-year-old's arm after shoulder surgery, and they don't want to waste them in Triple-A. Daley seems like another Cory Wade in that he's a soft-tosser who might only have 50 good innings in him before the wheels come off. He was with the team last September and as of right now, I think he'll be there on Opening Day.
5. As for the final bench spot, I think it would go to Eduardo Nunez if the season started today. This is just another guess. Scott Sizemore was eased into things early in camp following his knee injuries and he hasn't played much while Nunez has already started multiple games at second, short, and third. Sizemore has started two games total. He can opt-out of his minor league contract on May 1st (and August 1st), and I think the team would send him down to Triple-A for a month to let him get back into the swing of things before re-evaluating him at the first opt-out. Sizemore has missed most of the last two seasons and that's an awful lot of rust to shake off. Things could change between now and Opening Day and they probably will, but that's my opinion right now. Nunez seems to keep getting chances and my hunch is he will get one more.