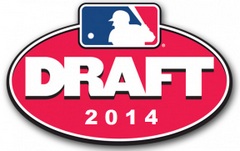 In my opinion, the 2013 draft was the Yankees' strongest in several years. Obviously having three first round picks helped — their natural first rounder plus compensation picks for Nick Swisher and Rafael Soriano — but they landed three legitimate first round talents with those picks, plus they unearthed some gems in the middle rounds. The farm system has been in need of impact talent, and they definitely added some last summer.
Thanks to their offseason spending spree, the Yankees forfeited their top three picks in this June's draft. That means their first rounder is gone, ditto the compensation picks for Curtis Granderson and Robinson Cano. Their top selection right now comes in the second round, the 55th overall pick, but they could always surrender that to sign Stephen Drew or Kendrys Morales. Heck, they could sign both and forfeit their second and third round picks. I'd bet against that though. Here is the team's draft pool situation, courtesy of Baseball America (no subs. req'd):
Second round, 55th overall: $1,018,700
Third round, 91st overall: $585,100
Fourth round, 122nd overall: $424,000
Fifth round, 152nd overall: $317,500
Sixth round, 182nd overall: $232, 600
Seventh round, 212nd overall: $178,300
Eighth round, 242nd overall: $157,000
Ninth round, 272nd overall: $146,500
Tenth round, 302nd overall: $137,600
That all adds up to $3,202,300 for the top ten rounds, or $3,359,212 if you include the 4.9% each team is allowed to exceed their pool before getting slapped with the really harsh penalties, specifically forfeiting future first rounders. The Yankees did exceed their draft pool last year, but only by 1.4%. Exceeding by the pool by no more than 4.9% results in a tax of 75% on the overage, which is a pittance for most MLB clubs.
It's easy to say the Yankees will grab whatever top talent falls into their lap for that 55th overall pick, and while that's probably true, they have shown a tendency to take "their guy" in the early rounds. It's not just SS Cito Culver and 3B Dante Bichette Jr., either. The Yankees took both OF Slade Heathcott and 2B Gosuke Katoh higher than projected. That's not necessarily a bad thing, but it does make it tough to pin down the players they could be targeting.
In the past, the Yankees were all about high school position players and polished college pitchers. The gears have shifted the last two years, as they've taken high school arms (RHP Ty Hensley, LHP Ian Clarkin) and college bats (3B Eric Jagielo, OF Aaron Judge, C Peter O'Brien) in the early rounds. In fact, they took two college hitters (Jagielo and Judge) in the first round last summer after taking one college hitter (OF John-Ford Griffin) in the first round from 2001-12. Is this a new trend, or a blip in the radar? I think it's the former, but again, this makes it tough to pin down who they are looking at.
The Yankees are reportedly planning a huge international spending spree, and that's how they will add the bulk of their young talent in 2014. Draft talent has come off the board much more linearly — the best players go early and very few fall into the later rounds, and those that do usually end up not signing — since the spending limits were implemented, so club can only add so much talent this draft. This year's class is very deep in college right-handed pitchers and I do think the Yankees will look to replenish the pitching pipeline this year, at least in the middle rounds, but that's just a hunch.
As I've done the last two years, I'm going to put together short posts for individual prospects in the weeks leading up to the draft. Here's the Jagielo post from last year, for example. I used to group players together based on similar traits (college bat, power arms, whatever) but I think the individual posts work better. Because the Yankees don't have a first rounder this year, I won't be focusing on the top talents. There are plenty of places you can read about those guys. I want to look at players who could still be around when the Yankees pick. It'll be difficult this year, but I think that will make it more fun too.