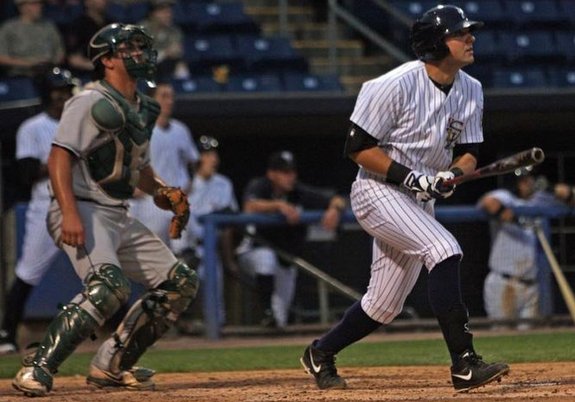 Two years ago it was OF Mason Williams, last year it was OF Tyler Austin, and this year it will be 3B Eric Jagielo. The Yankees' first first round pick in last summer's draft won our Prospect Watch vote convincingly, receiving nearly 29% of the over 5,400 votes submitted. That's way more votes than I expected, so thanks to everyone for taking the time to click.
Here are the full voting results:
3B Eric Jagielo, 28.7%
C Gary Sanchez, 22.2%
OF Aaron Judge, 17.4%
LHP Manny Banuelos, 12.1%
OF Slade Heathcott, 8.6%
1B Greg Bird, 7.4%
OF Tyler Austin, 1.9%
OF Mason Williams, 1.8%
No love for Austin or Williams, huh? Cold. I guess they've already had their moment in the Prospect Watch sun though. Same with Banuelos. I suspect Bird and Judge will have their time in the sidebar in a year or two. With Heathcott already on the 40-man roster and heading to Triple-A this year, it's possible he will go his entire minor league career without being part of the Prospect Watch despite being a first round pick. Weird.
Jagielo, 21, was the 26th overall pick in last year's draft, and he signed quickly for a $1,839,400 signing bonus, which was exactly slot money. The third baseman out of Notre Dame hit .266/.376/.451 (153 wRC+) with 14 doubles and six homers in 218 plate appearances for the Short Season Staten Island Yankees after turning pro. He will open 2014 with High-A Tampa and a promotion to Double-A Trenton at midseason is very likely if he hits like he did with the Baby Bombers. For more on Jagielo, check out his Prospect Profile.
The Prospect Watch will be up in the sidebar tomorrow afternoon. Jagielo and his Tampa Yankees teammates open the season tomorrow night, as do the other three full season affiliates. Austin was a bit of a dud last year because of his nagging wrist injury, but Williams had a very strong year in 2012 and Banuelos was solid in 2011. Barring injury, Jagielo should have no trouble putting up big numbers in Single-A. If we doesn't, well, that will only add fuel to the Curse of the Prospect Watch fire.