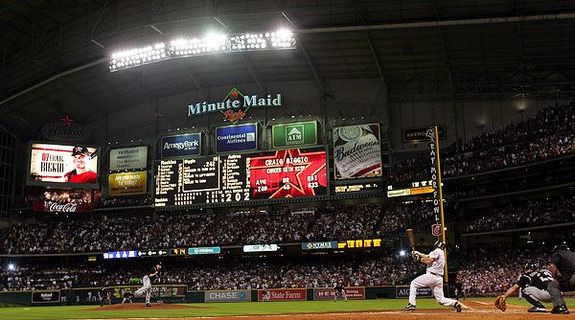 After more than four months of offseason and six weeks of Spring Training, meaningful baseball is back. The Yankees open the 2014 season later tonight in the same place they ended last season, at Minute Maid Park in Houston. The Astros will honor Derek Jeter with a ceremony prior to tomorrow's game, according to Evan Drellich. Former Yankees and former Astros Andy Pettitte and Roger Clemens are scheduled to attend. Neato.
What Did They Do Last Year?
Stunk, mostly. The Astros went 51-111 with a -238 run differential, the worst marks in baseball by eleven games and -64 runs, respectively. Terrible. They made a few moves to add legitimate MLB caliber players over the winter but not nearly enough to right this ship. Houston went 12-15 during Grapefruit League play.
Offense
The Yankees were terrible offensively last season thanks to the injuries, and the Astros were just as bad. The two clubs were nearly identical on a rate basis (86 vs. 85 wRC+), though New York did a better job of actually pushing runs across (4.01 vs. 3.77 runs per game). Houston did add one notable position player in OF Dexter Fowler (106 wRC+ in 2013), who they stole from the Rockies for pennies on the dollar.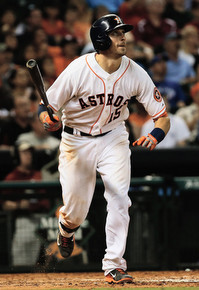 The Astros' best hitter and best all around player is C Jason Castro (130 wRC+ in 2013), who broke out last summer and lived up to the hype of being the 10th overall pick in the 2008 draft. 1B/DH Chris Carter (113 wRC+) has huge power (29 HR and .223 ISO) and was the club's only other comfortably above-average hitter in 2013. 2B Jose Altuve (85 wRC+) has become one of the game's most overrated players the last year or two. His production is on par with the Yankees version of Melky Cabrera, except instead of having a cool name, he's really short.
3B Matt Dominguez (89 wRC+) quietly swatted 21 homers a year ago. Guys like OF L.J. Hoes (98 wRC+) and OF Robbie Grossman (97 wRC+) had strong showings after being called up at midseason, SS Jonathan Villar (80 wRC+) and 1B Marc Krauss (74 wRC+) less so. OF Alex Presley (career 102 wRC+ vs. RHP) and UTIL Jesus Guzman (career 130 wRC+ vs. LHP) were low-cost offseason pickups who are good platoon options. C Carlos Corporan (79 wRC+) is Castro's seldom used backup and IF Marwin Gonzalez (55 wRC+) is essentially the 25th man on the roster. The top four hitters in the lineup (Fowler, Altuve, Castro, Carter) are MLB caliber, but it really falls off after that.
Pitching Matchups
Tuesday: LHP CC Sabathia vs. RHP Scott Feldman (Career vs. NYY) (Pitcher GIFs)
Feldman, 31, was one of those legitimate MLB players the Astros added this winter, signing him to a three-year, $30M contract. I like him as a back-end starter, but not that much. Anyway, Feldman is coming off a solid season split between the Cubs and Orioles, pitching to a 3.86 ERA (4.03 FIP) in 181.2 innings. His strikeout rate (6.54 K/9 and 17.4 K%) wasn't anything special but he limits walks (2.77 BB/9 and 7.4 BB%) and gets ground balls (49.6%). He also had no platoon split, holding righties to a .297 wOBA and lefties to a .298 wOBA. Freaky. Feldman is primarily a low-90s sinker/upper-80s cutter/mid-70s curveball pitcher, though he will throw the occasional mid-80s splitter that serves as his changeup. Feldman has been around a while and so has most of the Yankees' lineup, so there's some familiarity here.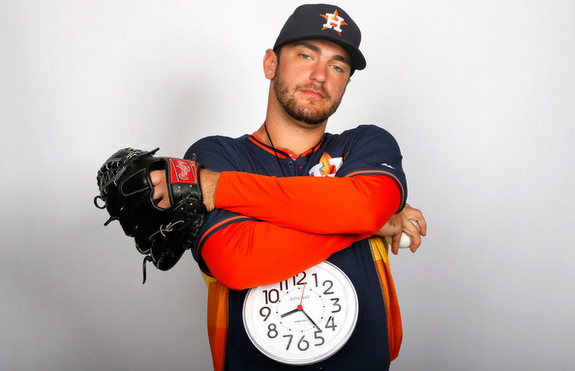 Wednesday: RHP Hiroki Kuroda vs. RHP Jarred Cosart (Career vs. NYY) (Pitcher GIFs)
Acquired from the Phillies in the Hunter Pence trade, the 23-year-old Cosart made his MLB debut last season and managed a 1.95 ERA (4.35 FIP) in 60 innings. He got a ton of ground balls (54.5%) but walked (5.25 BB/9 and 14.2 BB%) more batters than he struck out (4.95 K/9 and 14.4 K%). Eek. Command has never been his strong suit. The young righty had a reverse platoon split last year — righties had a .376 wOBA, lefties only a .236 wOBA — but that's a sample size thing more than anything. Cosart throws very hard, sitting in the mid-90s and touching 97-98 with a four-seam fastball that he threw more than 70% of the time in 2013. An upper-70s curveball is his top secondary pitch, and he'll also mix in the occasional mid-80s changeup. Cosart did not face the Yankees last season and players on the roster have four combined plate appearances against him, three by Jacoby Ellsbury.
Thursday: RHP Ivan Nova vs. LHP Brett Oberholtzer (Career vs. NYY) (Pitcher GIFs)
Oberholtzer, like Cosart, made his big league debut last season. The 24-year-old had a 2.76 ERA (3.65 FIP) in 71.2 innings, walking no one (1.63 BB/9 and 4.4 BB%) but not striking anyone out either (5.65 K/9 and 15.5 K%). He also didn't get many ground balls (35.6%) or do a particularly good job against same-side hitters — lefties had a .325 wOBA, righties a .271 wOBA — though again, that's probably a sample size thing. Oberholtzer is a classic finesse southpaw, sitting right around 90 mph with his fastball while throwing both his changeup and curveball in the low-80s. The Yankees did face Oberholtzer in Game 160 last year, but the only guy who was in the lineup that day and on the active roster right now is Alfonso Soriano. Here's the box score if you don't believe me.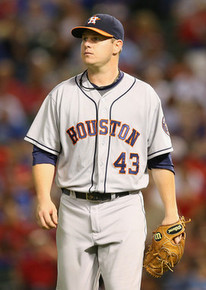 Bullpen Status
The Astros did spend some money on bullpen help this winter, though RHP Jesse Crain (1.52 FIP in 2013) will open the season on the DL with a biceps strain. Manager Bo Porter has declined to name an closer to start the season, with RHP Chad Qualls (3.32 FIP) and RHP Josh Fields (5.10 FIP) considered the leading candidates.
Porter's middle relief crew is solid, with veteran RHP Matt Albers (3.49 FIP) joining LHP Kevin Chapman (4.28 FIP) and RHP Anthony Bass (4.24 FIP). RHP Brad Peacock (4.98 FIP) is moving into the bullpen after a failed experiment as a starter, so he could take off in his new role as many failed starters have done before. Veteran RHP Jerome Williams (4.60 FIP) is the long reliever. Only one left-hander, so Porter will have to decide whether to save him for Ellsbury or Brian McCann. The game situation will dictate that. There aren't many Astros blogs out there, but The Crawfish Boxes is very good.