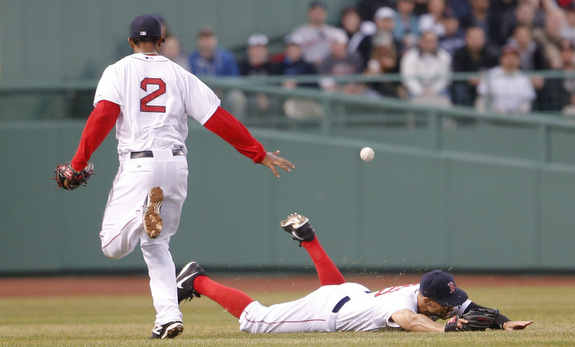 The Yankees and Red Sox rekindle their rivalry tonight and this weekend with a four-game series at Yankee Stadium. As usual, expect the media coverage to be insane. It always is. The Red Sox have actually played quite well in the new Stadium, winning seven of ten games in the Bronx last season and 22 of 37 games since 2010. That's annoying.
What Have They Done Lately?
Boston came from behind late to beat the Rangers yesterday afternoon, upping their record to 4-5 in the early going. Same record as the Yankees. The Sawx took two of three from Texas but before that they were swept at home by the Brewers. Can't say I expected that to happen when the series started.
Offense
The Red Sox had a relentless offense last season, leading baseball with a team 115 wRC+ and an average of 5.27 runs per game. No other team was within a quarter of a run of that rate. This year as been a different story though, perhaps because Boston said goodbye to Jacoby Ellsbury, Jarrod Saltalamacchia, and Stephen Drew this winter. They have a team 102 wRC+ so far in 2014, and are averaging just 3.89 runs per game. Injuries to OF Shane Victorino (119 wRC+ in 2013) and 3B Will Middlebrooks (83 wRC+ in 2013/122 wRC+ in 2014) haven't helped either. Neither will return this series.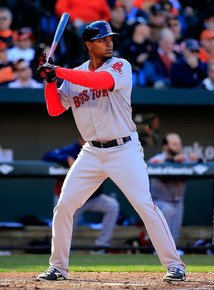 As usual, the Red Sox offense is led by 2B Dustin Pedroia (115/65) and DH David Ortiz (152/114). 1B Mike Napoli (129/160) does plenty of damage as well. OF Daniel Nava (128/-2) and OF Jonny Gomes (109/60) have been platooning at the leadoff spot recently, though they will typically stay in the lineup and bat lower in the order against same-side hitters. SS Xander Bogaerts (86/117) is a Rookie of the Year candidate and OF Grady Sizemore (183 wRC+ in 2014) is a Comeback Player of the Year candidate. Sizemore doesn't play everyday though. He gets regular rest so he doesn't break down.
1B/OF Mike Carp (139/90) was a force off the bench a year ago, but otherwise C A.J. Pierzynski (90/97), IF Jonathan Herrera (77/111), and IF Ryan Roberts (90/36) aren't scaring anyone. Herrera and Roberts are platooning at third while Middlebrooks is out. OF Jackie Bradley Jr. (69/174) sees regular time in center and right fields. C David Ross (86/48) is the backup catcher and will usually start against lefties. It's worth pointing out that other than Bradley, Boston's outfield defense is a disaster. Among the worst in the game. Hit the ball in the air this weekend.
Pitching Matchups
Thursday: RHP Michael Pineda vs. RHP Clay Buchholz (Career vs. NYY) (Pitcher GIFs)
Not many pitchers leaving you wanting more than Buchholz. The 29-year-old pitched like an ace last season — 1.74 ERA (2.78 FIP), 7.98 K/9 (23.1 K%), 2.99 BB/9 (8.7 BB%), and 47.7% grounders — but he was only on the mound for 108.1 innings because of a neck problem. He has yet to throw 190 innings in a season and only twice has eclipsed even 110 innings. Buchholz has nasty stuff, but his fastball has been sitting mostly upper-80s since returning from the neck problem. Once upon a time it was regularly in the mid-90s. He also throws a mid-80s cutter, a low-80s changeup, and a mid-70s curveball. The changeup is his bread and butter and the reason why he has had just a tiny platoon split throughout his career. Buchholz allowed six runs on 13 hits in only 4.2 innings in his first starter, which is pretty terrible.
Friday: LHP CC Sabathia vs. LHP Jon Lester (Career vs. NYY) (Pitcher GIFs)
Lester, 30, turned back in the ace midway through last season and helped carry his club to the World Series title last fall. He had a 3.75 ERA (3.59 FIP) overall in 213.1 innings in 2013, pairing an okay strikeout rate (7.47 K/9 and 19.6 K%) with good walk (2.83 BB/9 and 7.8 BB%) and ground ball (45.0%) numbers. Lester pitched much better against same-side hitters, holding lefties to a .294 wOBA while righties got to him for a .317 mark. A low-90s fastball and upper-80s cutter are his top two weapons, which he'll use to set up a mid-80s changeup and a mid-70s curveball. Lester allowed four runs (two earned) in 7.1 innings in his first start and two runs (both earned) in seven innings in his second start. He has faced the Yankees a ton over the years, but this is a different lineup. Lots of new faces.
Saturday: RHP Hiroki Kuroda vs. RHP John Lackey (Career vs. NYY) (Pitcher GIFs)
Lackey brought his career back from the dead last summer, returning from Tommy John surgery and two terrible years to become a rock solid mid-rotation workhorse. He had a 3.52 ERA (3.86 FIP) in 189.1 innings last year, with an excellent walk rate (1.90 BB/9 and 5.1 BB%) and good strikeout (7.65 K/9 and 20.7 K%) and ground ball (46.8%) rates. The 35-year-old also had a big reverse split, holding left-handed batters to a .290 wOBA while righties tagged him for a .331 wOBA. Lackey's fastball sits in the low-90s these days, and he'll also throw a mid-80s cutter. An upper-70s curveball is his trademark pitch. He rarely throws his changeup anymore, believe it or not. Lackey allowed one unearned run in seven innings in his first start and two earned runs in six innings his second time out.
Sunday: RHP Ivan Nova vs. LHP Felix Doubront (Career vs. NYY) (Pitcher GIFs)
Man, Doubront owned the Yankees back in 2012. He held them to seven earned runs in 25 innings across four starts, and I'm surprised they scored that much. He really seemed to have their number. Doubront, 26, pitched to a 4.32 ERA (3.78 FIP) in 162.1 innings last year, though his strikeout rate took a tumble to 7.71 K/9 (19.7 K%). It was 9.34 K/9 (23.6 K%) the year before. Doubront got some grounders (45.6%) though his walk rate (3.94 BB/9 and 10.1 BB%) was a bit too high. Righties (.336 wOBA) hit him quite a bit harder than lefties (.290 wOBA). Doubront lives off his big breaking mid-70s curveball, setting it up with low-90s heaters and mid-80s cutters. He'll also throw low-80s changeups to righties. His first start of the season was okay (three runs in 5.1 innings), but his second one stunk (five runs in 2.2 innings).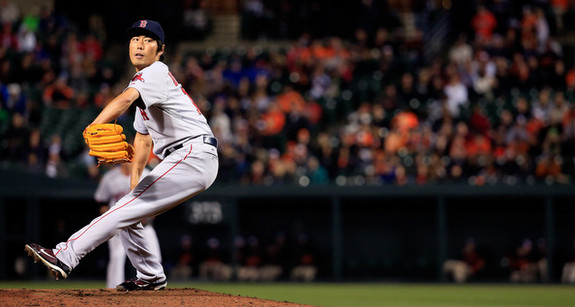 Bullpen Status
RHP Koji Uehara (1.61 FIP in 2013/0.42 FIP in 2014) was arguably the best reliever in baseball last season and definitely the best in the second half. He was unhittable. RHP Junichi Tazawa (3.22/1.14) is his primary setup man right now, but I think LHP Craig Breslow (3.60 FIP in 2013) will see some late-inning time now that he's just off the DL. Both Uehara and Tazawa pitched yesterday.
The middle relief crew is a little shaky right now, at least compared to last season. RHP Edward Mujica (3.71/2.79) still looks like the guy who lost the closer's job with the Cardinals late in the season (15.43 ERA), and RHP Burke Badenhop (3.53/3.02) has been hit hard early this year (9.00 ERA). LHP Andrew Miller (3.05/3.22) is unpredictable and soft-tossing LHP Chris Capuano (3.55/0.72) is the long man. Mujica, Badenhop, and Miller have been lights out in the past, but that isn't the case right now.
As for the Yankees, they're without closer David Robertson, who will be on the DL for another eleven days at the very least. He can't be activated until April 22nd. Check out our Bullpen Workload page for the recent reliever usage. Seems like Shawn Kelley will be unavailable tonight. For the latest and greatest on the Red Sox, Over the Monster is the place to go. There is a surprising shortage of quality Sawx blogs.