For the first time in his career, Robinson Cano will be a visiting player in Yankee Stadium. The Yankees' best player from 2010-13 returns to New York this week after leaving the team for the greener pastures of Seattle and the Mariners over the winter. The Bombers made his a strong offer but the M's blew it right out of the water. Such is life. This will be kinda weird.
What Have They Done Lately?
As expected, the Mariners are still terrible even with Cano. They did just take two of three from the Rangers but have won just four of their last 13 games overall. At 10-14 with a -8 run differential, the only thing keeping Seattle out of the AL West cellar is the Astros.
Offense
Both in terms of runs per game (3.85) and wRC+ (79), the Mariners have been one of the worst offensive teams in baseball this season. It's kind of amazing Cano left the 2013 Yankees (85 wRC+) for a team that is somehow worse offensively. Anyway, Seattle's only injured position player is 1B/OF/DH Logan Morrison (hamstring), who won't be coming off the DL this series.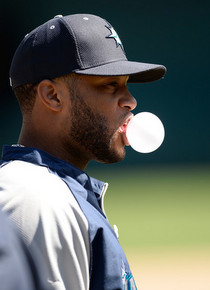 Just like last season, 3B Kyle Seager (123 wRC+) has been the Mariners best position player in the early going. Cano (100 wRC+) is off to a slow start, but come on, you know as well as I do that he's going to rake before long. 1B/DH Corey Hart (117 wRC+) has been productive around miscellaneous nagging injuries and 1B Justin Smoak (101 wRC+) continues to do just enough to keep people interested. This season it was a huge opening series against the Angels. Eventually they'll move on.
C Mike Zunino (91 wRC+) has a ton of power but his 21/1 K/BB is pretty funny. Others like OF Dustin Ackley (74 wRC+), SS Brad Miller (46 wRC+), OF Michael Saunders (66 wRC+), and former Yankees farmhand OF Abe Almonte (53 wRC+) have been predictably awful. Almonte was the guy the Yankees traded for Shawn Kelley. OF Stefan Romero (64 wRC+), OF Cole Gillespie (-15 wRC+), UTIL Willie Bloomquist (30 wRC+), and backup C John Buck (54 wRC+) fill out the bench.
Pitching Matchups
Tuesday: LHP CC Sabathia (vs. SEA) vs. RHP Chris Young (vs. NYY) (Pitcher GIFs)
When Randy Wolf made the Mariners out of Spring Training but opted out of his contract because the team tried to re-negotiate the terms (true story), the club picked up the 35-year-old Young. The 6-foot-10 right-hander has a 3.50 ERA (5.25 FIP) in 18 innings across three starts and one relief appearance this year, walking (5.50 BB/9 and 14.3 BB%) more batters than he's struck out (5.00 K/9 and 13.0 K%). He also continues to be one the most extreme fly ball pitchers in baseball (25.0% grounders). That's been true his entire career. His reverse split — righties has a .341 wOBA, lefties a .307 wOBA — is a sample size issue and not consistent with the rest of his career. Young is a pure two-pitch pitcher these days, throwing a mid-80s fastball about 75% of the time and filling in the gaps with upper-70s sliders. He survives because of his funky delivery, which hides the ball very well.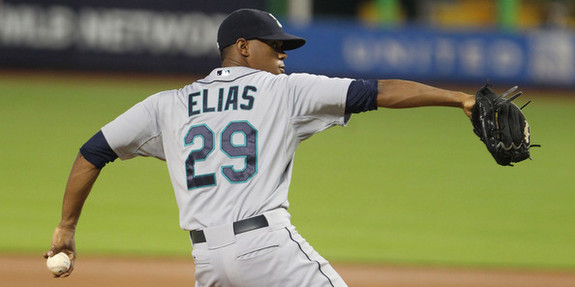 Wednesday: RHP David Phelps (vs. SEA) vs. LHP Roenis Elias (No vs. NYY) (Pitcher GIFs)
Elias, 25, defected from Cuba a few years ago and made the rotation in Spring Training (despite never pitching above Double-A) thanks to the Hisashi Iwakuma and Taijuan Walker injuries. He has a 3.54 ERA (4.12 FIP) in 28 innings across five starts, pairing a strong ground ball rate (50.6%) with mediocre at best strikeout (6.75 K/9 and 18.1 K%) and walk (4.50 BB/9 and 12.1 BB%) rates. Righties (.332 wOBA) have hit him harder than lefties (.299 wOBA) in his brief MLB career. Elias uses a low-90s fastball to set up his mid-80s changeup and upper-70s curveball, both of which are quality offerings. Since no one on the Yankees has ever faced him before, Elias has the element of surprise working in his favor this week.
Thursday: RHP Hiroki Kuroda (vs. SEA) vs. RHP Felix Hernandez (vs. NYY) (Pitcher GIFs)
You didn't think the Yankees would get through a series against Seattle and not face Felix, did you? You should know better by now. The King is as good as ever this year, with a 2.40 ERA (2.41 FIP) in six starts and 41.1 innings. His peripherals are, as the kids say, stupid good: 10.23 K/9 (28.7 K%), 1.52 BB/9 (4.3 BB%), and 47.7% grounders. That'll work just fine. He also has a tiny platoon split, so left or right, it doesn't matter. Felix, 28, probably has the nastiest stuff in the game, starting with a low-90s fastball that runs back in on righties. His upper-80s changeup is unhittable, his mid-80s slider is unhittable, and his low-80s curveball is unhittable. It's all unhittable. The guy is a video game. Felix's career numbers against the Yankees aren't as ridiculous as you might expect but they're still excellent. In an age in which Clayton Kershaw and Jose Fernandez are all the pitching rage, Hernandez is every bit as good as those guys and he's been doing it a lot longer.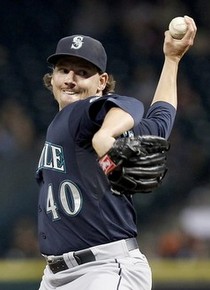 Bullpen Status
Like the Yankees, the Mariners were off on Monday, so new manager Lloyd McClendon's bullpen is pretty fresh. RHP Fernando Rodney (2.72 FIP) is the closer and remains a high-wire act. Former Yankees farmhand RHP Danny Farquhar (2.75 FIP) and RHP Tom Wilhelmsen (5.38 FIP) have been his primary setup men. Farquhar is one of the guys the Bombers traded to Seattle for Ichiro Suzuki a few years ago.
McClendon has three lefties in his bullpen: LHP Joe Beimel (3.18 FIP), LHP Charlie Furbush (4.46 FIP), and LHP Lucas Luetge (9.51 FIP). RHP Dominic Leone (3.58 FIP) and RHP Yoervis Medina (5.47 FIP) fill out the rest of the eight-man relief crew. The schedule has allowed them to use a four-man rotation the last turn or two, so they've been carrying the extra reliever in the meantime. That'll change next weekend. For the status of the Yankees bullpen, check out our Bullpen Workload page. For the latest and greatest on the Mariners, check out USS Mariner and Lookout Landing.