After opening the season with six straight games on the road (in parks with roofs, no less), the Yankees are finally back home in the Bronx. Their first homestand of the year opens this afternoon with the AL East rival Orioles in town for a three-game set. Andy Pettitte and Mariano Rivera will throw out the ceremonial first pitches to Jorge Posada and Derek Jeter in the home opener this afternoon. Neato.
What Have They Done Lately?
The Orioles beat the Tigers yesterday, but they lost four straight games before that. Baltimore is 2-4 with a -9 run differential, which … doesn't really mean much of anything these days. It's too early to worry about win-loss records.
Offense
Few teams boast as much power as the Orioles. They led baseball with 212 homeruns last season, but because they don't have many high on base players, they only had a team 100 wRC+ and averaged 4.60 runs per game. This year, they've swatted only three homers, so they're sitting on a team 68 wRC+ with 20 runs in six games (3.33 per). They are currently without 3B Manny Machado (101 wRC+ in 2013), who is recovering from offseason knee surgery. OF Nolan Reimold (52) is out with a neck problem as well.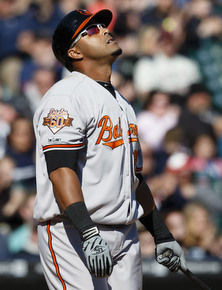 Manager and former Yankees skipper Buck Showalter has three legitimate 30+ homer bats in the middle of his lineup. 1B Chris Davis (167 wRC+ in 2013/95 wRC+ in 2014) led the world with 53 homers last season. Adam Jones (118/88) hit 33 of his own, his second straight year over 30 and third year over 25. OF Nelson Cruz (122/143) has hit two of their three homers this season, and last year he slugged 27 dingers before his 50-game Biogenesis suspension. SS J.J. Hardy (99/101) can hit some balls over the fence as well. He is day-to-day with back spasms.
The other notables in the lineup are OF Nick Markakis (87/59) and C Matt Wieters (86/165), who embody the team's development problems. Both guys had big seasons earlier in the career but then plateaued and never improved. (Wieters has the team's other homer.) IF Steve Lombardozzi (67/84), IF Ryan Flaherty (83/-64), and IF Jonathan Schoop (128/-53) are splitting time at second and third. OF David Lough (96/9) is the primary left fielder with Cruz at DH, plus both OF Delmon Young (98/35) and OF/1B Steve Pearce (115/-100) serve as righty bats off the bench. They haven't hit this year, but the Orioles can change the complexion of a game with one swing of the bat.
Pitching Matchups
Monday: RHP Hiroki Kuroda vs. RHP Ubaldo Jimenez (Career vs. NYY) (Pitcher GIFs)
The Orioles were patient and played the market well this winter — whether that was by design is another matter entirely — landing the 30-year-old Jimenez on a favorable contract right as Spring Training opened. He had his best season in years in 2013, pitching to a 3.30 ERA (3.43 FIP) in 182.2 innings for the Indians. His strikeout rate (9.56 K/9 and 25.0 K%) was excellent, his walk (3.94 BB/9 and 10.3 BB%) and ground ball (43.9%) numbers less so. Jimenez actually had a reverse split last summer, holding lefties to a .296 wOBA while righties got him for .318 wOBA. Ubaldo is a true five-pitch pitcher, meaning he uses all five pitches fairly regularly. His low-90s fastball sets up his mid-80s splitter, low-80s slider, low-80s changeup, and upper-70s curveball. Jimenez allowed four runs in six innings to the Red Sox in his first start. He can be dominant, but he also might be the most unpredictable pitcher in the game.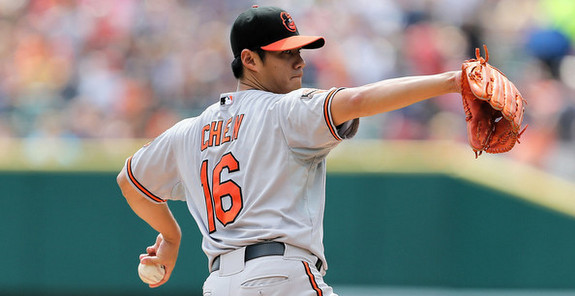 Tuesday: RHP Ivan Nova vs. LHP Wei-Yin Chen (Career vs. NYY) (Pitcher GIFs)
Chen, 28, is now in his third MLB season. He had a 4.07 ERA (4.04 FIP) in 137 innings around an oblique injury last summer, with poor strikeout (6.82 K/9 and 18.2 K%) and ground ball (34.4%) rates. He did limit walks though (2.56 BB/9 and 6.8 BB%). Chen has the standard issue four-pitch mix, so a low-90s fastball, mid-80s changeup, low-80s slider, and low-70s curveball. The changeup is his top secondary pitch, though righties (.330 wOBA) still give him a harder time than lefties (.306 wOBA). Chen got knocked around in his first start of the year, allowing four runs on 12 hits to the Red Sox.
Wednesday: RHP Masahiro Tanaka vs. RHP Miguel Gonzalez (Career vs. NYY) (Pitcher GIFs)
Man, Gonzalez dominated the Yankees back in 2012. He started three games against New York that year (postseason included), allowing only five runs on 15 hits and one walk in 20.2 innings. He struck out 25. Domination. Thankfully, that changed last season, when the 29-year-old allowed 16 runs with a 19/13 K/BB in 29 innings against New York. Gonzalez had a 3.78 ERA (4.45 FIP) in 171.1 innings overall last summer, though his peripherals were mediocre: 6.30 K/9 (16.9 K%), 2.78 BB/9 (7.4 BB%), and 38.9% grounders. He has a reverse platoon split — lefties have a .305 wOBA, righties a .325 wOBA — in parts of three big league seasons. Gonzalez's break and butter is a nasty split-changeup hybrid that sits in the low-80s. He sets it up with a low-90s fastball and also throws a low-80s slider and mid-70s curveball. That split-change keeps him in MLB. Gonzalez got creamed in his first start of 2014, allowing seven runs on nine hits (including two homers) in 3.1 innings.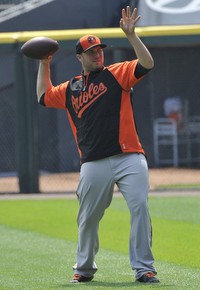 Bullpen Status
With Jim Johnson currently blowing games for the Athletics, RHP Tommy Hunter (3.68 FIP in 2013/1.68 FIP in 2014) has taken over ninth inning duties for Baltimore. Considering how the Yankees always seemed to get to Johnson, that's probably bad news for New York. Hunter threw 14 pitches yesterday.
RHP Ryan Webb (3.60/8.33), RHP Darren O'Day (3.5/2.18), and RHP Evan Meek (4.59/4.18) are all part of the setup crew, as is LHP Brian Matusz (2.91/5.58). LHP Zach Britton (4.80/2.93) and RHP Josh Stinson (5.40/4.00) are long relievers. Everyone in Baltimore's bullpen is well rested. It's too early in the season for guys to have big workloads, even over just the last few days. Check out our Bullpen Workload page for the status of the Yankees' relievers, then check out Camden Chat for the latest and greatest on the O's.