Following Friday night's seven-run outburst, the Mark Teixeira-less lineup went right back to sleep. The Yankees were shut out by R.A. Dickey and the Blue Jays on Saturday afternoon by the score of 4-0. It was 1-0 until the bottom of the eighth.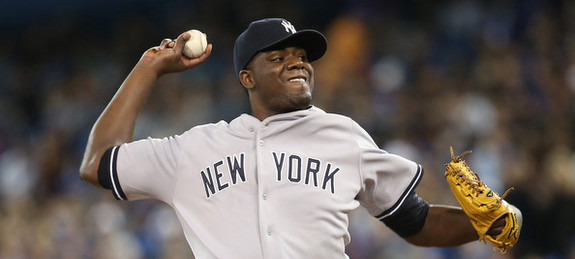 Big Mike Is Here To Stay
The Yankees have been waiting a long time for this. Michael Pineda finally made his first start for the club on Saturday, two years and one shoulder surgery after being originally acquired from the Mariners. He looked very good in Spring Training but that only means so much. The regular season is a different animal, as is the Blue Jays lineup and their hitter-friendly ballpark. The Yankees were probably hoping he would be their ace by now, but instead he is the fifth starter and an unknown.
In his first big league start since September 2011, Pineda held that Blue Jays lineup to one run in six innings of work. A well-struck double and a bloop single led to the run in the second inning, but not after he threw the first scoreless first inning (!) of the team's season. The other four starters allowed at least one run in the first inning in their starts. Crazy. Pineda struck out five, walked zero, and got six ground ball outs and six air ball outs. He threw 58 of 83 pitches for strikes (70%), including eleven swings and misses. Here is the breakdown, courtesy of Brooks Baseball:
31 fastballs, 17 strikes, two swings and misses, averaged 94.4 mph, topped out at 96.1 mph
33 sliders, 27 strikes (!), seven swings and misses, averaged 84.2 mph, topped out at 86.8 mph
18 cutters, 13 strikes, two swings and misses, averaged 94.3 mph, topped out at 96.1 mph
one changeup, one strike, 88.4 mph
The first time through the order, left-handed batters went 4-for-5 with two doubles against Pineda while righties went 0-for-4 with four strikeouts. He came to the Yankees in a need of a changeup to better combat batters of the opposite hand, and he still needs that two years later. Changeups don't magically develop while on the DL, apparently. After that first time through the order though, Pineda retired 12 of the final 13 batters faced, including all six lefties. Like Masahiro Tanaka on Friday, he shook off a slow start to the game and finished very strong.
Pineda topped out at 75 pitches or so in Spring Training, so it was no surprise Joe Girardi lifted him when he did. They need to take it easy on him following the shoulder surgery, especially early in the season. This is no time to push things. Pineda always stood out from other live-armed youngsters because of his control, and that is evident in all those strikes he threw. Thirteen of 22 batters faced got a first pitch strike and seven saw an 0-2 count. Four batters saw a three-ball count and only two saw a two-ball count after the second inning. Pineda was very, very good. This was a fantastic and tremendously encouraging start.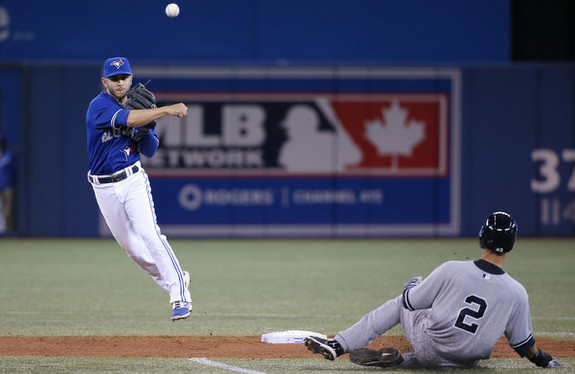 Middle of the LOLineup
What an ugly game for the rebuilt middle of the order. Carlos Beltran, Brian McCann, and Alfonso Soriano each went 0-for-4 with a strikeout and they combined to kill a pair of rallies. With two on and no outs in the sixth, Beltran bounced into a 6-4-3 double play and McCann lined out softly to short. In the same situation in the eighth, Beltran and Soriano sandwiched strikeouts around a McCann ground out. Soriano struck out on a pitch that bounced about five feet in front of the plate. Why Girardi didn't pinch-hit Brett Gardner for Soriano against the fresh out of the bullpen righty in the eighth, I'll never know.
McCann came into the game with four hits in 13 at-bats (.308), but neither Beltran (now 3-for-19) nor Soriano (0-for-16!) have yet to get going. Those guys have to start hitting and soon. The Yankees can't rely on Yangervis Solarte and Ichiro Suzuki spot starts to drive the offense, especially with Teixeira injured and no bonafide superstar like Robinson Cano to anchor the lineup. Jacoby Ellsbury did his part again (3-for-4) and Derek Jeter was on base twice, but no one was able to bring them home. Ugly.
The Yankees blew two on, two out rallies in the fifth and seventh thanks to a Dean Anna strikeout and a Brian Roberts pinch-hit pop-up, respectively. The score was still close then. Ellsbury struck out to end in the game with two on in the ninth inning, but by then the score had gotten out of hand. So, if you're keeping score at home, the Yankees had two runners on base in each of the last five innings, but scored zero runs. This lineup is partying like it's 2013.
D-AAA-vid Phelps
So yeah, David Phelps is not right. Either not right or just not very good. After getting roughed up in his first appearance the other day, Phelps allowed three runs on three hits in two innings on Saturday, putting a winnable game completely out of reach. The three hits all came in a row: Melky Cabrera homer, Colby Rasmus ground-rule double, Jose Bautista homer. That's three homers allowed in 3.1 innings. At this rate the Yankees offense won't be able to out-homer Phelps. Unless they're going to send him to Triple-A Scranton in favor of someone like Cesar Cabral or Preston Claiborne, they have to keep him out of close games. Mop-up duty only.
Leftovers
Weird moment to end the third inning, when Frankie Cervelli was thrown out at the plate on Ellsbury's single. It appeared as though catcher Josh Thole blocked the plate before he had the ball, which is not allowed under the new rules. He had to stand there to catch the throw, however. Girardi argued, the umpires reviewed the play — Girardi did not challenge, it was the umpire's call to review — and they determined he did not block the plate. Of course, replays showed Cervelli probably slid under the tag anyway. Girardi didn't challenge the safe/out call within the designated time because he was arguing the block. Surprisingly, not everyone has the new plate blocking rules down pat five games into the new season.
Solarte took a 92 mph Aaron Loup fastball to the side of his right knee in the seventh inning and was in quite a bit of pain. He stayed on the ground and was looked at by the trainer for a little while, but eventually limped down to first and remained in the game. Seems to be fine even though it looked quite painful. He went 2-for-3 at the plate. Cervelli went 2-for-3 with a double. Like Solarte, he was also hit by a pitch. Kelly Johnson went 0-for-4 with a strikeout and the Anna/Roberts mash-up went 0-for-3 with a walk.
Between Pineda and Phelps, Vidal Nuno walked Adam Lind on six pitches. If you're the second lefty in the bullpen, walking the only left-handed batter you face probably isn't a good way to climb up the depth chart. It didn't come back to hurt them, but still. throw strikes, Vidal.
The Yankees still have not hit a homerun this season, hence the Phelps joke earlier. It's their fifth streak of 5+ homerless games this century; they did it once in 2006 and three times last year. The Royals are the only other team without a homer this season. Where have you gone, Bronx Bombers?
Box Score, WPA Graph & Standings
For the box score and video highlights, go to MLB.com. For some nerdier stats, go to FanGraphs. For the updated standings, go to ESPN.

Source: FanGraphs
Up Next
The Yankees and Blue Jays will play the rubber game of the three-game series on Sunday afternoon. The rotation turns back over, so CC Sabathia will get the ball against Drew Hutchison. It's the last game of their six-game, season-opening road trip. Baseball will be back in the Bronx on Monday.