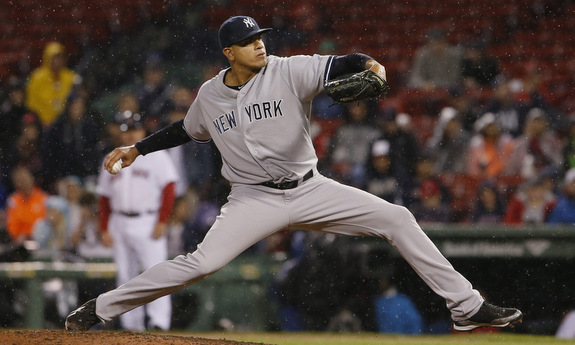 The Yankees dismantled the Red Sox last night, and you could argue their two most exciting pitchers were on the mound for the win. Masahiro Tanaka navigated the first 7.1 innings before Dellin Betances mopped things up and recorded the final five outs. The duo combined for nine strikeouts and no walks, improving the team's league-leading K/BB ratio to 3.44. The Red Sox are a distance second at 3.12.
Tanaka has been everything we could have possibly expected (and more!) this season while Betances is … still a middle reliever despite only allowing one run on three hits in 9.2 innings of work. He's also struck out 16 of 38 batters faced and 56.3% of his balls in play are on the ground. Plus he can do this (via Pitcher GIFs):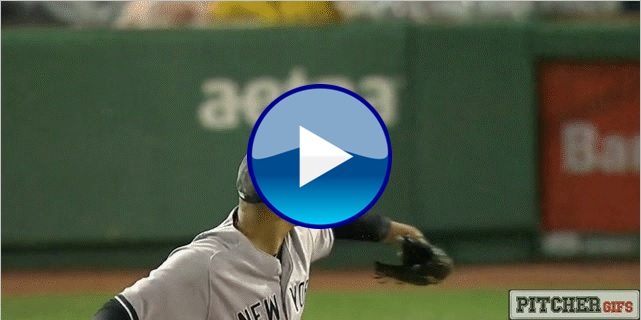 That's a pretty neat trick.
And yet, despite all of his early season success, Betances is no higher than sixth on Joe Girardi's bullpen pecking order. There are two reasons for that. One, he's walked six guys in those 9.2 innings. Betances has a history of control problems and we've seen him come completely unhinged once or two already this season. He just loses the ability to throw strikes — I'm not even talking about painting the corners here, just basic strike-throwing ability — without warning and that can be scary.
Two, Betances is just a kid, at least in terms of experience. He did turn 26 a few weeks ago after spending eight years in the minors, but he has still only thrown 17.1 innings in the big leagues. That's nothing. Girardi has used him as a low-leverage reliever and his 0.43 gmLI (Leverage Index when entering the game) bears that out. Only eleven out of 177 qualified relievers have a lower gmLI right now and they're last guy out of the 'pen types. There's no doubt Girardi has been keeping Betances away from important situations if at all possible.
Is that wrong? I don't think so. Not at all. There's a level of trust that has to be built and it hasn't yet. There hasn't been enough time. David Robertson went through a similar situation early in his career — remember he had walk problems early on — sporting a 0.66 gmLI in his rookie year in 2008. Heck, it was a 0.77 gmLI in 2009. Robertson didn't graduate from exciting young arm to bonafide high-leverage reliever until 2011, his fourth year in the show. Shawn Kelley went through the same thing last year (0.69 gmLI in April and May). So did Boone Logan a few years ago and Phil Hughes when he first moved into the bullpen in 2009.
As good as he was last year and in Spring Training and during these first few weeks, Betances still has a lot to learn about being a reliever in the Major Leagues. Girardi is very good with his bullpen and he's shown he will be patient and not unnecessarily push new faces into primo bullpen roles (veteran free agents like Matt Thornton and Rafael Soriano are the obvious exceptions). With more experienced guys like Robertson, Kelley, Adam Warren, and David Phelps around to handle the important innings, the Yankees and Girardi have the luxury of breaking Betances in slowly. His opportunity for high-leverage work will come, but he has to put in some time in a lesser role first.