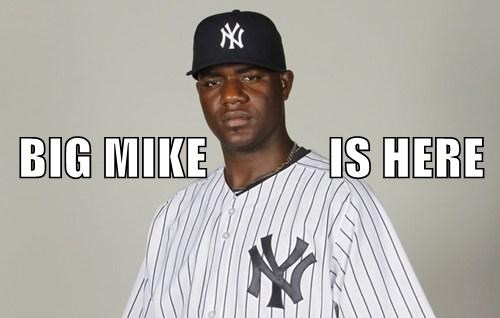 The Yankees got their second look at Masahiro Tanaka last night, so now it's Michael Pineda's turn. The big right-hander — Big Mike, if I may — held the hard-hitting Blue Jays to one run in six innings, striking out five and walking zero. More importantly, his fastball averaged 93.8 mph and topped out at 95.6 mph according to PitchFX. That's a great sign following major shoulder surgery. Velocity is important for a guy like Pineda, who needs to speed up bats to keep hitters off his slider.
Because he is coming back from surgery, the Yankees lifted Pineda after those six innings last week even though he had only thrown 83 pitches. He's too important to the present and future of the organization to push him hard this early in the season. I'm guessing Pineda will be allowed to throw 90-95 pitches tonight, though that probably depends on the intensity of those pitches. If he's cruising, maybe it'll be 100 pitches. If this start is a grind, they might cap him at 85. We'll see.
The Yankees have lost their last two games, one a blowout and the other a close, late-inning defeat. Far too much will be made of this series against the Red Sox, that's always the case, but that doesn't mean these games aren't important. I think the AL East will be crazy tight all year, so these head-to-head matchups are imperative, even looking at simple tie-breaker scenarios come the end of the season. Plus, you know, beating the Red Sox is always fun. Here is the Boston lineup and here is Joe Girardi's lineup:
LF Brett Gardner
SS Derek Jeter
CF Jacoby Ellsbury
RF Carlos Beltran
C Brian McCann
DH Alfonso Soriano
1B Kelly Johnson
3B Yangervis Solarte
2B Dean Anna
RHP Michael Pineda
It is just a lovely day in New York. Wish I had spent more of it outside instead of in the dentist's chair. Blue sky, temperatures in the high-50s/low-60s, no clouds, no threat of rain … just a wonderful night for baseball. They should all be like this. First pitch is scheduled for 7:05pm ET and you can watch the game on YES locally and, depending on where you live, MLB Network nationally. Enjoy.