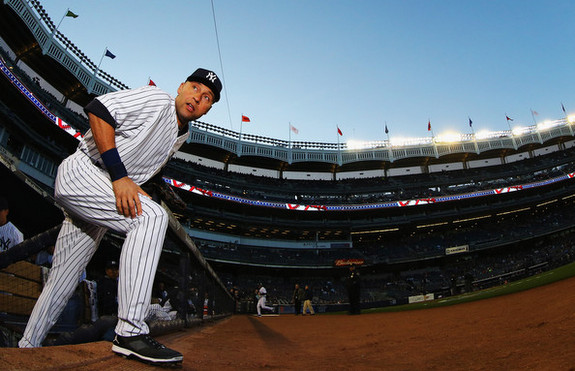 The Yankees started this long, four-game weekend series against the Red Sox well with last night's win, and tonight they have a chance to guarantee at least a split. Once you do that, you can start to get greedy. CC Sabathia is on the mound and the Red Sox have not been kind to him over the years, especially last season, when their MLB-best offense contributed to his career-worst season with 56 base-runners and 23 runs in 28.2 innings. Yikes.
The weather in New York has been pretty nice all day, but some clouds started to roll in this afternoon and the forecast calls for rain later this evening. It might be an issue in the later innings. This could be one of those "get the lead early and hope you have it when the rain shows up" games, because once it does show up, it isn't supposed to stop until tomorrow morning. Here is the Red Sox lineup and here is the Yankees lineup:
SS Derek Jeter
CF Jacoby Ellsbury
RF Carlos Beltran
DH Alfonso Soriano
C Frankie Cervelli
3B Yangervis Solarte
LF Ichiro Suzuki
2B Brian Roberts
1B Kelly Johnson
LHP CC Sabathia
Like I said, there is some rain in the forecast later tonight. First pitch is scheduled for a little after 7pm ET and you can watch the game live on YES locally and MLB Network nationally. Depending on where you live, of course.
Injury Updates: The Yankees expect to have Mark Teixeira (hamstring) back sometime before May 1st. It is doubtful Brendan Ryan will make it back that soon, however. [Bryan Hoch]