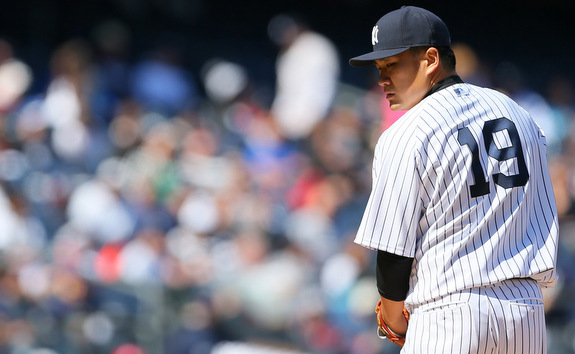 This game is a Very Big Deal. Or at least that's what we'll hear all night (and all series, really) because it is Masahiro Tanaka's first career start in Fenway Park. Everything is bigger when it comes to the Yankees-Red Sox rivalry and acting like mid-April games are more meaningful than they really are is part of it. It's kind of annoying but whatever. Annoying if the Yankees lose, anyway.
David Robertson is back off the 15-day DL and he will be a huge boost to a bullpen that was started to get a little exposed late last week. Shawn Kelley and Adam Warren did fine jobs as the interim closer and setup man, respectively, but now they'll be pitching one inning earlier. It's not necessarily the ninth inning that improves with Robertson back, it's the middle innings, the sixth and seventh. Re-adding an elite reliever the roster has a trickle-down effect. Here is the Red Sox lineup and here is the Yankees lineup:
CF Jacoby Ellsbury
SS Derek Jeter
DH Carlos Beltran
LF Alfonso Soriano
1B Mark Teixeira
C Brian McCann
3B Yangervis Solarte
RF Ichiro Suzuki
2B Brian Roberts
RHP Masahiro Tanaka
It is cloudy and warm in Boston, plus it's supposed to start raining later tonight and continue right through to tomorrow night. Doesn't looking like it will be a problem for tonight's game unless it goes to extra innings. Tomorrow is another matter, but we'll deal with that when the time comes. First pitch is scheduled for a little after 7pm ET, and you can watch the game on My9 and MLB Network. Enjoy.
Rotation Update: As expected, Joe Girardi announced Vidal Nuno will get another start following Ivan Nova's elbow injury. He's scheduled to start Saturday against the Angels.