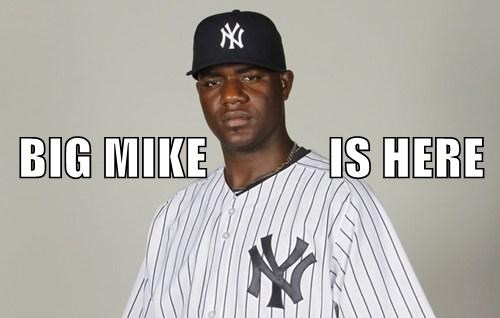 The Yankees got their first look at Masahiro Tanaka last night and things went very well following a rough first two innings. This afternoon they will finally get their first look at Michael Pineda, who has not thrown a meaningful pitch these last two years because of shoulder surgery. Both Hector Noesi and Jesus Montero have flamed out (obligatory they're still young, yadda yadda yadda) and Jose Campos has yet to escape Low-A ball. It's been 802 days since the trade. 802!
Pineda is finally ready to help the Yankees. He pitched well in Spring Training but, most importantly, he looked healthy. His delivery was free and easy, the ball came out of his hand well, and his slider was allergic to bats. He checked every box in camp. Regular season baseball is a different animal though, and I'm sure he'll be a little nervous even though he's pitched in the big leagues before. After missing this much time, he probably feels like a rookie again. Either way, Big Mike is finally here.
In case you missed it earlier, Mark Teixeira has been placed on the 15-day DL with a right hamstring strain. Austin Romine was called up and Frankie Cervelli will see some time at first base. Joe Girardi told Dan Barbarisi that David Robertson is not available this afternoon after working back-to-back days, so Shawn Kelley is the closer du jour. Wouldn't be surprised if Matt Thornton gets the call for the final few outs if lefties are due up. Here is the Blue Jays lineup and here is the Yankees lineup:
CF Jacoby Ellsbury
SS Derek Jeter
RF Carlos Beltran
DH Brian McCann
LF Alfonso Soriano
1B Kelly Johnson
C Frankie Cervelli
3B Yangervis Solarte
2B Dean Anna
RHP Michael Pineda
It is really cold and drizzling in Toronto, so I assume the Rogers Centre roof will be closed for the game. First pitch is scheduled for 1:08pm ET and can be seen on YES. Enjoy.