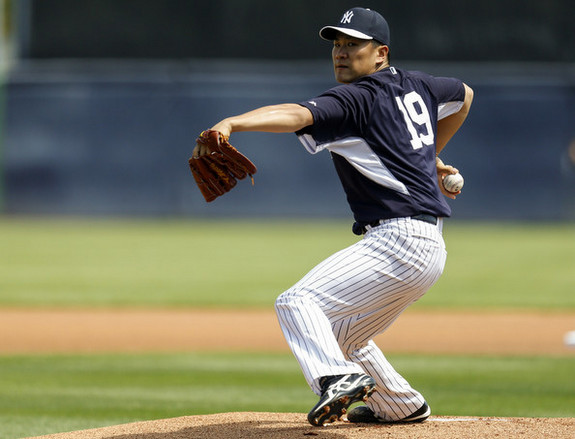 For most of the winter, we didn't even know if Masahiro Tanaka would be made available. We heard the Yankees wanted him early in the offseason, but MLB and NPB decided to revise the posting system, and no one could be posted until that was compete. It took weeks and at one point it appeared there would be no agreement. Eventually it all got sorted out and Tanaka became available.
After months of rumors, the Yankees and Tanaka agreed to a record seven-year contract worth $155M. The team has to pay another $20M to the Rakuten Golden Eagles on top of that. It isn't just the largest contract ever given to an international player (by $87M!), it was the fourth largest pitching contract in baseball history at the time. Brian Cashman tried to downplay expectations by saying Tanaka could be a solid number three starter this year, but c'mon, you don't give a guy that much money without expecting an immediate impact.
Tanaka's ascent to the top of the Yankees' rotation officially begins tonight, when he makes his first start of the season. Spring Training was a success and he has handled everything well by all accounts, but now it's time for him to show why so many teams were willing to sink nine-figures into him. Despite all of his experience and success in Japan, I'm sure there will be some nerves in his first MLB start. How could there not be? He's only human.
Joe Girardi told Dan Barbarisi the flight up from Houston was one of the bumpiest of his career — he called it the "knuckleball express" — so it's good Tanaka flew ahead of the team earlier this week. The rest of the Yankees weren't so lucky. Derek Jeter is getting a scheduled day of rest after playing three straight games, which is a good idea given his injuries and the turf. The struggling Alfonso Soriano is sitting as well. Ichiro Suzuki and Yangervis Solarte are each getting another start after being yesterday's offensive heroes. Here is the Blue Jays lineup and here is Joe Girardi's lineup:
CF Jacoby Ellsbury
LF Brett Gardner
DH Carlos Beltran
C Brian McCann
1B Mark Teixeira
3B Kelly Johnson
RF Ichiro Suzuki
2B Yangervis Solarte
SS Dean Anna
RHP Masahiro Tanaka
It has been pouring in Toronto all day, so the Rogers Centre roof will be closed. At some point the Yankees will play a game outdoors. I think. First pitch is scheduled for 7:30pm ET and can be seen on YES locally and, depending on where you live, MLB Network nationally. Enjoy.