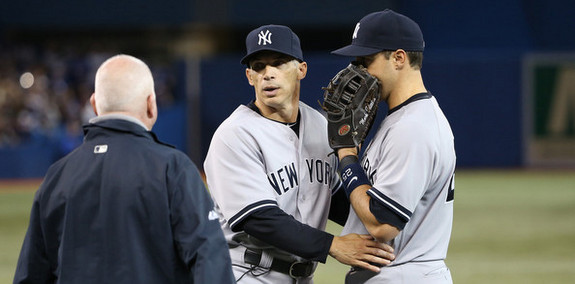 The Yankees are starting to get healthy. Or, really, several of their players have started working their way back after being shut down for various lengths of time. No one has actually come off the DL yet. Here are some updates on the walking wounded, courtesy of George King, Erik Boland, and Jorge Castillo.
Mark Teixeira (hamstring) went 0-for-1 with two walks during an Extended Spring Training game yesterday and 1-for-5 with a strikeout today. He played the field both games and had to run hard on several occasions. "I will be fully ready to play Sunday and disappointed if I don't.," said Teixeira, who is eligible to activated off the DL on Sunday.
David Robertson (groin) threw a 25-pitch bullpen session yesterday and is scheduled to throw in an inning in Extended Spring Training tomorrow. "Get Sunday and Monday off and be ready to go Tuesday,'' said Robertson. He's eligible to be activated off the DL on Tuesday.
Brendan Ryan (back) got several at-bats in a simulated game this morning, his first game action since getting hurt. Because he missed just about all of Spring Training, Ryan's rehab will be much longer than a handful of minor league games. He's still a few weeks from returning.
Jose Ramirez (oblique) was one of the pitchers to face Teixeira this morning. He missed all of Spring Training but is throwing now, so that's good. No word on when he'll rejoin one of the minor league affiliates.