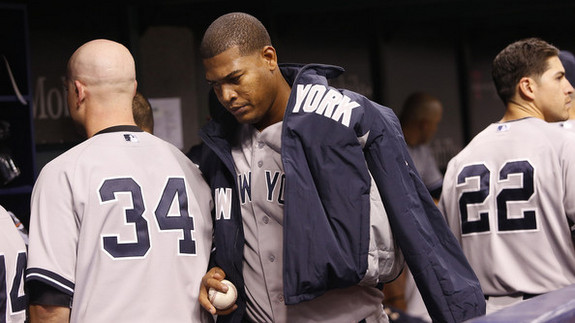 It appears the Yankees have lost one of their starters for an extended period of time. Ivan Nova has a partially torn ulnar collateral ligament in his right elbow, the Yankees announced. Yes, that is the Tommy John surgery ligament. He will be re-evaluated in New York tomorrow, during the team's off-day.
Nova, 27, left yesterday's start with a sore elbow and was sent for tests. He reportedly did not complain of any pain, and it wasn't until he shook him arm following a pitch that Joe Girardi and the rest of the staff took notice. Nova tried to talk his way into remaining in the game but that wasn't going to happen. "It's hard. I don't even know what to tell you guys. I'm so sad right now that I'm not going to be pitching," he said to Erik Boland.
This is Nova's fourth arm injury in the last four years. He suffered a forearm strain during the 2011 postseason, shoulder inflammation in August 2012, and triceps inflammation last April. Nova is a breaking ball heavy pitcher, throwing his curveball and/or slider at least 31% of the time the last three years. That's usually bad news for the elbow.
Nova may try to rehab the injury but that rarely seems to work. Chad Billingsley and Matt Harvey both tried to rehab partially torn UCLs only to wind up having Tommy John surgery, for example. There has been a lot of talk recently — from people like Dr. James Andrews, not schmucks like me — about the elbow reconstruction rehab process being too aggressive these days. The prescribed rehab time is 12-18 months, so if the Nova does need surgery, we might not see him again until the 2015 All-Star break.
It's unclear who will replace Nova in the rotation right now. Vidal Nuno is making a spot start today and thanks to tomorrow's off-day, he'd line up perfectly to replace Nova. David Phelps is another option, but he isn't stretched out. Adam Warren has settled into a one-inning setup role and it's tough to see him moving into the rotation. Doesn't mean it won't happen though. Triple-A starters include veterans Bruce Billings, Al Aceves, and Chris Leroux. We'll see. Either way, Nova probably isn't returning anytime soon.