The Yankees have been without Michael Pineda for five games now thanks to his pine tar related suspension, and they're going to be without him for at least another month. Pineda suffered a Grade I strain of the right teres major muscle in his back on Tuesday while throwing a simulated game in Tampa, the team announced last night. He was working to stay sharp and stretched out during the suspension.
Before we go any further, here is where that teres major muscle is located, since I know you're all wondering: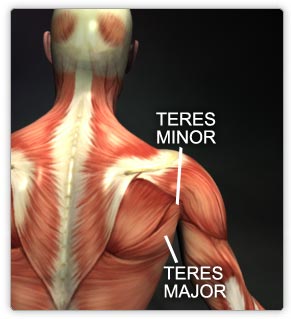 It's technically not part of the shoulder but it sure looks close enough to me. Close enough that the Yankees will probably be extra cautious during Pineda's rehab given his history of shoulder problems. The perfectly healthy Clayton Kershaw suffered the same injury right before Opening Day and he just made his first minor league rehab start the other day. That 3-4 week timetable the Yankees gave for Pineda sure seems pretty optimistic to me, but I'm no doctor.
Either way, Pineda is going to be out for the foreseeable future, meaning David Phelps is in the rotation for another few weeks. Vidal Nuno has already made two starts, one because of a doubleheader and another because of Ivan Nova's season-ending Tommy John surgery. In the span of about two weeks, the team's sixth and seventh starters have become their fourth and fifth starters. That's never good, especially since this isn't a short-term thing. Help is not on the way for another few weeks.
Despite his pine tar indiscretions and limited pitch count, Pineda was pitching like an ace for the Yankees early this season and that will be very missed. Phelps has been pretty miserable so far this year, allowing seven runs on 18 base-runners and three homers in only 11.2 innings. He wasn't any good as a starter last season either (4.93 ERA in 65.2 innings), so it's not like he has some great track that'll make us feel all warm and fuzzy. Going from Pineda to Phelps is a huge downgrade. At the same time, going from Nova to Nuno might actually be an upgrade because Nova was so terrible before blowing out his elbow.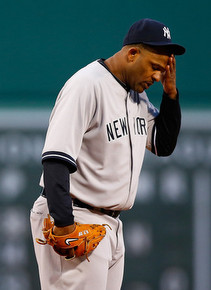 The bigger issue is that the Yankees don't have their usual stable of reliable veterans to fall back on. Masahiro Tanaka is the truth, man. That guy's a stud. CC Sabathia isn't though. He was nice enough to remind us of that last night. His two previous starts were pretty darn good, yet last night was the reminder that his adjustment from power pitcher to crafty veteran will not be smooth. After years of being a workhorse, the Yankees might have to treat him as only a five-inning pitcher to maximize his effectiveness. Hiroki Kuroda has had an uneven start to the season and we're still waiting for him to turn it around.
It wasn't more than two weeks ago that the Yankees' rotation was the clear strength of the roster. Tanaka and Pineda were pitching like aces, Sabathia was starting to find himself, and Nova was healthy with some reason to believe he'd turn his rough start around. Now? Now it's Tanaka and pray for rain. And that's scary. The strength of the club is suddenly a weakness, and a poor rotation can undermine a team's chances of contention pretty quickly. This game, man. It's cruel. Things can change in an instant.
With two long relievers in the rotation, the Yankees have been carrying guys like Chris Leroux and Bruce Billings in the bullpen. That isn't going to cut it. The core relievers are going to get worn out in a hurry. Al Aceves has been very good in limited Triple-A time (1.98 ERA and 2.43 FIP in 13.2 innings), and even though he hasn't been an effective big leaguer in two years, he's a better option that Leroux, Billings and Shane Greene, none of whom have had MLB success. Trying to squeeze something out of Aceves in long relief seems like a better plan than trying the same with Leroux. At least it does to me. I'd like to see those two trade places.
Because Nova is not coming back this season, Brian Cashman can begin looking for more permanent rotation help right away. Good luck finding a seller this time of the year though. Upgrading over Phelps and/or Nuno may be more difficult than we realize, especially since it is only late-April/early-May. Not many clubs are looking to shed spare starters right now. And besides, in recent years the Yankees have shown a willingness to be patient and try their internal options before going out into the trade market. I have no reason to think they will do something different now. Adding a starter is definitely more of a priority than it was two or three weeks ago, however.
Pineda's suspension was only supposed to be a short-term thing that gave him an early-season breather, left the team a player short for ten games, and forced Phelps to make one spot start. Instead, the Yankees lost their second best pitcher to injury while he wasn't even on the active roster. Nuno and Phelps are actually pretty good options compared to other number six and seven starters around the league, but they still aren't guys you'd want in the rotation long-term. The Yankees suddenly have a rotation problem and will have to hope the guys already on the roster (and the offense!) can soften the blow while they wait for more options to become available.