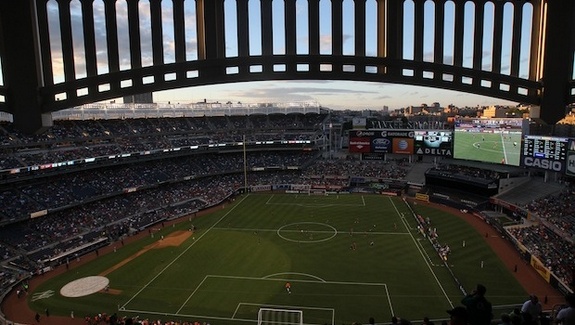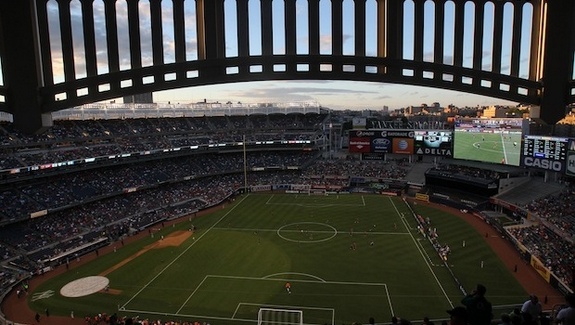 Last summer the Yankees teamed up with Manchester City to become part owners of Major League Soccer's latest expansion franchise, the appropriately named New York City Football Club. It is the second MLS franchise in the area, joining the New York Red Bulls. The Yankees reportedly own a quarter of NYCFC and their involvement has mostly to do with concessions (Legends Hospitality) and their New York political ties.
According to the New York Times, NYCFC has been unable to find a permanent home. Community opposition derailed plans for a stadium at Flushing Meadows Corona Park in Queens, and rumors of a facility between the Major Deegan and East 153rd St. have not materialized. Because of this, the club will play it's home games at Yankee Stadium for the next three (!) years. NYCFC must secure a location and build a stadium within that time, which does not figure to be easy considering how things have played out over the last year.
Yankee Stadium has hosted several soccer and non-baseball events over the years, though most were held during the offseason. Manchester City and Chelsea played an exhibition game in the Bronx last May while the Yankees were on an eight-game road trip. Temporary grass was laid over the infield (see the photo above) and I assume that is the plan for the next three years. The MLB and MLS seasons both run from March to October, so there is plenty of overlap. Here's more from the Times:
A Yankees executive emphasized to reporters earlier this year that a potential shared space was not a concern, saying the Yankees "realized what we were getting into" when they went into their M.L.S. partnership with Manchester City.

At an event in February to announce a summer exhibition game between Manchester City and Liverpool, Mark Holtzman, the Yankees' executive director of nonbaseball events, said the team generally required several days to prepare for events and then several more to repair the playing surface for baseball. But he also noted that since its opening in 2009, the stadium has hosted soccer games as well as a schedule of summer concerts.
Obviously wear and tear is a pretty big concern. The MLS schedule runs 34 games, which means one home game every two weeks or so, on average. Back-to-back NYCFC home games and stuff like that could really tear up the field. There's also the matter of removing and rebuilding the pitcher's mound. That said, Holtzman and the Yankees are not concerned.
"Technology has gotten to the point where I think we can turn it around pretty quickly," Holtzman said.

"Baseball is clearly the No. 1 priority," he added. "We wouldn't do anything to put anyone at any risk; there's a major investment here in the players. At the end of the day, we look at these opportunities very carefully, and we wouldn't get into these opportunities unless we were confident in the end result."
NYCFC will begin play during the 2015 season. An official announcement of their temporary move into Yankee Stadium is expected next week.