I can't remember the last time I looked forward to a regular season game as much I did Friday's. Maybe Jesus Montero's debut a few years ago? I'm not sure. The Yankees got their first look at Masahiro Tanaka on Friday and he helped them to a 7-3 win in the series opener against the Blue Jays.
Masahiro My Hero
The start was not good. Tanaka began his Yankees career by serving up a homerun on his third Major League pitch, a hanging splitter to Melky Cabrera leading off the first inning. Not ideal. Tanaka rebounded to retire the next three batters, including strikeouts of Jose Bautista and Edwin Encarnacion. The Blue Jays pushed across two runs in the second inning with ground balls — one through the right side of the infield, one up the middle, and one through the left side. Mark Teixeira also made an error when he threw the ball away trying to get a force at second.
The first time through the lineup, the Blue Jays scored three runs and put four of nine men on base. After that, Tanaka allowed just two base-runners and retired 16 of the final 18 men he faced, including eight in a row at one point. We've been hearing about his makeup and all that for months, but we saw it in action in this game. Things were going poorly early on, but Tanaka didn't get rattled at all. He settled down, got a groove, and cruised for his final five innings.
Tanaka's final line was those three runs (two earned) on six hits and no walks in seven innings. He struck out eight (including Bautista twice) and got eight ground ball outs compared to five in the air. Sixty-five of his 97 pitches were strikes, including 13 swings and misses. Here is the pitch breakdown, courtesy of Brooks Baseball:
45 fastballs, 29 strikes, two swings and misses
23 sliders, 15 strikes, three swings and misses
12 splitters, nine strikes, six swings and misses
11 curveballs, eight strikes, one swing and miss
six cutters, four strikes, one swing and miss
Outside of sheer dominance, this was probably the next best thing. Tanaka showed the ability to shake off a bad start to the game and still give the team a quality outing, against a good lineup at that. It's obvious he's no Kei Igawa, right? If you were worried about that, you don't need to be anymore. Hell of a first impression. Tanaka was pretty much as advertised and that's very, very good. Can't wait to see him in five days.
Hooray Replay!
The Yankees jumped all over Blue Jays starter Dustin McGowan in the first inning, scoring two runs on five hits, all within the first six batters. Ichiro Suzuki struck out and Yangervis Solarte fouled out with the bases loaded, so they didn't do as much damage as they could have in the inning. Such is life. Two runs is better than no runs.
Two innings later, the first official use of the new instant replay system in Yankees history contributed to a two-run rally. Ichiro appeared to beat out an infield single with two outs, but first base umpire Dana DeMuth called him out. Joe Girardi challenged — after the team's video people gave him the thumbs up, of course — and the call was overturned. Solarte made the Jays pay by following the replay with a two-run double on a ball that I thought was a pop-up off the bat. It just kept going and going and going until it clanked off the wall. Hooray technology! It certainly helped the Yankees in this one.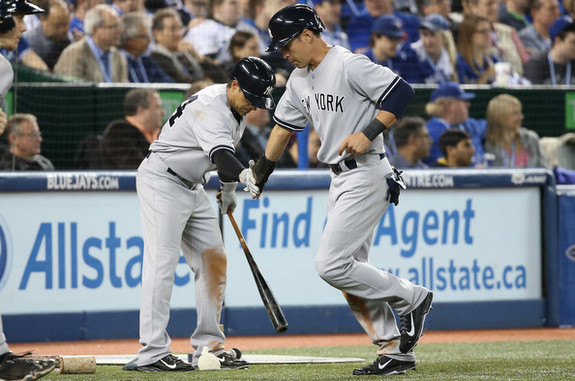 The $153 Million Man
What a game for Jacoby Ellsbury. New York's new leadoff hitter went 3-for-4 with two doubles, a walk, and two stolen bases, plus he robbed Dioner Navarro of a base hit with a nice sliding catch to end the sixth. The one out he made was a line drive back to the pitcher that Steve Delabar knocked down and threw over to first. Ellsbury took over the game and we've seen what that's like from the other side. It's much more fun when he does it wearing a Yankees uniform, no doubt about it. Great game by him.
Leftovers
Dellin Betances' control problems reared their ugly head as only three of his 13 pitches were strikes. He walked two of three batters faced. Matt Thornton retired both men he faced before that (struck out the only lefty) and David Robertson retired all three men he faced after that. Would have been nice for Betances to get those last three outs, but he was very wild and Girardi couldn't take his chances. So it goes.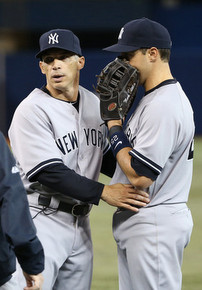 In case you missed it earlier, Teixeira left the game in the second inning with a right hamstring strain. Apparently he caught a spike in the turf while going after a foul ball. There is no word on the severity and if he has to miss more than a few days, the Yankees will be in some trouble. They don't have a true backup first baseman on the roster and their Triple-A options (Russ Canzler, basically) aren't great either.
The Yankees scored insurance runs in the eighth (Gardner single) and ninth (Solarte double). Gardner went 2-for-4 with a walk and stolen base while Solarte went 2-for-5 with two doubles off the wall. Something tells me he's going to get another start on Saturday. Kelly Johnson went 2-for-5 with a triple, Ichiro went 3-for-5 with two infield singles, and Carlos Beltran, Brian McCann, and Teixeira all singled in a run. Dean Anna went 1-for-4 with a walk in his first career game, so congrats to him. Sixteen hits and four walks overall. Total team effort.
Because the first challenge was successful, Girardi got another one and he used it in the eighth to challenge Delabar's play on Ellsbury. The replay confirmed he was out, but I liked the challenge there because there was a man on base and a chance to put together a big inning. That late in the game, it was unlikely to be needed later. I'd rather see Girardi roll the dice on a play like that than not use it.
The Yankees still have not hit a homerun yet this season. It's the first time they failed to hit a homer in the first four games since 1990, when they didn't hit their first longball until their eighth (!) game. I sure hope this team doesn't wait that long to hit a dinger. I've been waiting for 'em all winter.
Box Score, WPA Graph & Standings
MLB.com has the box score and video highlights, FanGraphs some other stats, and ESPN the updated standings. The Yankees went from last place to third place today, so that's cool.

Source: FanGraphs
Up Next
Same two teams on Saturday afternoon, in the middle game of this three-game set. Michael Pineda will finally make his first start for the Yankees, more than two years after the trade that originally brought him to New York. He'll be opposed by knuckleballer R.A. Dickey.