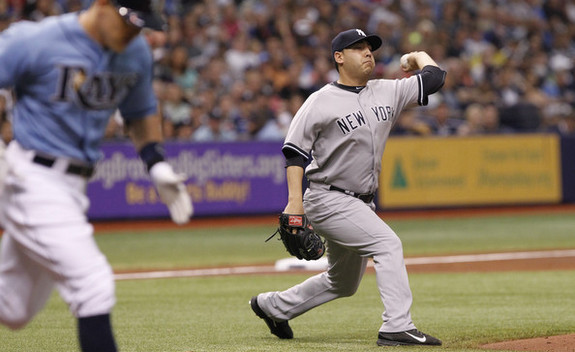 There was no update on Ivan Nova yesterday after he had his partially torn ulnar collateral ligament re-evaluated in New York during the off-day. It's tough not to assume the worst and it has nothing to do with the lack of an update. Partially torn UCLs almost always result in Tommy John surgery at some point, usually right away. Nova hasn't been great this year but it is still a pretty big blow to the Yankees because he can pitch very well for extended periods of time. Anyway, here are some scattered thoughts.
1. Back before Spring Training I said Nova needed to show the Yankees who he really is this season, meaning is he someone who can be a core piece going forward or just another back-end arm? He won't get the opportunity to show the team anything now, and, given the timing of the injury, he only has one more full season of pitching (2016) left before qualifying for free agency. We still don't know what Nova is now, after nearly three full years in the rotation, and chances are half the 2015 season and all of 2016 won't provide much clarity. In addition to weakening the rotation this year, the injury won't help the Yankees determine whether Nova is worth a decent financial commitment and a rotation spot long-term. This really throws a wrench into things.
2. With Vidal Nuno in the rotation (at least temporarily) and Bryan Mitchell being shipped back to Double-A Trenton to clear a roster spot for David Robertson, it sure seems like Preston Claiborne will be sticking around for a while. He really struggled down the stretch last year and was terrible in Spring Training, plus his outing on Sunday was pretty shaky despite two scoreless innings. Robertson's return means Shawn Kelley and Adam Warren will move down a notch into eighth and seventh inning roles, respectively, and both Dellin Betances and David Phelps are more deserving of middle relief work than Claiborne right now. Claiborne feels like the default long reliever by default even though he can only go two (maaaybe three) innings at a time. It's a weird bullpen situation and not really ideal. I'd prefer to see someone like Shane Greene or Al Aceves up as the true long man.
3. If the Yankees aren't going to swap Claiborne out for a real long man, then a second left-hander might be better use of the roster spot. They have series coming up against the Red Sox, Mariners, and Rays, three teams loaded with lefty bats. Nova got hurt at a bad time — this is when it would have been really nice to have Nuno available as an extra southpaw in the bullpen. With Cesar Cabral gone, the only upper-level lefty reliever in the organization is Fred Lewis, and he hasn't been all that good with Triple-A Scranton these first few weeks. He'd need a 40-man roster spot as well. So yeah, while it would be nice to have a second southpaw available these next two weeks or so, the Yankees won't have one without making a series of roster moves.
4. That series against the Mariners starts one week from today and will be Robinson Cano's first time back in the Bronx since leaving as a free agent. I'm interested to see the fan reaction — I assume he'll get booed, but I hope he gets cheered in at least his first at-bat because he was the team's best player for four years and he helped them win a World Series. I also think it's kinda silly to boo him for taking more money when the Yankees have been buying other teams' best players for decades — but I'm more interested to see how the Yankees pitch to him and set up defensively. They should know Robbie better than anyone. They should know the best places to pitch him and where he tends to hit the ball when he puts it in play. Here is his spray chart:
Source: FanGraphs
Cano slashes line drives to all fields, but when he hits the ball on the ground, he tends to pull it to the right side of the infield. When he hits a fly ball, it usually to go the other way to left and left-center field  (right to Brett Gardner and Jacoby Ellsbury). We also know Robbie will bunt to the beat the shift (remember this?), so how do they defend him? I haven't the slightest idea. I'm very interested to see how the Yankees go after him now that he's wearing the wrong uniform.
5. So who hits a homer first, Ellsbury or Mark Teixeira? Teixeira seems like the easy call because of their reputations, but I'm not so sure. He is coming back from the wrist injury and has a ton of rust to shake off, plus I can't ignore how David Ortiz and Jose Bautista saw their power numbers take a hit in the first few months following their tendon sheath injuries. Ellsbury is healthy and he's swinging the bat very well so far, so there is nothing to overcome other than his own power-hitting limitations. He could golf one out tonight and I wouldn't be surprised. But Teixeira? I'm not expecting much right away.