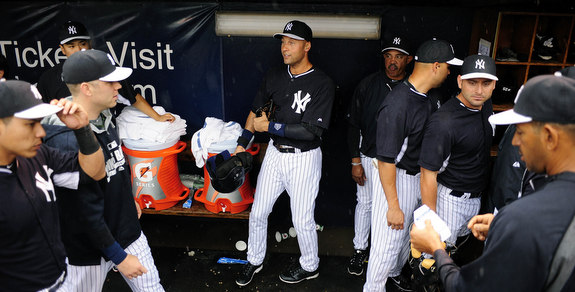 Finally, Opening Day has arrived. The Yankees (and Astros) are the last team in baseball to play their first game this year, but at this point, waiting another day or two is no big deal. I kinda enjoyed getting the league-wide Opening Day excitement out of the way yesterday so I can focus exclusively on the Yankees today. Anyway, here are some thoughts before Game One.
1. There's still no word on how the Yankees will squeeze Yangervis Solarte onto the 40-man roster and I honestly have no idea what the move will be. There's nothing obvious. I would be surprised if they cut ties with Eduardo Nunez considering, well, their infield stinks and getting rid of infield depth isn't a good idea right now. Teams like the Tigers, Rangers, and Mets all need middle infield help at the moment and he'd get claimed off waivers in a heartbeat. Maybe Nik Turley and his mysterious arm injury will go to the 60-day DL, but the long delay in announcing the move leads me to believe a trade might be in the works. Something small. Preston Claiborne for a decent prospect. Something like that. One way or another, we'll find out today.
2. Solarte will be one of five rookies on the team's Opening Day roster, joining Masahiro Tanaka, Dean Anna, Vidal Nuno, and Dellin Betances. I have no idea when the last time that happened was. I can't imagine it was recent. The 2009 Yankees had four rookies on the Opening Day roster (Brett Gardner, Ramiro Pena, Phil Coke, Jon Albaladejo) and that's as far back as I looked. Not sure if there's an easier way to do it besides manually, which is hardly easy. Tanaka is obviously very important and both Nuno and Betances have a chance to pitch their way into the club's long-term bullpen picture. Anna and Solarte … they're bench players until proven otherwise in my book. Add in Michael Pineda, Ivan Nova, and some other relievers and the Yankees seem to have more youth on the season-opening roster than at any other point in the last, I dunno, 10-15 years.
3. Aside from Tanaka, Solarte, and Anna, who will be the first player to make his MLB debut with the Yankees this year? Eight guys made their big league debut with New York last season (Nuno, Claiborne, Corban Joseph, David Adams, Zoilo Almonte, John Ryan Murphy, Brett Marshall, Cesar Cabral), though 2013 was an aberration because of all the injuries. I'm guessing the first guy to get called up and make his debut will be lefty Fred Lewis. Almost seems too obvious, no? A reliever is the safe pick because there's so much turnover in the bullpen, and with Matt Thornton looking kinda crappy in camp, a lefty could be called on in a hurry. Lewis seemed to jump Cabral on  the depth chart, though 40-man issues may complicate things.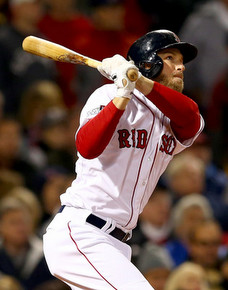 4. So now that the regular season has started, how long until Stephen Drew signs? It's after Opening Day, meaning he can not receive a qualifying offer next winter if he signs a one-year deal. (He'd have to sign after the draft to not cost a pick.) As I said before, there are a ton of teams out there that need middle infield help, and I can't imagine he'll hang around unsigned much longer. Some team will get desperate and jump on him, and that team will be better for it. Will that team be the Yankees? I think it's possible but unlikely. I'm guessing the team wants to see how Derek Jeter and Brian Roberts perform on an everyday basis before bringing in someone else. Plus there isn't any time to learn a new position. Still makes sense though.
5. Remember when the Yankees always seemed to get off to slow starts? Well, they didn't seem to get off to slow starts, they absolutely did. They went 58-64 in March and April from 2004-08, a .475 winning percentage. Thankfully that isn't the case anymore. In the last five years they've gone 71-45 in March and April, a .612 winning percentage. The scheduling gods did the Yankees a solid this season by sending them to Houston for the first series, giving them a chance to bank some wins early in 2014. We can even expand that to include the second series against the Blue Jays. Six straight games against last place teams from a year ago, meaning the Yankees will have a chance to play their first home game one week from today with four or five wins already in the bank. The AL East is going to be tight this year and the Bombers are in position to get off to a nice start.