The dream of 0-162 is still alive. The Yankees dropped their second game of the season on Wednesday night, losing 3-1 to the Astros. Houston is 2-0 for the first time in eleven years. Really glad the Yankees are taking advantage of his soft early-season schedule, you guys.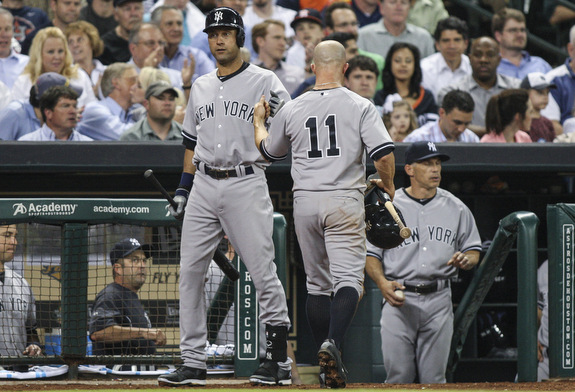 Who Needs Runs When We Have Each Other?
Believe it or not, the Yankees had a bunch of chances in this game. They just couldn't capitalize on any of 'em. Their only run scored on a double play (more on that in a bit) and they stranded a runner on second in the third, a runner on first in the fourth, runners on the corners in both the fifth and sixth, and runners on second in both the seventh and eighth. Jacoby Ellsbury flew out and grounded out to end the third and fifth inning rallies, respectively.
The Yankees went 0-for-10 with runners in scoring position and the biggest RISPFAIL came in the eighth, after Carlos Beltran led off the inning with an opposite field double. The next three batters, the 4-5-6 hitters, all struck out. Brian McCann went down on five pitches, Mark Teixeira on four pitches, and Alfonso Soriano on six pitches. Matt Albers got eight (!) swings and misses out of the 15 pitches he threw those guys. I don't even.
The early-season offensive ineptitude reminds me of the 2002-ish through 2008 Yankees, who never seemed to hit in April. I remember there used to be columns written pretty much every year about trading for Ken Griffey Jr. to improve the offense. Eventually those teams hit and hit a ton, and I suspect this offense will do the same at some point. Right now though? These last two games have been a hot mess. When Brian Roberts (3-for-4 on Wednesday) has been your most productive hitter, you've got issues.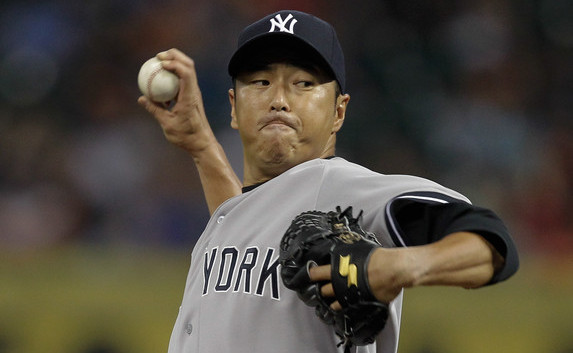 Death By Dexter
Poor Hiroki Kuroda. He must have feel 2013 never ended. The Yankees gave their ace only 3.19 runs of support per start last season, the third lowest among qualified starters. They couldn't buy a run for him on Wednesday* even though he held up his end of the bargain. Kuroda held the Astros to two runs on three hits and one walk in six innings, striking out five. He got seven ground ball outs and six fly ball outs.
* Well, they did score the one run. Wouldn't want to sell them short.
Unfortunately, all three of those hits were extra-base hits, including a solo homer by Dexter Fowler to lead off the game. Two innings later, he tripled to center and scored on Robbie Grossman's ground out. Fowler's killed the Yankees these last two games. Four total hits, all for extra bases. Kuroda pitched around a Grossman one-out triple in the sixth, his final inning. Two triples and homer with no other hits allowed. It's the first time a pitcher has done that since … Felix Doubront against the Yankees last September. Lame.
Aside from some long at-bats, Kuroda looked like vintage Hiroki Kuroda, mixing sinkers with splitters and sliders and whatever else he has in that bag of tricks. I chalk the long at-bats up to early-season rust. Joe Girardi told Chad Jennings before the game that they plan to treat Kuroda like Andy Pettitte this year, meaning they won't push him deep into the game or much beyond 100 pitches. That's why his night ended at six innings and 91 pitches. Sounds like a plan to me.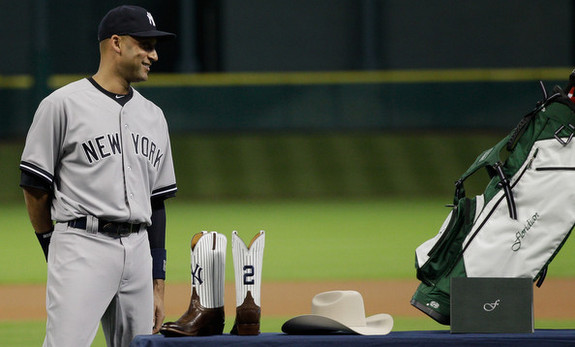 Leftovers
So about that run-scoring double play? It was Yangervis Solarte's first career at-bat. He pinch-hit for Kelly Johnson against the left-handed Kevin Chapman with runners on the corners and no outs in the seventh. Yeah, it scored a run, but that double play took the wind right out of the Yankees' sails. I know he had a great spring, but Solarte isn't exactly a weapon off the bench. He shouldn't pinch-hit for anyone in a big or semi-big spot.
David Phelps really doesn't look right. He was sitting 87-88 mph all spring and he was throwing max effort to hit 90 in this game, giving up a solo homer and putting two other guys on base in his 1.1-inning outing. Phelps missed more than two months with a pair of forearm strains in the second half last season and I dunno, he doesn't look so hot right now. Maybe keep him out of close games for a little while. Matt Thornton (one ground out, one intentional walk) and Shawn Kelley (ground out) cleaned up Phelps' mess in the eighth.
Roberts and Brian McCann (2-for-4) combined for five of the team's seven hits. Beltran (double) and Brett Gardner (single) had the others. Gardner, Ellsbury, and Derek Jeter each drew a walk. Teixeira built upon his strong Opening Day by going 0-for-4 with three strikeouts. Soriano looks like a mess right now and has gone 0-for-4 with two strikeouts in each of the first two games. He did miss a ton of time of camp with the flu, so maybe he's just behind. Same with Ellsbury and his calf. Maybe.
The Astros had a pre-game ceremony for Jeter before the game, giving him a set of golf clubs and a pair of fancy cowboy boots. Former Yankees (and Astros) Andy Pettitte and Roger Clemens were both on hand. The Astros then came out of the dugout to give Jeter a standing ovation before his first at-bat, which was kinda weird considering they still have another game tomorrow.
Adam Warren has warmed up in each of the first two games, and given how Girardi always makes sure his guys are rested, he might not be available tomorrow. He's almost certainly a better late-inning option over the current version of Phelps. That reminds me: don't forget about our Bullpen Workload page now that the season has started.
If you're looking for a good omen, the Yankees have been held to two runs or less in their first two games of the season for the first time since … 1998. That turned out okay.
Box Score, WPA Graph & Standings
For the box score and video highlights, go to MLB.com. FanGraphs has some more stats and ESPN has the updated standings. Spoiler: the Yankees are still in last.

Source: FanGraphs
Up Next
Hilariously, the Yankees will try to avoid being swept (!) by the Astros (!!!) on Thursday night. That's another 8pm ET start. Those are the worst. Give me 7pm or 10pm, nothing in between. Ivan Nova and left-hander Brett Oberholtzer will be the pitching matchup.