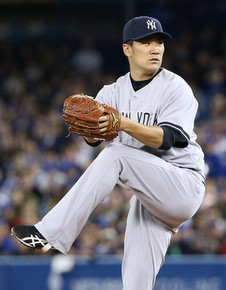 Through the first seven games of 2014, the story of the Yankees' season has been the offensive struggles of the new-look middle of the order. Carlos Beltran, Brian McCann, and Alfonso Soriano have yet to produce with any kind of consistency, and as a result the team has had some problems scoring runs. Eventually those guys will come around and the Yankees will score more runs. At least I think they will. They're not hitting early in the season and things tend to stand out during the first week of April.
Those offensive issues are overshadowing another early theme: the starting rotation has been commanding and dominating the strike zone. In the first seven games, the Yankees' starters have a 35/7 K/BB in 43 innings, which works out to a 5.00 K/BB ratio. Only the Giants (5.14) have been better. Furthermore, Ivan Nova issued five of those seven walks in his lone start, during which he was very wild and had no feel for his curveball. Exclude him, and the other four starters have a 34/2 K/BB in 37.1 innings, or an absurd 17.00 K/BB ratio.
Obviously that's a small sample and we're cherry-picking by excluding Nova, yadda yadda yadda. Still, 34 strikeouts and two walks in 37.1 innings is pretty ridiculous. I mean, yeah, a 17.00 K/BB ratio is unsustainable over a full 162-game season, but I'm not looking to draw any conclusions from this. I just wanted to point out how stellar the starters have been at commanding the zone. It's a real thing that happened and it's pretty amazing. These guys aren't giving out free passes at all.
Now, here's the thing: this isn't happening by accident. The Yankees have sought out strong K/BB pitchers in recent years. In the three years before coming to New York, CC Sabathia and Hiroki Kuroda had 4.51 and 3.36 K/BB ratios, respectively. Masahiro Tanaka had an absurd 7.06 K/BB ratio during his final three years with the Rakuten Golden Eagles. Pineda had a 3.15 K/BB during his one season with the Mariners. Nova is the only real exception; he came into 2014 with a career 2.26 K/BB ratio. From 2011-13, the league average for starters was a 2.47 K/BB ratio, for reference.
I think pitching coach Larry Rothschild has something to do with this as well. He came to the Yankees with a reputation for improving strikeout and walk rates — I keep pointing back to these studies, which are definitely due for an update (that's a post for the offseason, I think) — and he's continued to do that in New York, for the most part. Sabathia is one example: he had a 20.6% strikeout rate and a 7.4% walk rate in the two years before Rothschild, and a 23.4% strikeout rate and 5.8% walk rate in the first two years with Rothschild. The Yankees target pitchers who command the strike zone well, then they turn them over to their pitching coach, who helps maximize that ability. It's wonderful.
Two things the Yankees can not change are their ballpark and their division. They're stuck with Yankee Stadium's short porch, and they're stuck playing in the hitter happy AL East. They can control their pitching staff though, at least to some extent, so they've targeted pitchers who don't hurt themselves with walks and generally keep the ball on the ground. (Grounders are actually something of a problem considering the infield defense.) The rotation has taken the whole "no walks" thing to an extreme in these first seven games, and while they won't keep up this pace all year, this group has pounded the zone early. It's a big reason why the Yankees acquired these guys, and it's a big reason why they've won four of their last five games.