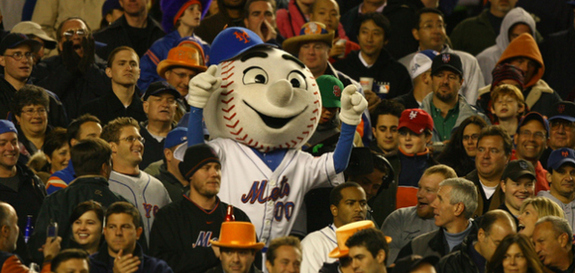 It's that time of year again, the Subway Series. The Yankees and Mets will meet four times this week, and, like last season, they will play a four-game home-and-home series. The battle for bragging rights opens tonight at Yankee Stadium and will wrap-up on Thursday at Citi Field. Two games at each building.
What Have They Done Lately?
Following a surprisingly strong start to the season, the Mets have lost eight of their last ten games. They did win yesterday (via walk-off), however. The Amazin's are 17-19 with a -8 run differential overall this season, which has them tied for last in the top heavy NL East.
Offense
The Mets have a below league average offense at 3.94 runs per game with a team 83 wRC+. They also have a 23.0% strikeout rate as a team, the seventh highest in baseball, so they struggle to score runs and struggle to put the ball in play. Manager Terry Collins does not have any position players on the DL but 1B Lucas Duda (118 wRC+) has missed the last few games with a stomach problem.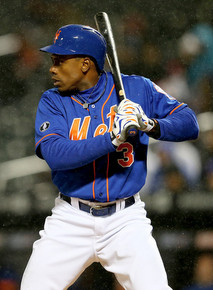 As usual, the Mets' lineup is anchored by 3B David Wright (104 wRC+), who is off to a relatively slow start. Former Yankee OF Curtis Granderson (72 wRC+) got off to a brutally slow start but has been much better over the last two weeks or so (151 wRC+). Defensive wiz OF Juan Lagares (121 wRC+) has had an unexpectedly strong start to the season. He was always a glove first guy. 2B Daniel Murphy (133 wRC+) has been excellent and Duda has been more than solid since taking over as the full-time first baseman following the Ike Davis trade.
Other than those five, the Mets have OF Chris Young (97 wRC+), C Travis d'Arnaud (67 wRC+), OF Eric Young Jr. (79 wRC+), and SS Ruben Tejada (54 wRC+) playing everyday. IF Wilmer Flores and UTIL Eric Campbell were just called up to add some spark. Flores has played three games and Campbell made his MLB debut yesterday. C Anthony Recker (103 wRC+) and former Yankee OF Bobby Abreu (91 wRC+) round out the bench. Yes, Bobby Abreu is in the big leagues.
It's worth noting Mets' pitchers are 0-for-63 this year, the longest hitless streak by a pitching staff to start a season in baseball history. The chances of them picking up their first pitcher hit on Wednesday or Thursday is roughly 10,000%.
Pitching Matchups
Monday: RHP Hiroki Kuroda (vs. NYM) vs. RHP Bartolo Colon (vs. NYY) (Pitcher GIFs)
Remember when the Yankees dragged Colon out of winter ball and we all laughed? Three years later, he's still going strong in the big leagues. Who would have guessed? The 40-year-old Colon has a 5.36 ERA (4.09 FIP) in seven starts and 43.2 innings this year, with his best strikeout (7.01 K/9 and 17.8 K%) and walk (1.03 BB/9 and 2.3 BB%) rates since his stint in pinstripes. Homers (1.44 HR/9 and 12.1 HR/FB%) and a lack of grounders (37.4%) have been his biggest problems. Colon still throws almost nothing but fastballs, upper-80s four-seamers and mid-80s two-seamers. His velocity isn't what is was three years ago. On occasion he'll throw low-80s sliders and changeups. There's no mystery here. Colon comes right at guys with fastballs.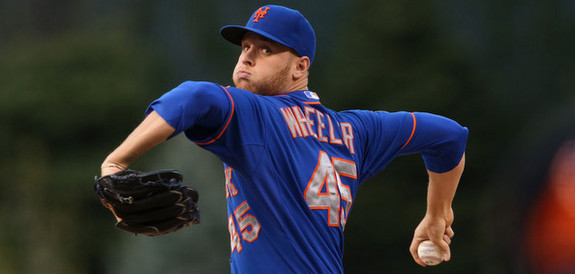 Tuesday: LHP Vidal Nuno (vs. NYM) vs. RHP Zack Wheeler (vs. NYY) (Pitcher GIFs)
Wheeler, 23, is the second of the Mets' three big pitching prospects, sandwiched between Matt Harvey and Noah Syndergaard. He has a 4.35 ERA (3.13 FIP) in seven starts and 39.1 innings this season, and his only real problem has been walks (4.12 BB/9 and 10.6 BB%). Young pitchers, man. The two things they do better than anything is walk guys and get hurt. Wheeler has very good strikeout (8.92 K/9 and 22.9 K%), homerun (0.46 HR/9 and 6.3 HR/FB%), and ground ball (52.3%) rates, though he's been getting clobbered by left-handers (.393 wOBA). Righties haven't had as much luck (.277 wOBA). Two mid-90s fastballs (four and two-seamer) set up his upper-80s slider and upper-70s curveball. Wheeler throws only a handful of changeups per start. He's got nasty stuff, but like most young pitchers at this point of their careers, Wheeler is still rough around the edges.
Wednesday: RHP Masahiro Tanaka (No vs. NYM) vs. TBA
This start was supposed to go to RHP Jenrry Mejia, but after three straight rough outings, Collins told David Lennon they may skip his start and give him some time in the bullpen. They need to limit his workload anyway. If that does happen, either RHP Rafael Montero or RHP Jacob deGrom figures to get the call for the spot start. Both would be making their big league debuts. Montero, 23, has a 3.67 ERA (3.97 FIP) in 42.2 Triple-A innings this season and is by far the better prospect of the two. He was really impressive in Spring Training. Everything (delivery, ball out of his hand, etc.) looks easy. The 25-year-old deGrom has a 2.58 ERA (3.73 FIP) in 38.1 innings at Triple-A this season. He spent all of last year at Triple-A, so if the Mets make this decision based on seniority, deGrom would be the guy.
Thursday: TBA vs. RHP Dillon Gee (vs. NYY) (Pitcher GIFs)
Gee, 28, turned his season and to some extent his career around during the Subway Series last season, when he held the Yankees to one run in 7.1 innings while striking out 12. He went into that start with a 6.34 ERA and has pitched to a 2.72 ERA (3.85 FIP) in 202 innings since. Gee comes into this series with a 2.73 ERA (4.28 FIP) and just okay peripherals — 5.64 K/9 (15.6 K%), 2.56 BB/9 (7.1 BB%), 1.03 HR/9 (9.5 HR/FB%), 40.9% grounders, .302 wOBA against lefties, and .262 wOBA against righties — though he's obviously doing something right. He's one of those guys who defies the usual ERA/FIP relationship. Gee has the standard issue four-pitch mix: upper-80s fastball, mid-80s changeup, low-80s slider, and mid-70s curveball. Far from flashy, but it's damn effective, especially over the last year.
As for the Yankees, they seem likely to start Alfredo Aceves in the series finally now that CC Sabathia is on the 15-day DL with a knee issue. Chase Whitley, the other starter candidate, is pitching for Triple-A Scranton today according to Donnie Collins. It could be a short tune-up outing for Thursday or remove him from consideration all together. If that happens, maybe they'll just stick with Matt Daley as the extra reliever.
Update: Whitley threw only one inning and seven pitches this afternoon, so it was just a tune-up appearance. He is very likely coming up to either make the spot start or replace Aceves as the long man. I assume it's the latter.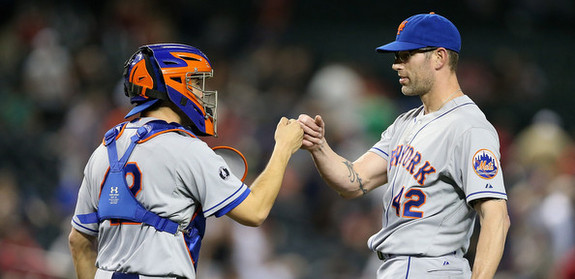 Bullpen Status
It seems like the Mets have had one of the very worst bullpens in baseball this year thanks to some high-profile meltdowns, but they're closer to middle of the pack with a 3.99 ERA (4.31 FIP). It could be worse, I guess. Believe it or not, former Yankee RHP Kyle Farnsworth (4.39 FIP) is closing with RHP Daisuke Matsuzaka (3.52 FIP) getting most of the setup innings. That's a real thing that is happening. RHP Carlos Torres (2.94 FIP) will also see some late-inning time.
LHP Scott Rice (3.97 FIP) is Collins' only lefty right now. RHP Gonzalez Germen (4.21 FIP), RHP Jeurys Familia (3.77 FIP), and RHP Jose Valverde (5.36 FIP) fill out the rest of the bullpen, which could get a boost from Mejia this week. We'll find out soon enough. Dice-K threw two innings and 34 pitches yesterday, so he might not be available tonight. Valverde, Familia, and Rice also pitched briefly on Sunday. Our Bullpen Workload page has the status of the Yankees' relievers. Check out Amazin' Avenue for the latest and great on the Mets.