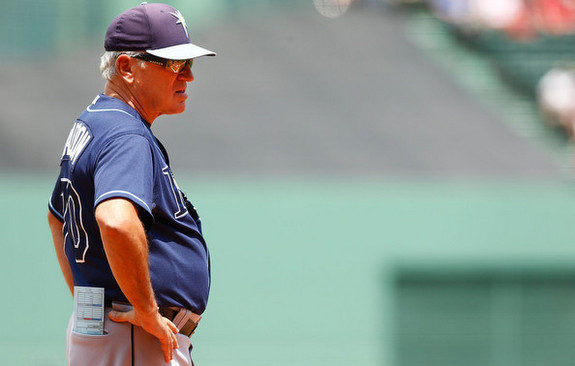 Two weeks ago the Yankees and Rays played a wild four-game series in Tampa, a series that included three blowouts and one 12-inning affair. They split the four games. The division rivalry now shifts to the Bronx for a three-game weekend set.
What Have They Done Lately?
The Rays are 13-16 with a -10 run differential overall, leaving them tied for last place in the AL East. They swept a doubleheader from the Red Sox yesterday but have still lost six of their last nine games and 11 of their last 17 games. Tampa is definitely down right now. Time to start kicking.
Offense
At 4.15 runs per game with a team 105 wRC+, the Rays have been a slightly above-average offense so far this year. They were really struggling to score the last time these two clubs met and the Yankees' pitching staff was kind enough to help them out of that funk. Tampa does not have any position players on the DL but OF David DeJesus (103 wRC+) is nursing a sore shoulder and has been limited to DH duties for about a week now.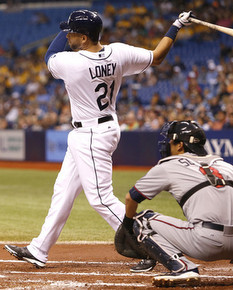 Through the first month of the season, manager Joe Maddon has been getting excellent production from OF Matt Joyce (154 wRC+), OF Desmond Jennings (139 wRC+), 1B James Loney (134 wRC+), and 2B Ben Zobrist (129 wRC+). I'm not sure I'm ready to live in a world where James Loney is a productive big leaguer. 3B Evan Longoria (106 wRC+) is off to an un-Longoria-like start but he always kills the Yankees. He has hit the most homers at the new Yankee Stadium among visiting players.
The Rays have not gotten much from OF Wil Myers (87 wRC+) and SS Yunel Escobar (78 wRC+) so far, though Escobar hit a monster solo homer off Koji Uehara to win last night's game. C Ryan Hanigan (127 wRC+) has been the more productive half of the catching platoon with C Jose Molina (-4 wRC+). UTIL Sean Rodriguez (175 wRC+) has been really good in limited playing time, UTIL Logan Forsythe (44 wRC+) not so much. OF Brandon Guyer (-14 wRC+) rounds out the bench. Tampa has only stolen nine bases this year, the third fewest in MLB, so this isn't the run crazy Rays team we've seen for most of the last decade.
Pitching Matchups
Friday: LHP Vidal Nuno (vs. TB) vs. LHP David Price (vs. NYY) (Pitcher GIFs)
Price, 28, has been alternating good starts with not good starts all season (he's due for a good one, if the trend continues). He owns a 4.75 ERA (3.49 FIP) in six starts and 41.2 innings this year, though his strikeout (10.15 K/9 and 27.2 K%) and walk (1.08 BB/9 and 2.9 BB%) rates are elite. The homer (1.51 HR/9 and 15.9 HR/FB%) and ground ball (40.5%) numbers … not so much. Lefties (.345 wOBA) are uncharacteristically giving him a harder time than righties (.323 wOBA) early on. Price throws his low-to-mid-90s four-seamer and mid-to-upper-80s cutter roughly 70% of the time combined. A low-80s changeup and upper-70s curveball are his secondary offerings. The Yankees scored six runs in five innings against the 2012 AL Cy Young winner two weeks ago. Last time out, Price allowed eight runs in six innings to the White Sox.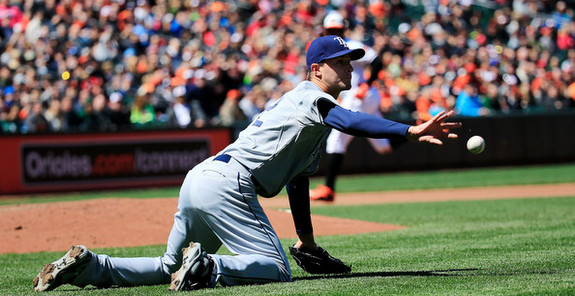 Saturday: RHP Masahiro Tanaka (No vs. TB) vs. RHP Jake Odorizzi (vs. NYY) (GIFs)
The Rays have been adding one young stud pitcher to their rotation per year for what feels like seven or eight years now, but the 24-year-old Odorizzi is a sign times have changed. He has a 6.85 ERA (4.44 FIP) in five starts and 23.2 innings, and he generally isn't expected to be much more than a back-end starter. The strikeout rate (8.37 K/9 and 20.0 K%) is good, but the walk (4.56 BB/9 and 10.9 BB%), homer (1.14 HR/9 and 10.3 HR/FB%), and ground ball (39.2%) rates are not. Righties (.400 wOBA) have crushed him early on, lefties (.363 wOBA) slightly less so. Odorizzi does throw four different pitches, including a low-90s heater, a mid-80s changeup, a low-80s slider, and a low-70s curveball. The changeup is his go-to offspeed pitch. The Yankees did not face Odorizzi in Tampa two weeks ago and he's failed to complete five innings in each of his last two starts (four runs in 4.1 innings, four runs in 3.1 innings)
Sunday: LHP CC Sabathia (vs. TB) vs. LHP Erik Bedard (vs. NYY) (Pitcher GIFs)
You know the Rays are out of young pitchers when Bedard is in their rotation. The 35-year-old has a 5.52 ERA (3.81 FIP) in 14.2 innings across three starts and one relief appearance so far. He's walked exactly as many men as he's struck out (6.14 per nine and 14.1%) and, despite a low ground ball rate (36.7%), he's yet to allow a dinger. Bedard has had no platoon split whatsoever early on. An upper-80s fastball sets up his mid-70s changeup and trademark mid-70s curveball. Bedard allowed four runs in 3.2 innings against the Yankees two weeks ago, though he held the Red Sox to one run in five innings last time out.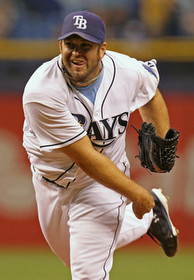 Bullpen Status
Yesterday was a rough day for the Rays bullpen in terms of their workload: they threw 8.1 scoreless innings. Both closer RHP Grant Balfour (6.28 FIP) and setup man LHP Jake McGee (1.92 FIP) pitched in both ends of the doubleheader, so they might not be available tonight. In fact, the only relievers who didn't pitch yesterday are RHP Heath Bell (4.26 FIP) and RHP Josh Lueke (4.33 FIP).
The rest of Maddon's bullpen features RHP Joel Peralta (4.06 FIP), RHP Brandon Gomes (3.80 FIP), and RHP Juan Carlos Oviedo (2.43 FIP). Oviedo is the pitcher formerly known as Marlins closer Leo Nunez. If Balfour is unavailable tonight, I'm guessing Peralta will be the closer du jour. The Yankees were off on Monday and rained out on Wednesday, so their bullpen is in good shape. Check out our Bullpen Workload page for recent reliever usage details, then check out The Process Report for the best Rays analysis out there.