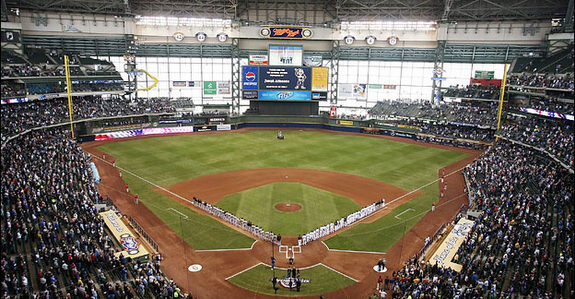 For the first time this season, the Yankees are in a National League park for an interleague series. That means no designated hitter and lots of so-called strategy. The Yankees open a three-game set against the Brewers tonight, their first trip to Milwaukee since 2005. The last time they visited Miller Park, Alex Rodriguez hit his 400th career homerun (video). How about that?
What Have They Done Lately?
The Brew Crew come into this series with a 22-13 record and a +13 run differential. That's the second best record in the game. They have hit the skids of late though, losing their last two games, four of their last five, and six of their last eight.
Offense
Manager Ron Roenicke's club has a team 90 wRC+ and averages 3.97 runs per game, so it's a below-average attack. That surprised me. For some reason I thought they were better. OF Ryan Braun (156 wRC+) is currently on the disabled list with an oblique problem and he is not eligible to return until next week. OF Carlos Gomez (147 wRC+) is healthy, but the appeal of his three-game suspension (stemming from a brawl with the Pirates) will be heard today, so he figures to miss at least one game this weekend. His rematch with Brian McCann will have to wait.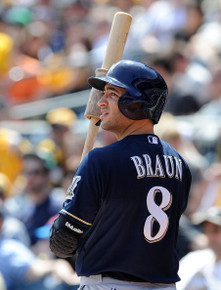 With Braun and potentially Gomez out, the Milwaukee lineup is headlined by C Jonathan Lucroy (117 wRC+), who is one of the most underrated players in the game. He's a stud both at and behind the plate. 3B Aramis Ramirez (81 wRC+) is off to a really slow start, but you'll hear him referred to as an "RBI Guy" anyway. Former Yankees 1B Lyle Overbay (79 wRC+) and 1B/3B Mark Reynolds (115 wRC+) are kinda sorta platooning at first, though Reynolds is seeing more and more time given his strong start (and Overbay's poor start).
2B Rickie Weeks (78 wRC+) has been relegated to the bench in favor of 2B Scooter Gennett (97 wRC+). OF Khris Davis (75 wRC+) has a hilarious 35/1 K/BB, and SS Jean Segura (69 wRC+) simply hasn't hit since about last June. He got off to such a great start last season but just stopped hitting all together. OF Logan Schafer (63 wRC+) has been playing regularly with Braun out. C Martin Maldonado (208 wRC+), OF Caleb Gindl (1 wRC+), and IF Jeff Bianchi (8 wRC+) fill out the bench and have been varying degrees of useful in limited time. It's worth noting the Brewers have hit 36 homers this season, the fifth most in baseball. Miller Park is a big-time hitter's park.
Pitching Matchups
Friday: RHP Masahiro Tanaka (No vs. MIL) vs. RHP Yovani Gallardo (vs. NYY) (GIFs)
Gallardo, 28, has rebounded from the worst season of his career wonderfully: 2.47 ERA (3.63 FIP) in seven starts and 43.2 innings, with excellent walk (2.27 BB/9 and 6.1 BB%), homer (0.62 HR/9 and 7.0 HR/FB%), and ground ball (51.8%) rates. He isn't striking out many guys though (5.36 K/9 and 14.4 K%), and righties (.307 wOBA) are hitting him harder than lefties (.273 wOBA). Gallardo has reinvented himself as a two-seam fastball pitcher, using it more than ever before at the expense of his four-seamer. Both pitches sit in the low-90s. He also throws a mid-80s slider and an upper-70s curveball. Gallardo doesn't have much of a changeup at all.
Saturday: LHP CC Sabathia (vs. MIL) vs. RHP Kyle Lohse (vs. NYY) (Pitcher GIFs)
Many Cardinals reclamation project pitchers fail to sustain their success elsewhere, but Lohse is the exception. The 35-year-old has a 2.72 ERA (3.25 FIP) in seven starts and 46.1 innings this year thanks to strong strikeout (8.16 K/9 and 22.0 K%), walk (2.33 BB/9 and 6.3 BB%), and homerun (0.78 HR/9 and 8.3 HR/FB%) rates. The grounder rate (39.8%) isn't anything special. Lefties have clobbered Lohse this year (.372 wOBA) and righties haven't touched him (.210 wOBA). An upper-80s sinker and low-80s slider are his two main pitches, though he'll also throw an upper-70s changeup and a mid-70s curve. Lohse is really good, very Hiroki Kuroda-ian. Mixes it up, throws anything at anytime. His days of trying to throw fastballs by everyone are long gone.
By the way, expect Sabathia to get a massive ovation tomorrow night. He's beloved in Milwaukee for what he did in 2008. Dude started four games in 12 days down the stretch and threw a 122-pitch complete game against the 97-win Cubs on the final day of the season to clinch the Brewers' first postseason berth in 25 years. Ridiculous.
Sunday: RHP David Phelps (vs. MIL) vs. RHP Matt Garza (vs. NYY) (Pitcher GIFs)
Garza, 30, is a familiar face after all his time with the Rays. He has a 4.93 ERA (3.74 FIP) in his first seven starts and 42 innings with the Brewers, and the peripherals are okay: 7.50 K/9 (18.9 K%), 3.00 BB/9 (7.6 BB%), 0.86 HR/9 (8.5 HR/FB%), and 42.6% grounders. Lefties (.366 wOBA) have roughed him up pretty good so far this year. Righties (.281 wOBA) … not so much. Garza is almost exclusively a low-to-mid-90s fastball/mid-80s slider pitcher at this point. He throws a handful of mid-80s changeups and mid-70s curveballs per start, but not nearly as many as he used to. It's worth noting Garza has been dealing with a thumb issue (jammed it during an at-bat, hooray DH!) and has his last two starts were up and down.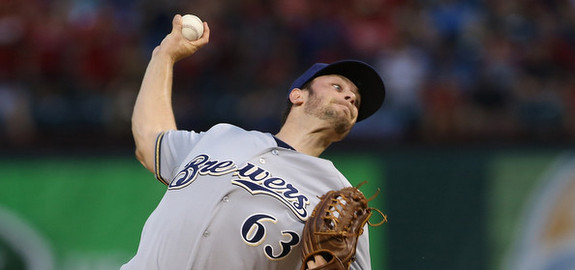 Bullpen Status
The Brewers were off yesterday, so their heavily used bullpen was able to get some rest. RHP Francisco Rodriguez (1.05 FIP) has been dynamite this year, as have setup men RHP Tyler Thornburg (2.12 FIP) and LHP Will Smith (2.19 FIP). Smith might be the most dominant lefty specialist in the game right now. He's held same-side hitters a .146 wOBA with a 46.2% strikeout rate. Crazy. K-Rod, Thornburg, and Smith are three of only 12 pitchers to appear in 18 games so far this season.
The rest of the bullpen includes RHP Brandon Kintzler (6.58 FIP), RHP Rob Wooten (4.96 FIP), and LHP Zach Duke (1.84 FIP). The Brewers are also carrying Rule 5 Draft pick LHP Wei-Chung Wang (8.81 FIP), who jumped from rookie ball (!) to MLB. Roenicke never uses him. Wang has appeared in only five games (seven innings) this year and they have all been super low leverage emergency mop-up situations. They basically roll with a six-man bullpen and a 24-man roster. Check out our Bullpen Workload page for the status of the Yankees relievers, then check out Disciples of Uecker  and Brew Crew Ball for everything you need to know about the Brewers.