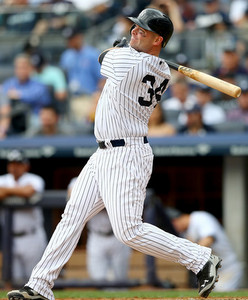 Through the first month or so of the season, I'm not sure anyone on the roster has been more disappointing than Brian McCann. The backstop has started his Yankees career with a 56 wRC+ in the first five-ish weeks, which ranks 177th out of 188 qualified hitters and dead last out of 15 qualified catchers. Chris Stewart had a 58 wRC+ last season, remember. The Yankees basically swapped Stewart for a balder, more expensive version in McCann. He's been that bad so far.
As the fine broadcasters at the YES Network are wont to remind us day after day, inning after inning, the infield shift is widespread throughout baseball these days and McCann is one of its most popular targets. He was one of the most shifted against hitters in baseball last season and the same is true again so far this year. That was to be expected. Other teams weren't going to stop shifting against McCann just because he was wearing a new uniform.
The shift has taken more than a few hits away from McCann this season and again, that is expected. Teams wouldn't shift if they didn't work. His .204 BABIP is a career low, especially when compared to his other healthy seasons (.234 before shoulder surgery in 2012), and down quite a bit from last season's .261 BABIP. This isn't all because of the shift — 8.3% of his plate appearances have ended with an infield pop-up this year, the fifth highest rate in baseball. Infield pop-ups are pretty much automatic outs and death to BABIP. His career pop-up rate prior to 2014 was only 4.0%, so this is way out of the norm.
Between the increased pop-up rate, the career low (by far) 3.5% walk rate, the career high (by far) 34.8% swing rate on pitches out of the zone*, and the ol' eye test, I'm pretty comfortable saying McCann is pressing like hell at the plate. He's trying to squeeze sap out of the bat. It happens. New team, new city, fat new contract, no beard, it's understandable. Players press. McCann isn't the first and he sure as hell won't be the last. We've seen flashes of the productive power-hitting catcher the Yankees signed, but he hasn't shown up consistently yet. It'll happen, hopefully very soon.
* McCann's strikeout rate (11.3%) is far below the league average and his best since 2008, so it's not like he's having trouble putting the ball in play.
Getting back on track, other clubs have been shifting against McCann quite a bit this season and lately it seems like he's making an effort to go the other way. He's always been a dead pull power hitter and that's a big reason why he was so attractive to the Yankees, but lately I feel like we've seen more attempts to go to the opposite field. It doesn't always work, but the attempt is there. Remember this?
McCann had three hits in that game and all three were to left field. I remember he ripped a line drive foul ball in that direction as well. Obviously a double to the wall is an extreme example of beating the shift by going the other way, but McCann did attempt a simple bunt towards third base to beat the shift on Monday. Here's the play if you didn't stay up late for the West Coast game: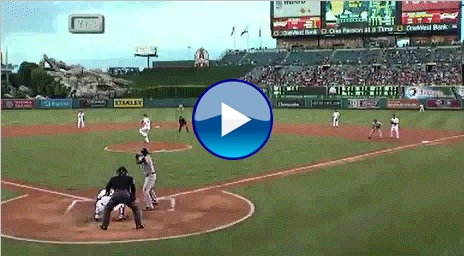 The bunt went foul — it's not easy to bunt Major League pitching, you know — but McCann made the attempt. He tried to beat the shift in the most basic way possible: by rolling the ball to where the defenders aren't standing. That's all a bunt is.
I didn't watch enough of McCann during his time with the Braves to know whether these attempts to beat the shift are new or something he's been trying for years. I would greatly prefer the former and hope this is a new development. Thankfully, we can check that. With an assist to the intimidatingly great Baseball Savant, here are some numbers on McCann's tendencies to pull the ball or hit it the other way over the last few seasons. The table doesn't include last night's game because stupid West Coast:
| | Total Pitches Pulled | Away Pitches Pulled | Total Pitches Other Way | Away Pitches Other Way |
| --- | --- | --- | --- | --- |
| 2014 | 7.7% | 5.6% | 7.3% | 8.5% |
| 2013 | 9.6% | 8.4% | 4.7% | 4.4% |
| 2012 | 9.7% | 8.6% | 5.0% | 4.5% |
| 2011 | 8.9% | 7.3% | 4.5% | 4.7% |
First, some explanations are in order:
Total Pitches Pulled: Percentage of all pitches pulled to the right side of the infield or to right field. McCann saw 452 pitches prior to last night and he pulled 35 of them to the right side of the field, or 7.7%.
Away Pitches Pulled: Percentage of pitches on the outer third or off the plate away that were pulled to the right side. McCann saw 270 pitches in those locations and pulled 15 of them to the right side, or 5.6%.
Total Pitches Other Way and Away Pitches Other Way are the same thing, only with pitches that were hit towards the left side of the infield or left field. Got it? Easy enough.
This season, either consciously or through the mirage of small sample size, McCann has been pulling fewer pitches to the right side of the field. He's going the other way more often and that is especially true with pitches away from him, the ones you're supposed to serve to the opposite field for a Nice Piece of Hitting. More than a few players (coughMarkTeixeiracough) will still try to pull those pitches and wind up rolling over on them, hitting a weak grounder right into the teeth of the shift.
We've seen McCann roll over on outside pitches this year, everyone does it, but he is doing it less often than he had the last few years. He's taking those pitches to left field nearly twice as often as he had from 2011-12. I'm not going to bother looking at inside pitches because inside pitches are supposed to be pulled and pulled for power. Not everyone is Derek Jeter, who is going to the Hall of Fame because of his ability to pull his hands in and drive those pitches the other way. You want McCann to pull inside pitches because that's how he can do some real damage.
Anyway, this is good! I think. We still need to wait a few more weeks to make sure this newfound tendency to go the other way is not just sample size noise, which is always possible. The data matches what my eyes were telling me though. McCann is indeed trying to hit the ball the other way more often. That could absolutely be contributing to his early season slump too. It's a change in approach and sometimes those changes take time. McCann's been hitting one way his entire life and now he appears to be changing it up. Of course there are going to be some bumps in the road.
Are teams going to stop shifting McCann because he's hitting the ball the other way more often? Nope. Here are his spray charts. He still a pull-first hitter who yanks a ton of ground balls and line drives to the right side of the field and teams will stack their defense accordingly. McCann does appear to be making an attempt to go the other way more, particularly with pitches on the outer third of the plate. That will change how teams pitch him more than the defensive alignment. The most important thing is that he is hitting more balls away from the shift. The first few weeks of McCann's tenure in New York have been ugly, no doubt about it, but there seems to be some serious work going on behind the scenes, and that could have positive results in time.