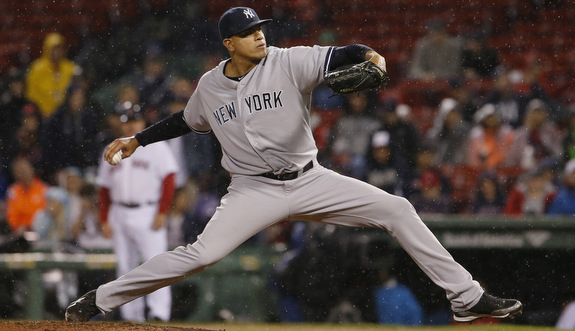 For the first time in his three big league starts, Chase Whitley completed five full innings of work yesterday afternoon. Usually five innings isn't anything to celebrate, but for a recently converted reliever who had thrown 4.2 and 4.1 innings in his first two starts, five full innings was definitely nice to see. Whitley started the sixth inning as well, though he failed to record an out and the bullpen was pressed into action.
The bullpen has been pressed into action quite a bit of late, especially on the road trip. The Yankees have played three extra innings games on this trip through Chicago and St. Louis, totaling nine additional innings. They've played an extra game on the trip, basically. The Yankees did win all three of those extra innings games thanks to some strong relief work, so there's no complaints there, but all that extra work is starting to tax the bullpen.
Through the first 50 games of the season, the late-inning duo of Adam Warren and Dellin Betances are on pace to throw 94 and 98 innings this year, respectively. Nine of Warren's last 13 appearances have been for multiple innings while Betances has been asked to get more than three outs six times in his last seven appearances. In fact, of his 21 appearances this year, Betances has thrown one inning or less only seven times.
Of course, both Warren and Betances were starters their entire careers up until last season, but throwing 150+ innings in a season while on a five-day routine is much different than throwing 90+ innings when you're pitching every other day in relief or something like that. It's fewer total innings, yes, but they're pitching more frequently as relievers. Warren and Betances have shouldered most of the workload, but the bullpen as a whole has been worked hard this year. Check out the first 50 games of the last few years:
| | Starter IP | Reliever IP | Starter IP / Reliever IP |
| --- | --- | --- | --- |
| 2014 | 289.1 | 165.1 | 1.75 |
| 2013 | 297.2 | 150.1 | 1.98 |
| 2012 | 298.2 | 143.2 | 2.08 |
| 2011 | 302.2 | 145.2 | 2.08 |
The bullpen has already thrown 15 more innings this year than last through 50 games, and roughly 20 innings more than 2011 and 2012. Fifteen innings doesn't sound like much, but we're talking about one extra inning every three games or so. That adds up in a hurry, especially since these Yankees tend to play close games (only 14 games decided by 5+ runs), which means more work for Joe Girardi's primary late-inning guys.
Obviously injuries have a lot to do with this. Shawn Kelley has been out for a while and he would have definitely taken some of those innings away from Betances and Warren. The same applies to David Robertson when he was on the disabled list last month. Losing CC Sabathia and Ivan Nova — two starters the Yankees were able to count on for 6+ innings every fifth day in the not too distant past — to significant injuries has trickled down and added pressure on the bullpen since guys like Whitley and Vidal Nuno aren't innings eaters.
The Yankees will hopefully get Kelley back soon. He played catch yesterday and will do so again in the coming days, reportedly, plus Michael Pineda is on the mend and a few weeks away. (The Yankees were very careful with Pineda early on, but he is still a better bet to get you through five innings than some guys in the rotation right now.) Those two will help lighten the load on the current relievers, at least somewhat. Every little bit will help. It wouldn't kill the offense to break a game open every now and then either.
Girardi's strength has long been his bullpen management, and I can't remember another time when he worked two relievers as hard as he has Warren and Betances these last few weeks. You know he doesn't want to do it — ""We're trying not to kill Betances," said the manager to Chad Jennings yesterday, after Betances threw two more innings — but Kelley's injury and the thinned-out rotation have forced his hand. The Yankees are really pushing the limits of their pitching depth right now.
Until some guys start getting healthy, Girardi will have to rely on Preston Claiborne, Matt Daley and yes, even Alfredo Aceves in higher leverage spots — at least higher leverage than they deserve — to avoid overworking his normal late-inning relievers. The Yankees aren't going anywhere without Betances, Warren, Kelley, and Robertson dominating at the end of games, but at their current pace, Warren and Betances will burn out by August. The rest of the roster has to pick up some slack and give these guys more rest in the coming weeks.