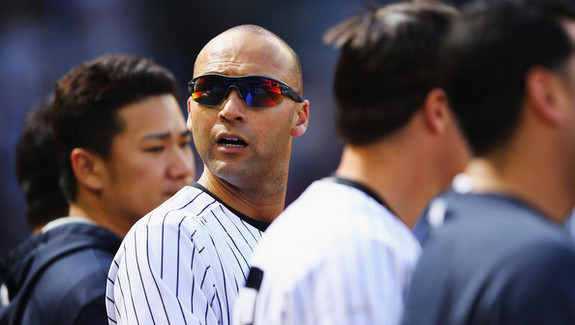 The Yankees have lost four of their last five games and seem to find a new way to give away a game each night. Last night it was the usually excellent bullpen walking five (!) straight hitters with two outs, the last three to force in runs. It was pretty ugly and a new low in a week that has been full of new lows. It's hard to look much worse than the Yankees have these last few days.
One constant through the recent five-game stretch has been the complete inability to capitalize on run-scoring chances. I don't have the energy to go back and look at how many times they have had men in scoring position with less than two outs and failed to generate even one run. Last night they had the bases loaded with no outs in the eighth inning of a tie game and didn't score at all. A strikeout and a double play sent them back to the dugout empty handed.
The double play ball came off the bat of Derek Jeter, who has always had a knack for the unfortunately timed twin-killing. Even when he was at his absolute peak, he was always banging into double plays at inopportune times. It was pretty much his only flaw offensively. Last night's rally killer capped off a solid 2-for-4 night for the Cap'n, a night that raised his season batting line to an unsightly .250/.318/.290 (71 wRC+). I swear, it felt like just a few days ago that he had a .380+ OBP. Things change in a hurry this time of the year.
Now, obviously there is lot to consider with Jeter. He will soon turn 40 and the history of shortstops that age is basically nonexistent. Jeter is very much unique in that regard. He also missed just about all of last season with some major leg injuries, so timing and rust could be an issue. Maybe he's worn down already. Jeter has not spent a single game at DH and has played shortstop almost every single day this year. It could just be an early season slump, which happens to everyone at some point. One good week and he'd be back up to 100 wRC+ before you know it.
The facts are the facts though. There are 186 hitters with enough plate appearances to qualify for the batting title right now and Jeter ranks 160th with that 71 wRC+. His .040 ISO ranks 185th, better than only Ben Revere (.036), who hasn't hit a homerun since he was in Triple-A in 2011. Among players with at least 50 at-bats, he has seen the highest percentage of fastballs according to Baseball Savant. The Rays are arguably the most well-prepared team in the game, and this past weekend they threw Jeter 31 fastballs out of 38 total pitches. They know he can't handle the heat anymore, so they exploited that weakness. Jeter went 0-for-11 in the series and killed two rallies in the 14-inning game on Friday.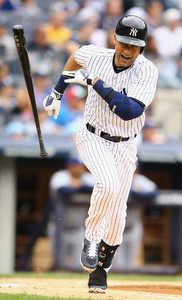 Jeter doubled down the left field line last night and it was only his fourth extra-base hit of the season. All four are doubles — one legit blast off the wall, one legit blast to the warning track that hopped over the fence, and two ground balls down the line. He was almost thrown out at second on one. Here's a GIF if you don't believe me. Jeter has not been able to drive the ball with any authority, at least not consistently. He's also been terrible on defense, but that's nothing new at this point. The Cap'n has become an all-around liability.
So, where do the Yankees go from here? The easy answer is to drop Jeter in the lineup. Joe Girardi told Dan Barbarisi he has not yet considered it — "We address our lineup every day, but I haven't yet. He's not the only guy struggling," he said — which is no surprise. Jeter never moved down in the lineup when he struggled through the 2010 season (93 wRC+) and it just feels like it is too early in the season for the team to consider that. Remember how long it took them to de-emphasize Jorge Posada in 2011? Posada actually hit worse than Jeter early that season and, as good as he was, he didn't have nearly as much clout in the organization. Dropping Jeter to eighth or ninth does not seem imminent.
"There are other guys that are struggling in our lineup and we still put them fourth, fifth, third. We're still doing that. I think it's somewhat early to do that," said Girardi while acknowledging "Derek is pretty easy to talk to. I've shared ideas with him before about things that I possibly might do and it's never been a problem. Derek is about winning. Derek is probably going to tell you, 'If you think that's the best thing to do, then do it.'"
This whole mess would be easier if Jeter just volunteered to move lower in the order or into a reduced role like, say, Paul Konerko did over the winter, but I have a hard time seeing that regardless of Girardi's comments. Jeter has too much pride and the Yankees have always catered to him — remember the raise they gave him this past winter? — and, in his mind, he's still a world class player. Athletes are never good at admitting when their skills are no longer what they once were. At the same time, Girardi recently said he "wasn't hired to put on a farewell tour," and that winning comes first. Well, aren't we at the point where batting Jeter so high in the lineup and playing him every single day is not giving the team the best possible chance to win? It sure feels that way.
Jeter is not the first aging former superstar to scuffle through a poor final season. I'll never forget Cal Ripken Jr. dragging himself out onto the field to hit .239 with a 70 OPS+ his final season. He also spent most of that year batting seventh, not occupying a prime lineup spot like he had most of his career. Jeter is an all-time great player and maybe the best Yankee many of us will see in our lifetimes. That has earned him a lot of leeway — I thought he was done before 2012 and he sure proved me wrong — but the team needs to be honest with itself and trust what they're seeing. He can't catch up to a fastball, he isn't hitting the ball with authority, and he isn't making even the routine plays in the field anymore. The end of a star's career is almost always messy, but the sooner the Yankees understand and accept they are a better team with Jeter playing a lesser role, the better off they'll be.