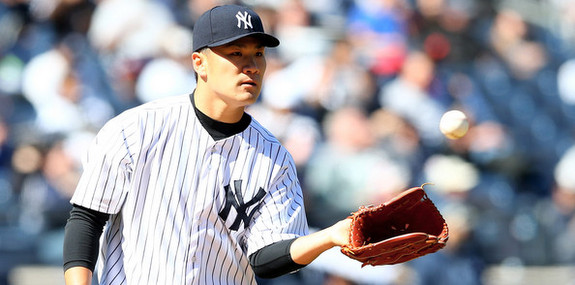 I've made an effort to fully adopt Zen Baseball this season, so last night's loss, while ugly, doesn't bother me as much as it would have a year or two ago. Just forget about it. Sleep it off and try again today. The quick turn around is good after a game like that.
The Yankees have a chance to end their three-game losing streak this afternoon behind their ace. Masahiro Tanaka told reporters yesterday that he felt his performance has been "so so" so far and that he made an adjustment in an effort to stop walking so many batters. I'm not joking. He really said that. The guy has six walks in 35.2 innings. I love it. Here is the Rays lineup and here is the Yankees lineup:
CF Jacoby Ellsbury
LF Brett Gardner
1B Mark Teixeira
C Brian McCann
DH Alfonso Soriano
3B Kelly Johnson
2B Brian Roberts
RF Ichiro Suzuki
SS Yangervis Solarte
RHP Masahiro Tanaka
It is gorgeous outside today. Few clouds but lots of sun and blue skies. Perfect afternoon for baseball. First pitch is scheduled for a little after 1pm ET and you can watch on YES. Enjoy the game.