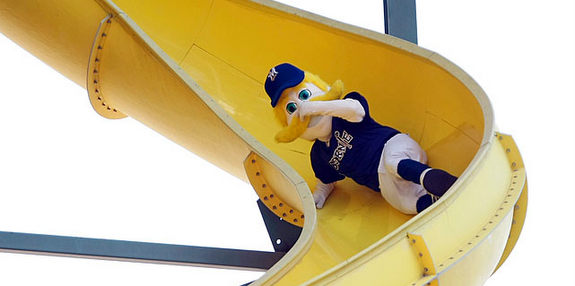 Today is a good day. First of all, it's Friday, and that's almost always great. Second, it's Masahiro Tanaka's day to pitch. That is always awesome. The right-hander has been the staff ace and has somehow exceeded expectations so far. I don't know how he's done it, but he has. Tanaka gets his first taste of the National League tonight, which means he'll also have to hit. My prediction: 20-strikeout no-hitter and 4-for-5 with two homers and two doubles. Mark it down.
Tanaka will have to face Brewers outfielder Carlos Gomez tonight even though the appeal of his three-game suspension was heard sometime earlier today. Apparently it takes a few days to hand down a ruling and he might be available all weekend. Bummer. Gomez was suspended for his role in a brawl with Gerrit Cole and the rest of the Pirates. The Yankees won't have to face the injured Ryan Braun this series, so I guess we shouldn't complain Milwaukee's other great player is playing. Whatever. Here's the Brewers lineup and here's the Yankees lineup:
CF Jacoby Ellsbury
SS Derek Jeter
RF Carlos Beltran
1B Mark Teixeira
C Brian McCann
3B Yangervis Solarte
LF Brett Gardner
2B Brian Roberts
RHP Masahiro Tanaka
Temperatures are in the mid-60s and it's sunny in Milwaukee, so the Miller Park roof will probably be open for the game. First pitch is scheduled for a little after 8pm ET and can be seen on My9. Enjoy.