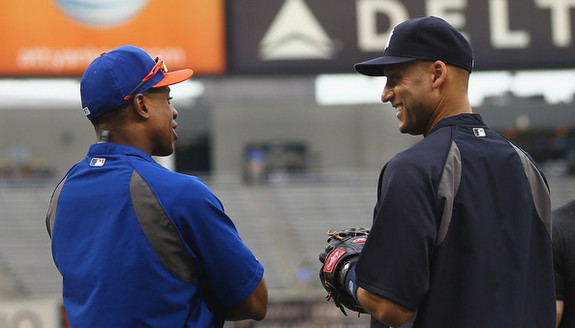 These last few days have been very rough on the Yankees, and not just because they've lost three straight. Players are getting hurt left and right. CC Sabathia is on the DL. Shawn Kelley is on the DL. Carlos Beltran has a bone spur in his elbow. Ichiro Suzuki's back is sore. Mark Teixeira says he feels like he has "cement blocks" for feet. That's just the stuff we know about too. It's ugly.
The Yankees have lost five straight games to the Mets dating back to last season, including each of the last three at home. They are 9-9 and have been outscored 87-69 (!) in the Bronx this season. That has to stop. Opposing teams are way to comfortable visiting Yankee Stadium right now. The Yankees have not yet lost four games in a row this season and it would be wonderful if they avoided that fate tonight. Here is the Mets lineup and here is the Yankees lineup:
LF Brett Gardner
SS Derek Jeter
CF Jacoby Ellsbury
DH Mark Teixeira
C Brian McCann
RF Alfonso Soriano
3B Yangervis Solarte
1B Kelly Johnson
2B Brian Roberts
LHP Vidal Nuno
It's a little cloudy and cool in New York right now, but there are no showers in the forecast. Tonight's game is scheduled to begin a little at 7pm ET, and you can watch on both My9 and WPIX locally as well as MLB Network nationally, depending on where you live. Try to enjoy.
Michael Pineda Update: Pineda (shoulder) played catch this afternoon and continues to progress with his throwing program. No word on when he will get back up on a mound.
Ichiro Update: Ichiro (back) feels better but will probably not be available tonight. Zoilo Almonte was called up today and is the backup outfielder.
Rotation Update: The Yankees will indeed call up Chase Whitley to start on Thursday, according to Ken Rosenthal. Al Aceves remains in the bullpen. A year go, I would have never thought Whitley would make his MLB debut as a starter.