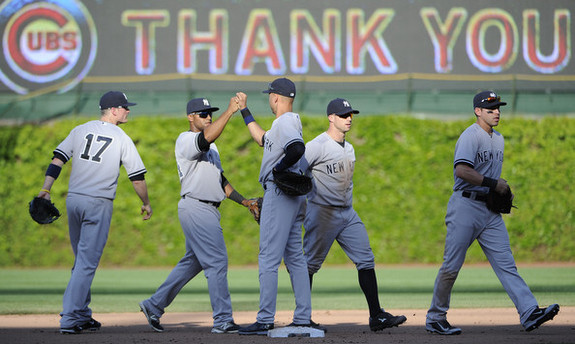 The Yankees have been a little lucky this year when it comes to the other team missing key players to injuries. Josh Hamilton was hurt both times they played the Angels, Ryan Braun was out when they played the Brewers, and Jose Abreu is out for this four-game series against the White Sox. Unfortunately, ace lefty Chris Sale will come off the disabled list to start tonight's game for the ChiSox. It looked like he would make one more minor league rehab start just yesterday.
Anyway, the Yankees rallied late and stole a game from the Cubs yesterday, which was good to see considering they burned through their entire bullpen. It happens, but it's easier to swallow when it happens in a win. David Phelps has not given the Yankees any length since moving into the rotation — no more than 5.1 innings in each of his three starts — but he's going to have to soak up some innings tonight. At last six would be nice. Dare I even say seven? Here is the White Sox lineup and here is the Yankees lineup:
CF Jacoby Ellsbury
DH Derek Jeter
1B Mark Teixeira
RF Alfonso Soriano
3B Yangervis Solarte
2B Brian Roberts
C John Ryan Murphy
SS Brendan Ryan
LF Zoilo Almonte
RHP David Phelps
It's cool and cloudy on Chicago's south side, but, unlike New York, there is no rain in the forecast. Tonight's game is scheduled to start a little after 8pm ET and can be seen on YES. Enjoy.